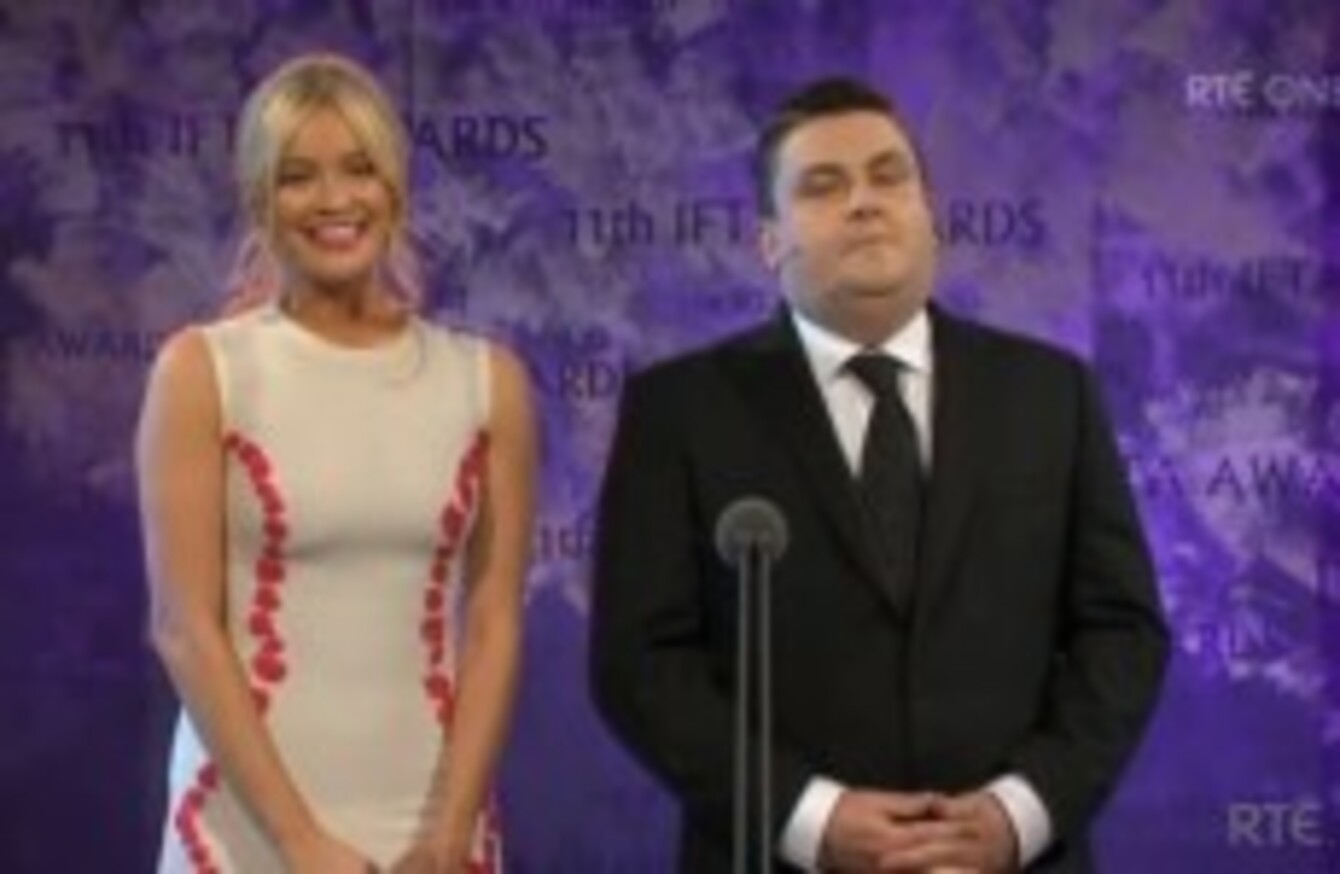 Laura Whitmore and Simon Delaney helming last year's ceremony.
Laura Whitmore and Simon Delaney helming last year's ceremony.
Updated at 6pm
AFTER MUCH SPECULATION (in certain circles, at least), it's been officially confirmed that TV3 is taking over as host broadcaster for the IFTAs.
The awards are being split into two – with the 'film and drama' ceremony going out in May, and the TV awards being broadcast in October.
RTÉ pulled out of showing the bash in 2015, after last year's ceremony was branded "embarrassing" by viewers.
(Remember?)
However, organisers the Irish Film and Television Academy, confirmed earlier this year that discussions were taking place with other interested parties.
Two events
According to TV3′s press release, the first ceremony will take place on 24 May.
It appears the whole event won't be shown – instead, the Ballymount-based broadcaster "will deliver coverage of all the excitement, guests, nominees and winners at the ceremony in an exclusive one hour Awards Special".
The TV ceremony, set to happen on an as-yet-unconfirmed date in October, will be a "primetime 2 hour programme, featuring some of the best creative talent that Ireland has to offer".
Interactive and public voting categories will also be introduced for the TV-centred event.
The broadcaster is also promising to bring us "all the action in the run up to and around both events, including nominations, behind the scenes interviews and all the excitement from the red carpet" via XPOSÉ and Ireland AM.
Head of Content Jeff Ford – who is set to leave TV3 next month for a job in London – said in a statement that the Group was "delighted" to become the IFTAs host broadcaster.
"As Ireland's leader in entertainment, TV3 looks forward to broadcasting great event pieces for its viewers and we are delighted to be working with the IFTAs team."
CEO of IFTA Aine Moriarty said the decision to split the show in two was being made "to reflect Ireland's vibrant growing industry". 
Hosts for the re-vamped awards shows haven't been announced as yet – but more details are expected in the coming weeks.
(What did viewers find so objectionable about last year's ceremony? A quick reminder.)