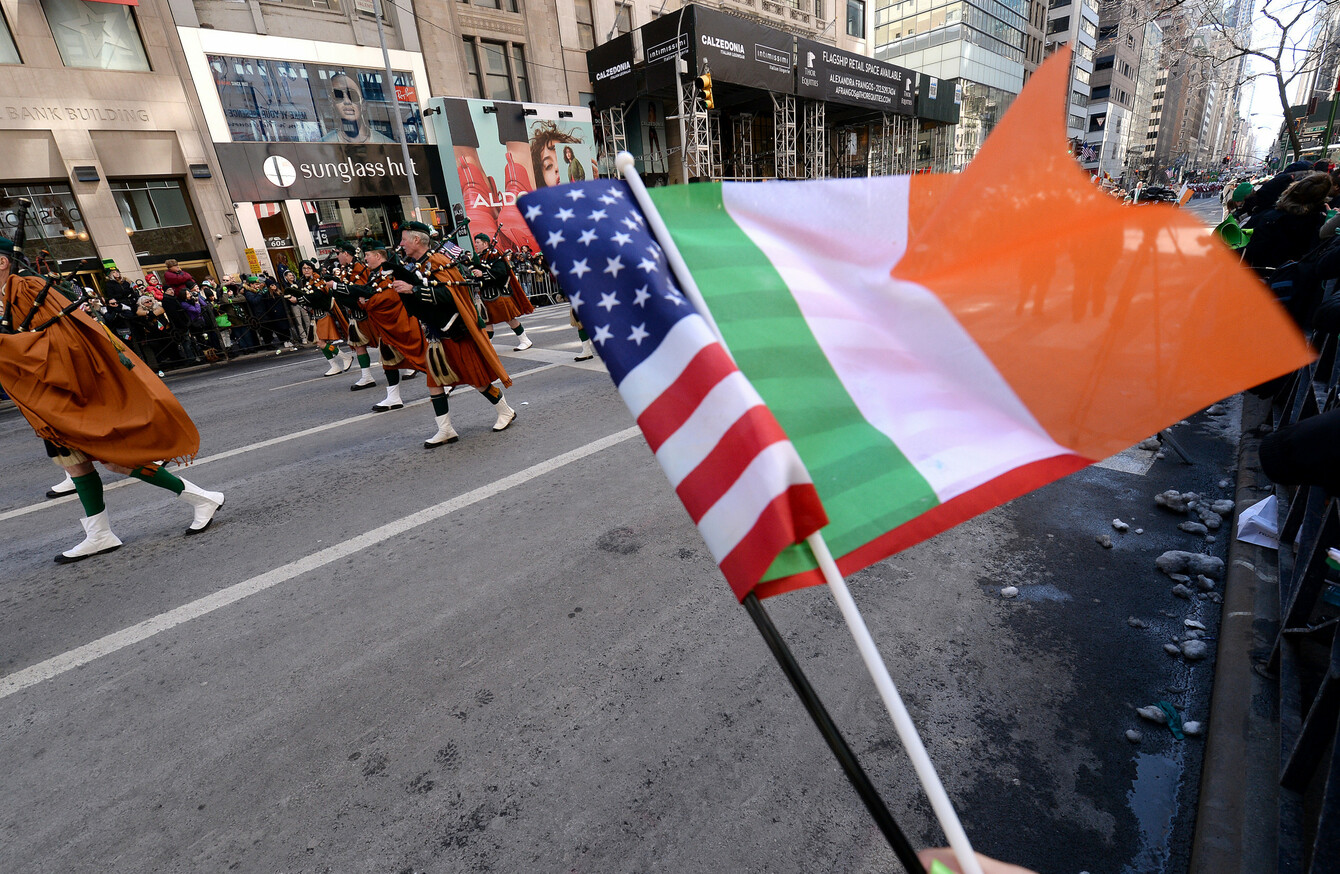 Image: Anthony Behar SIPA USA/PA Images
Image: Anthony Behar SIPA USA/PA Images
SINCE TAKING OFFICE, the actions of US President Donald Trump have alarmed many, and his stances on immigration have particularly alarmed the undocumented Irish across the country.
Minister Simon Coveney recently told the Dáil that the political landscape under the Trump administration has made things more difficult for the Irish in America, and immigration lawyers in America have said that undocumented migrants are more fearful of their status under Trump.
For example, Trump announced in September that he would end protection for around 800,000 people who were brought to the US as children. Draft legislation brought forward in August aimed to cut the number of immigrants granted permanent residency every year in half.
And, soon after taking office, he announced plans to end protection for sanctuary cities which was highlighted as a major worry for the undocumented Irish.
"A difficult man to talk to"
In the Dáil last month, Fianna Fáil TD Charlie McConalogue asked Minister for Foreign Affairs Simon Coveney to provide details of his discussions with American officials around immigration reform.
Coveney said: "I know there are many people from the Deputy's county who are in a very vulnerable position as a result of this, as there are in mine."
He said that the government was continuing to use all of the opportunities it could to raise immigration issues with US authorities.
"This policy area has been a deeply divisive issue within the US political system for decades with pronounced disagreement, even within the same political parties, on the best way to deal with an issue which directly affects over 11 million people," the Minister said.
McConalogue said that the "political landscape" had changed completely since Donald Trump took office and that progress towards providing clarity for Irish nationals in the US has become "more difficult".
"Certainly he appears to be a very difficult man to talk to and make progress with," the Fianna Fáil TD said.
He said that Trump's pledges to halve green card numbers and punish sanctuary cities are "very concerning" for the undocumented Irish.
Coveney replied: "We are probably all on the same page. There are Irish people living in the US who are literally living in the shadows.
They are much more concerned and feel a lot more vulnerable and exposed than they have in the past. This is a big issue. We are trying to think imaginatively as to how we can progress it with the current Administration but that is not straightforward.
Coveney outlined how TD John Deasy is specifically looking at how to get bipartisan agreement on the immigration issue in the US.
"It's created this anxiety" 
James O'Malley is originally from Limerick, and set up O'Malley and Associates in New York in the 1980s.
He told TheJournal.ie that the progress that was made for immigrants under the Obama administration, and what would have followed under a Hillary Clinton presidency, has been completely undermined by Donald Trump.
#Open journalism No news is bad news Support The Journal

Your contributions will help us continue to deliver the stories that are important to you

Support us now
"Hillary would have nominated a liberal judge to the Supreme Court," O'Malley said. "That would have helped to make these immigration reforms from Obama more permanent.
But Trump has completely tilted the attitude. People know they may have to wait another four years at least for things to change for the better.
When asked what has been the main thing to change for the undocumented Irish since Trump had taken office, O'Malley said "expectation".
As New York remains a sanctuary city, there's been little to no enforcement of immigration laws since Trump took office.
"But it's creating a lot of anxiety, and to be honest a lot of panic, in some communities, cities and states that don't have this sanctuary status," he said.
Many places don't have it. And, in the current climate, a person could be picked up for a routine traffic stop and face deportation.
He said that the Trump administration was doing a lot of threatening, but actions from Congress are needed to create real change in matters of immigration.
O'Malley said: "There's a sizeable number that are still undocumented in the Irish community. Mostly it's people that got caught up in previous decades and didn't get status, and in effect they're now trapped."
He said that very few of the younger arrivals to the States "fall into the trap" but that Trump's rhetoric had made a lot more undocumented coming to seek legal advice on what they can do if Trump's words turn to action.
O'Malley added: "I think for a lot of people [it's that] their expectations have been dashed. In the eight years of Obama, he was very liberal and constructive. He tried his best but the Republicans wouldn't go with him, no matter what he was proposing.
The arrogance and hypocrisy of this current joker has a lot of people worried.