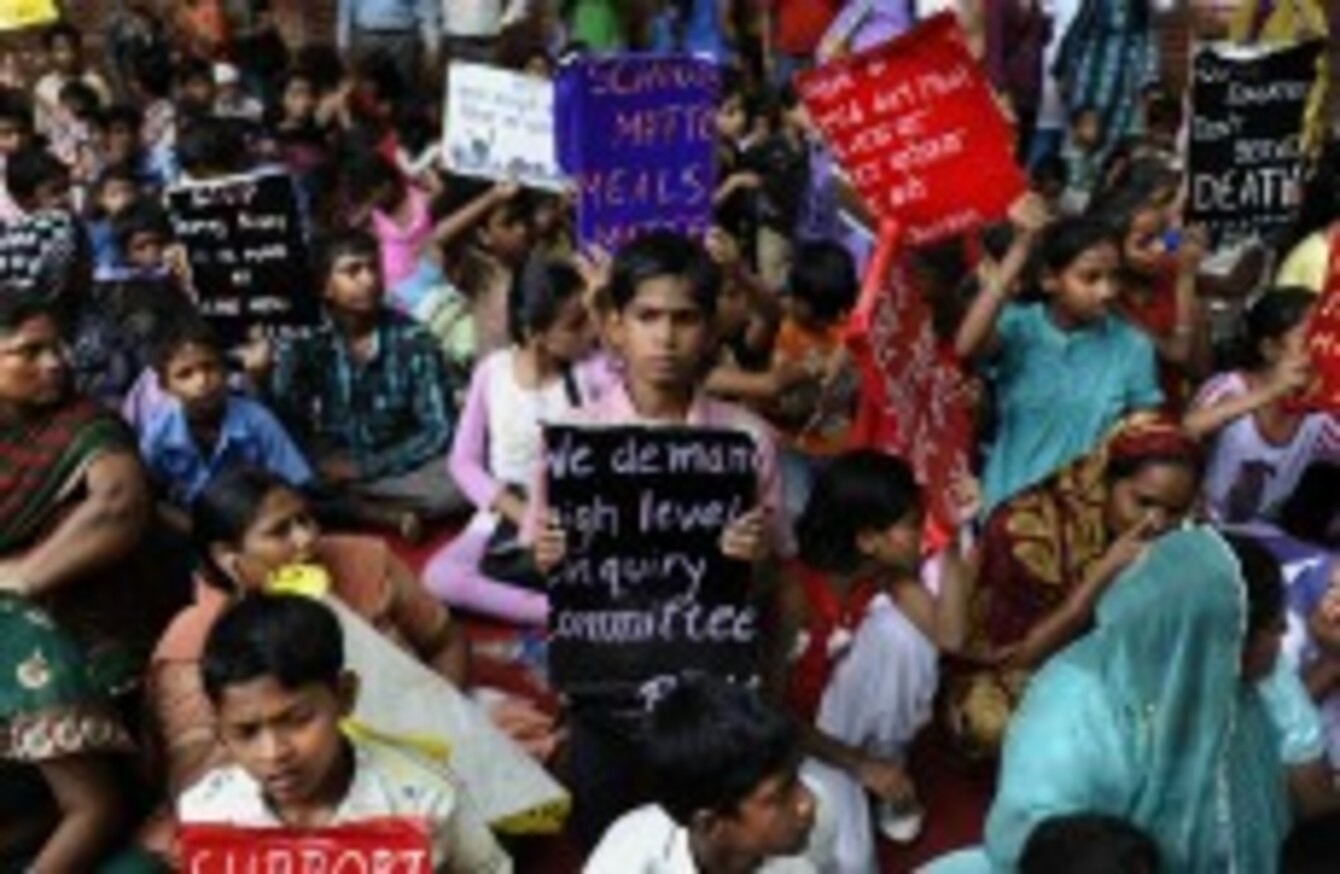 Indian children hold placards as they participate in a protest over the deaths.
Image: Altaf Qadri/AP/Press Association Images
Indian children hold placards as they participate in a protest over the deaths.
Image: Altaf Qadri/AP/Press Association Images
POLICE HAVE ARRESTED the head of a school in eastern India where 23 children died after eating a free meal laced with a lethal pesticide.
The children, aged four to 12, fell ill within minutes of eating the lunch of lentils, potatoes and rice cooked at their primary school in a poverty-stricken village in Bihar state on July 16.
"The principal surrendered… and we have arrested her for questioning," said Sujeet Kumar, police chief of Saran district where the incident occurred. "We need to talk to her first before framing charges," the official said by telephone.
Police have been searching for the teacher, Meena Devi, who apparently fled shortly after the tragedy in Gandaman village, which also left some 30 children ill in hospital and sparked angry street protests.
Saran district administrator Abhijit Sinha told AFP that the teacher was key to resolving the issue of just how the deadly chemicals ended up in the food: "She is the right person to explain how the poison was mixed with the cooking oil."
Oil used to cook the food contained an agricultural insecticide that was five times the strength sold in the marketplace, a forensic report after the tragedy found.
Police said they raided Devi's home in the village last week where ingredients for the meal and cooking oil were kept. Anguished parents buried many of the children on a playing field next to the primary school, in protest against the tragedy.
World's largest school feeding programme
Some of the poverty-stricken parents told how they had only sent their children to the one-room school to ensure they received at least one meal a day.
Others have said their children survived after refusing to eat the food because of its foul odour. Children started falling ill within minutes of eating the meal, vomiting and complaining of stomach pains.
Video footage showed listless children being rushed to hospitals, their heads lolling from side to side and their limbs hanging limply. Distraught parents have told of carrying their children in their arms while driving their motorbikes to a hospital in the hope of saving them.
Free lunches are offered to some 120 million schoolchildren throughout India in what is the world's largest school feeding programme. Bihar is one of the country's poorest and most densely-populated states.
Educators see the midday meal scheme as a way to increase school attendance, in a country where almost half of all young children are undernourished. But children often suffer from food poisoning due to poor hygiene in kitchens and occasionally sub-standard food.
Bihar Chief Minister Nitish Kumar promised a thorough investigation into the "sad tragedy". The chief minister also denied opposition claims that medical delays led to a higher number of deaths.
"The response times were the quickest possible and the doctors tried their best to save lives," he said.
The state government has announced plans to pay compensation of nearly $4,000 to families who lost their loved ones.