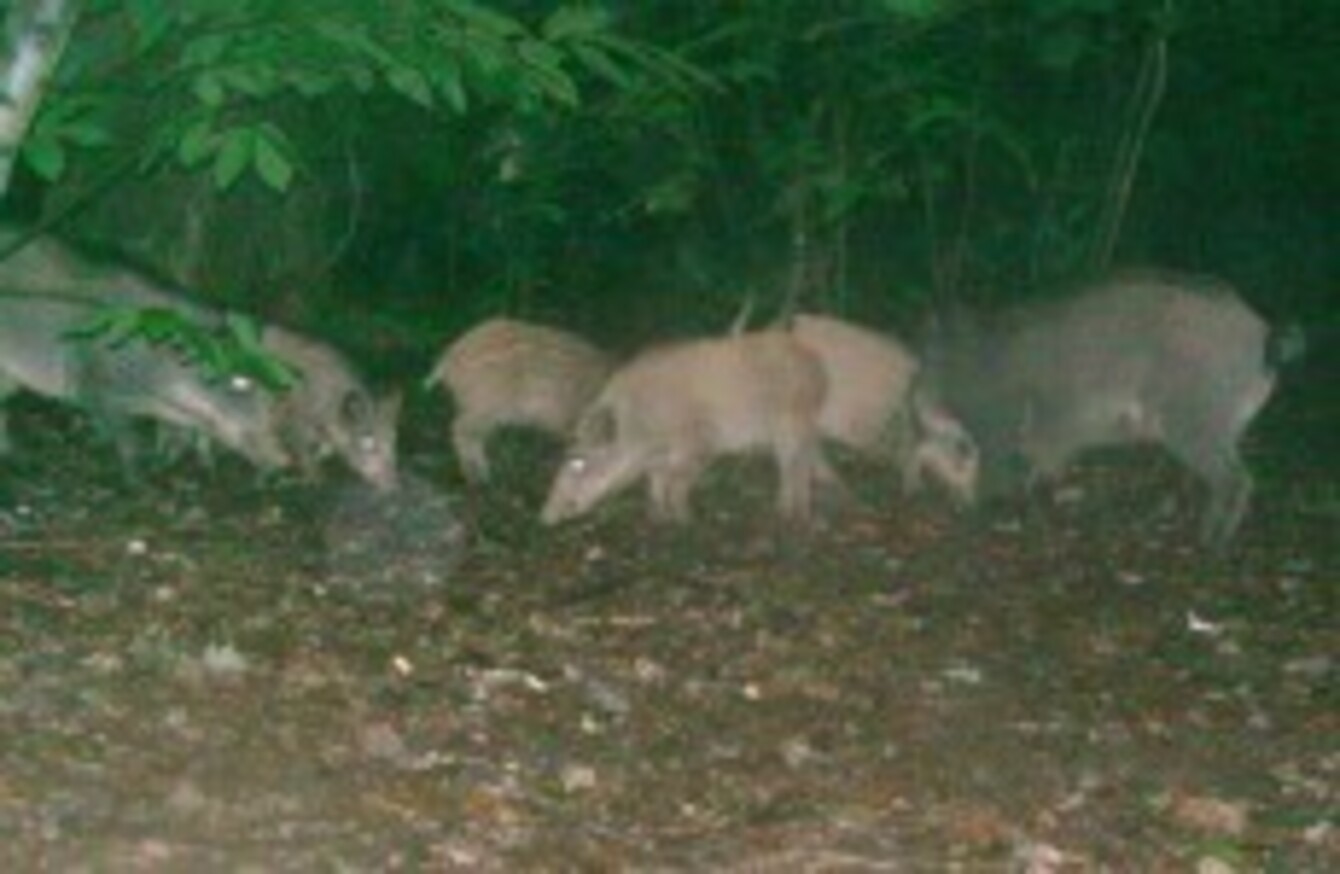 Wild boar caught on camera while foraging. Location unknown.
Wild boar caught on camera while foraging. Location unknown.
LAST WEEK, A wild boar was reported to be 'striking fear' into the heart of the local population in Clare and Galway.
For many, the fact that one was even wandering around the place to begin with is enough to cause a shock.
However, there have been dozens of sightings of the animals in recent years — and frequently in groups.
Invasive species
The government classes them as a completely unwelcome guest, noting their appearance on the Global Invasive Species Database.
"In modern day Ireland, this species could pose a serious threat to biodiversity, human health and safety and economic activities", the Department of Arts, Heritage and the Gaeltacht  who are responsible for the National Parks and Wildlife Service, said in a statement.
This leads to the animals either being shot or captured if they are spotted.
Dozens of the animals have been seen over the past five years all across Ireland, and TheJournal.ie also understands that last week's reported sighting of a wild boar has been confirmed.
Kildavin Deerpark, Johnstown, Co Wexford, is a hotspot for the animal, where 33 different validated sightings of individuals have been recorded over the past five years.
Each sighting is recorded by the Department as one, even if mutilple animals are involved. The graph below shows that sightings have dropped off over the past couple of years.
Just one group were spotted last year.
You can view these sightings in detail on the National Biodiversity Data Centre's website (Microsoft Silverlight required).
These animals are not native to Ireland, and are believed to have been introduced millennia ago.
Wild boar, as in sus scrofa, are said to have died out in Ireland at some point between 1500 and 5000 years ago.
"The animals turning up in the wild today are not actually wild boar, but feral pig hybrids," the Department said.
"They are being illegally released".
The pigs that that exist today, in some cases breeding populations where females have been spotted with young piglets, are believed to have been either released into the wild, or have escaped from captivity.
Hunters have been accused of deliberately releasing them into the wild in order to hunt later.
While these feral pigs are not the tusked wild boars, they can still prove to be dangerous and should not be approached. Details on how to report sightings can be found on online.