Image: RollingNews.ie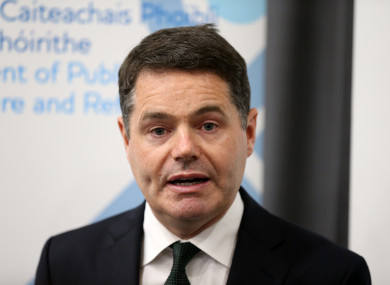 Image: RollingNews.ie
IRELAND HAS BEEN granted the go-ahead for the early repayment of the €5.5 billion in outstanding loans from the IMF, Sweden and Denmark.
The Minister for Finance and Public Expenditure Paschal Donohoe said that this will lead to a saving of €150 million over the remaining life of the loans.
Under the terms of Ireland's €67.5 billion bailout plan, the European Financial Stability Facility must waive its right to the proportionate early repayment clauses before other creditors may receive the money Ireland owes.
The EFSF approved the request for early repayment yesterday evening.
Ireland also required the waiver of the European Financial Stabilisation Mechanism (EFSM), which was too granted yesterday.
The announcement makes way for Ireland to repay the remaining €4.5 billion on its IMF bailout debt and another €1 billion in loans from Denmark and Sweden.
Commenting on the announcement, Donohoe said: "This puts Ireland in a strong financial position for the future and ensures we are making further sustainable progress in reducing our national debt.
Actions taken in recent years, and the sacrifices made by our citizens, have laid the foundations for a solid and sustained economic recovery in Ireland.
Donohoe thanked the IMF and Ireland's European partners for their support and assistance "which was provided at a time of great uncertainty and played a part in getting us on the path to recovery".
The National Treasury Management Agency (NTMA) will now initiate the formal process of making the repayments on Ireland's behalf.
Speaking earlier this month, Director of funding and debt management at the NTMA Frank O'Connor said: "Replacing Ireland's loans from the IMF, Sweden and Denmark further reduces our debt service costs, which have declined considerably in recent years.
"The Exchequer is in a healthy funding position. At end-August we had €20 billion in cash and liquid assets."
O'Connor added that this is not the first time Ireland has made an early repayment of programme loans.
"The NTMA has previously implemented arrangements to repay over €18 billion in IMF facilities to take advantage of reduced market borrowing costs and create savings for the Exchequer."