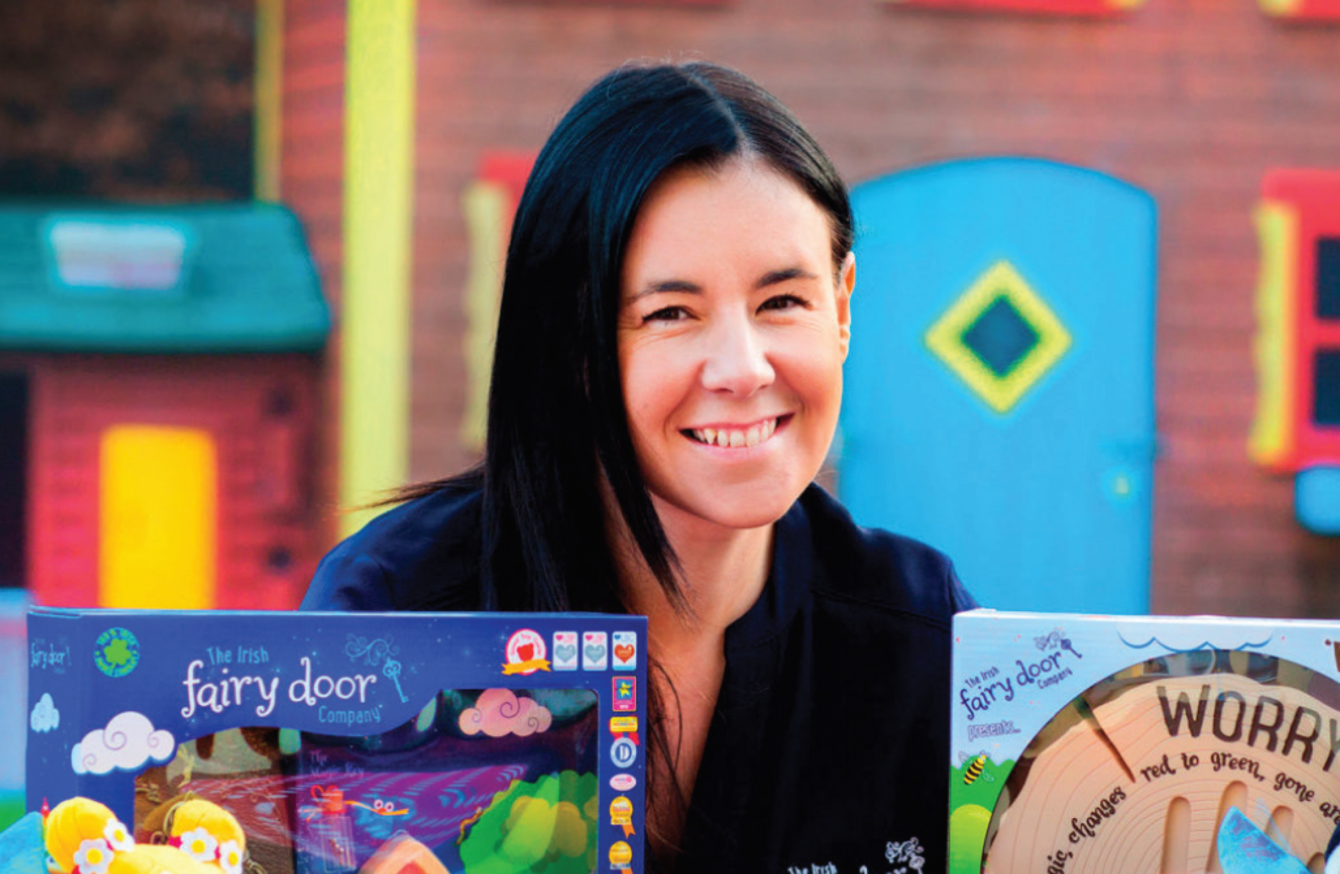 Image: Irish Fairy Door Company
Image: Irish Fairy Door Company
DURING A TRIP to New York many years ago, best friends Niamh Sherwin Barry and Aoife Lawler picked up something for their kids that would change the course of their lives – a door behind which fairies would eventually live.
At the time, the impact it would make on both their families wasn't particularly obvious. Fast forward a few years to the middle of the recession in 2013 – things were difficult for them and their families: "there was absolutely not a spare euro between us".
But one thing had been keeping things bright during a time when their financial outlook was anything but – the fairy doors. "We had been enjoying that for years with our kids and had so many stories about what each fairy was doing."
At the time, Niamh and her husband were considering emigrating and there wasn't much available in terms of investment if they were to start selling them. But under the sink in Niamh's mum's house was a biscuit tin in which she had saved €8,000 – the financial impact of her giving up smoking. 
Fortunately, she gave the two couples that money and they set to work making fairy doors initially for an Irish market. Back then they cut the doors themselves, and getting the product right and maintaining quality levels was of huge importance for them.
And with a little help from the Local Enterprise Office in South Dublin, the team got to work. "They were just incredible", says Niamh. The Business Priming Grant they secured was "totally business-changing". They used this for developing the product, the website and marketing on social media.
Natural storytellers
A few days into running the company, the four were sitting around the table chatting when an order came in: "We were all asking, 'do you know her?', 'do you know her?', and it was someone who none of us knew." That was when they first knew they were onto something big.
The company was started in August 2013, and by January (after the Christmas rush), business had not started to slow down – in fact they made more in January than in the first three months: "Purely because people had received the door for Christmas and were telling other people". That first quarter of 2014 was "phenomenally successful".
From the outset however, cashflow was and has always been an issue: "Eighty percent of our business is done in the last six weeks, and from a small business that's a nightmare."
The reality of this is that the team have to get everything manufactured, shipped and paid for before they even hit a shop. And from a product point of view, you need to be developing in February for it to hit the shelf in November.
Why did it resonate so well in an Irish context? It's inherent in our culture, says Niamh, who says they "didn't have to convince anyone":
I think we're natural storytellers. We've so many myths and legends going back generations. You still wouldn't get a farmer building on a fairy fort – superstition and storytelling is a bit part of our heritage.
It was an idea that resonated around the world, but in a different way. The fairy doors have now been sent to 150 different countries via their online store, and their primary markets these days are Ireland, the UK, Canada, the US and Australia.
This had been made possible by LEO South Dublin, who had provided the company with business mentoring and support which helped get them ready to export, and transitioned them to becoming a client of Enterprise Ireland, so the company could grow and sell internationally.
As you may have heard, in the US, the fairy doors caught the attention of the world's most famous family of influencers – the Kardashians, with Kourtney posting on social media about a fairy door that she had set up for her son Mason. As recently as November 2019, she posted a picture of her fairy door for her daughter Penelope (see below):
The impact was huge, but not in the way that you'd expect: "It was posted on the 15th of December, so from that point of view it was way too late to process extra orders," explains Niamh. But what it did do was confirm to them that they were making a really worthwhile product:
The Kardashians get every toy. So personally for us, knowing that it got through the ten layers of people you more than likely need to get through was a big deal. It was very much an accolade for what we had designed and come up with.
Closer to home, the dads on the Irish rugby team also loved the product – from Gordon D'arcy to Brian O'Driscoll and Amy Huberman: "Amy got very authentically behind it – it wasn't paid. People still come up to us and ask where they can get the 'Amy Fairy Door'."
A little mental health magic…
As children around the world began to write to their fairies, parents began to notice a trend – that their kids were telling their fairies about worries that they hadn't heard about. The fairy doors allowed them an output for this, as Niamh explains:
When a child has a worry or suffers from anxiety, it can be very hard for them to verbalise. The feedback was unanimous that the fairy doors were enabling a conversation about their worries. 
Unfortunately, parents in the US report a lot of anxiety with their kids due to things like class divides and the political situation. 
"It's not something we set out to do – it wasn't part of our value proposition at the start", explains Niamh. "We just wanted to enhance children's ability to use their imagination." But when kids would write to their fairy and tell them things like, "tomorrow I'm going swimming – I really don't like it," suddenly their magic friend was able to help with that.
The team responded to that worry with the Worry Plaque (and its portable version), which allows kids to put their hand on the plaque, see that it turns red to indicate that the fairy is listening, then it turns green to say that the fairy has heard their worry and will help take it away. Niamh says it works particularly well for kids with autism.
It didn't just capture the feelings of kids – it also gained the attention of producers in Canada. The Irish Fairy Door Company has now struck an animation deal with a DHX Media, who produce My Little Pony, for a cartoon with a difference.
While all cartoons have a moral, what they've done in this case is made it "very obvious and open". The show centres on emotions and questions  about how kids are feeling. "This is unheard of in animation", says Niamh. "The reason they engaged with us was because of the wellness angle".
It hopes to show kids how to do things like talk about their feelings, how to fix things and to talk to adults about their feelings. The first seven episodes are already live on the Irish Fairy Door Company's YouTube channel and the longer version it is hoped will be distributed by TV, Netflix or in the form of a movie.
"I'd love to see it one day to be as big as the likes of Peppa Pig, or at least to be a big part of children's childhood around the world," says Niamh.
Source: Local Enterprise Office/YouTube
Got a brilliant business idea of your own? The Local Enterprise Office will help you get it off the ground, providing expertise and financial support and enabling your business to grow and thrive. If you have a good idea, they can help you to make it happen. Check out the new Local Enterprise Office site with resources to help you get started.