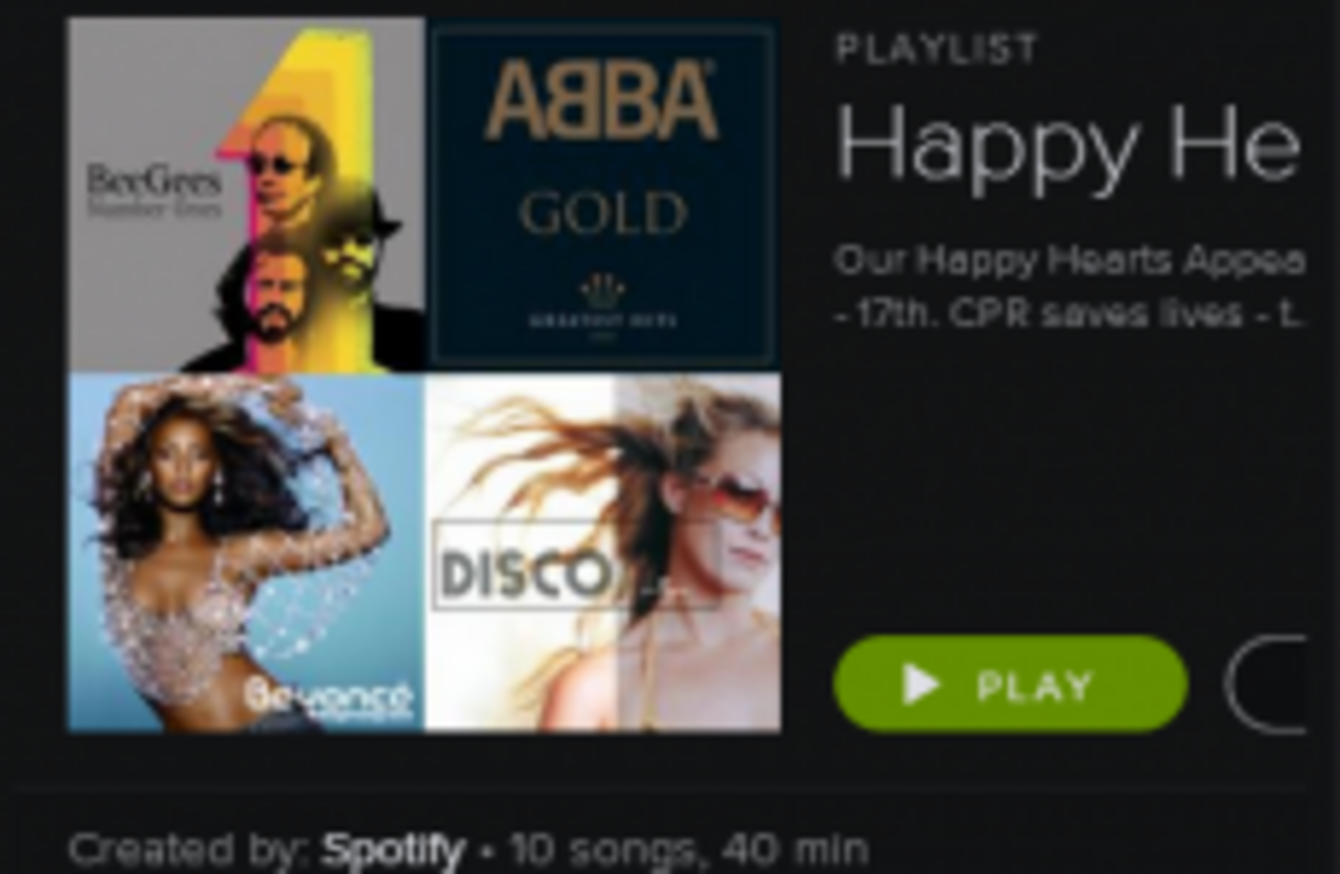 WHILE YOUR FAVOURITE playlist may have helped you through a bad day, a new Spotify playlist may actually help to save a life.
No, seriously.
The Irish Heart Foundation has asked Spotify to come up with a playlist of songs - including Justin Timberlake, Beyoncé, and ABBA - to show the particular rhythm which is best to follow when giving CPR compressions to someone whose heart has stopped.
Appropriately enough, the playlist includes Back to Life by Soul II Soul, and Quit Playing Games With My Heart by the Backstreet Boys.
"We're asking people to choose their favourite song and remember it in case of emergency," said Barry Dempsey, the head of the Irish Heart Foundation.
Around 13 people die every day from cardiac arrest in Ireland, but starting CPR can double a victim's chance of survival.
The songs, all of which are up-tempo, include Justin Timberlake's 2003 slick disco groove Rock Your Body, Phil Collins's cheese-tastic wedding classic You Can't Hurry Love, and the Bee Gees disco tune Stayin' Alive.
The IHF recommends that once an ambulance has been called, CPR on someone who is not breathing and does not have a pulse should reach at least 100 compressions per minute, with each cycle consisting of 30 compressions and two breaths.
"If even one of these ten songs resonates with the public in a time of crisis when they are in a position to deliver CPR compressions, it could mean the difference between life and death," said Dempsey.
#Open journalism No news is bad news Support The Journal

Your contributions will help us continue to deliver the stories that are important to you

Support us now
Adam Williams, the head of Spotify in UK and Ireland said the music site "wanted to feature some tracks that are inspired by the Irish Heart Foundation's great work in saving lives".
The full playlist:
Bee Gees – Stayin' Alive
ABBA – Dancing Queen
Beyoncé – Crazy in Love
Gloria Gaynor – I Will Survive
Soul 2 Soul – Back to Life
Justin Timberlake – Rock Your Body
Lynyrd Skynyrd – Sweet Home Alabama
Phil Collins – You Can't Hurry Love
Backstreet Boys – Quit Playing Games (With My Heart)
Michael Jackson – Man in the Mirror
Any excuse to watch how Rock Your Body has stood the test of time over the past decade, frankly.
Source: justintimberlakeVEVO/YouTube