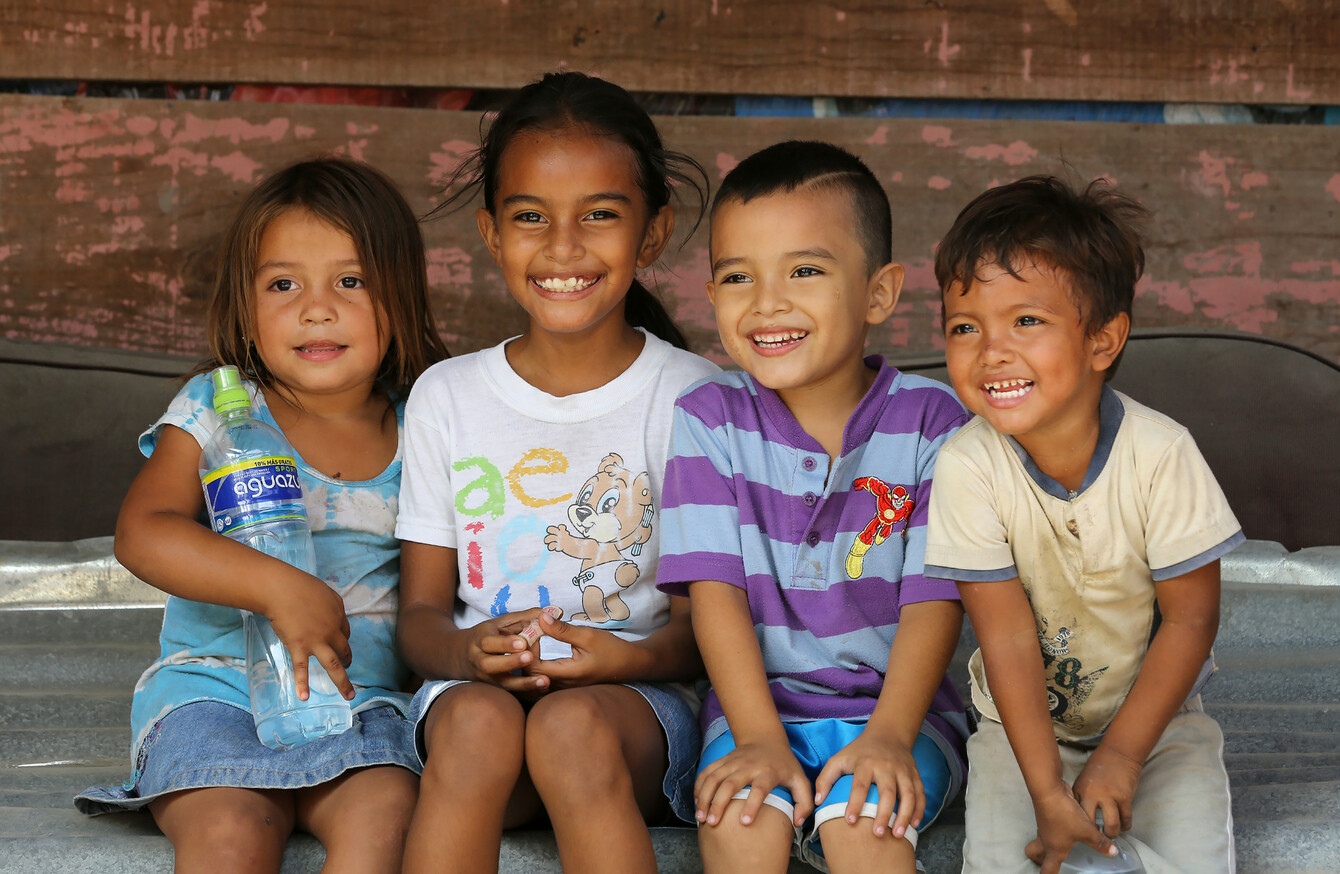 Image: Frank McGrath/Trócaire
Image: Frank McGrath/Trócaire
OLIVE MOORE HAS been fortunate enough to travel to many of the 20 countries in which Trócaire supports communities. When she's asked the people in each what they need the most, the answer is always unanimous – a better future for their children.
So, what's the best way to ensure this? Through education, says Moore, who works as Head of Programmes at Trócaire: "The value of getting kids to school and keeping them in a high level of literacy is transformative." And a few chicks can go a long way for that too, but more on that later.
You may have heard of Trócaire's Christmas gifts. When you buy one, 100% of your donation goes towards the gift and the humanitarian work that the charity does, from items as small as bars of soap to entire wells and the tools to fix them. They're also sourced locally – ensuring your money is put into the local economy.
But what impact do these gifts actually make on the individuals and families in the often war-stricken countries they're delivered to? Each gift often has multiple layers of impact on a community, says Moore. "Even small gifts can make a really big difference." 
Livestock as livelihood
Take the gift of chicks for example, which in time, make the cost of an education for your children attainable, as Moore explains:
I was in Ethiopia recently and a young mother who was 15 years old was able to sell eggs from them and buy more chicks. She now has a coop with 20 hens and is saving for her son's education.
The likes of seeds and tools hope to give families the opportunity not only to feed themselves but to sell the excess food in the market, making money that they can reinvest in their families for health or education or for a goat which can be sold in harder times.
However new seeds also have the impact of creating "more diverse foods which are more rich in nutrition". The tools make farming work less intensive – meaning that parents can spend that time with their children or doing other chores.
By purchasing beehives, you not only provide a very nutritious ingredient for a family in need, it's also very valuable when it's sold in the local market, creating a new means of making money for families. In Rwanda, Trócaire offer training for these families to manage them correctly.
Where's there's a well, there's a way
While we may take access to clean water for granted in Ireland, it's an issue that Trócaire focus on a lot in their Christmas gifts. These range from water pumps and irrigation to the new gift this year of 'Fix a Well' which gives a community the resources to ensure that their water supply is working at all times – villages often don't have the tools to fix them.
This can be one of the most valuable gifts you can possibly buy for a community, explains Moore. She says they have a particularly positive impact on the women of the community, "who are primarily responsible for sourcing clean water for the day":
I've met women who get up at dawn to walk 3-4 miles for water, which they carry in huge cans all the way back to their village.
Not only does a nearby well free up time for them to look after their family, it prevents children from becoming sick from drinking from a dirty pond, which they often have to share with animals. And the water that's left over? It's used to irrigate and produce a healthier crop, again deliver more diverse food, benefiting nutrition and income.
Sustaining schools
In countries like Somalia, there has been ongoing conflict now for two decades – meaning not only is there currently no functioning government or healthcare system, there's also no education system. "In many cases, if the schools Trócaire supports weren't there, thousands of kids wouldn't have access to education."
In these countries, students often arrive to school hungry in the morning – when families struggle to feed their children, it's often a choice of days with no food or one meal later in the day. By buying these kids school lunches, they're better able to concentrate.
When they get home, things aren't so simple either. In places like the Democratic Republic of Congo, it gets dark at 6pm and families often don't have access to electricity, using dangerous and kerosene lamps. Though "kids are very enthusiastic to do their homework", says Moore, after their chores it's often too dark to do so.
That's why Trócaire offer the gift of a solar lamp, which not only provide renewable, free light to kids and their families, it has the secondary impact of increasing safety for women and children in the region.
Supporting struggling parents
A new gift this year also hopes to support grandparents, who through illness or war are often forced to step in to look after grandchildren when they are orphaned. Moore says that they are often doing this in a situation where they have health issues, expenses or no access to a means to make money.
"Irish people will relate particularly to this gift because of the important role they play in parenting here", says Moore. This gift aims to cover some of their expenses and support them in childcare.
Each year, Trócaire volunteers try to find the best gifts to offer these communities: "We're in constant contact with these communities to find out what's most useful or tangible for them and what is going to make the biggest difference in their lives."
You can find the full list of Trócaire Christmas Gifts and their prices below:
Would you like to make a difference to someone who really needs it this Christmas? Check out Trócaire's Gifts of Love - a wonderful array of items ranging from €5 – €1,000 that can genuinely change people's lives in the 20 developing countries that Trócaire works in, focusing on food, resources and women's empowerment.