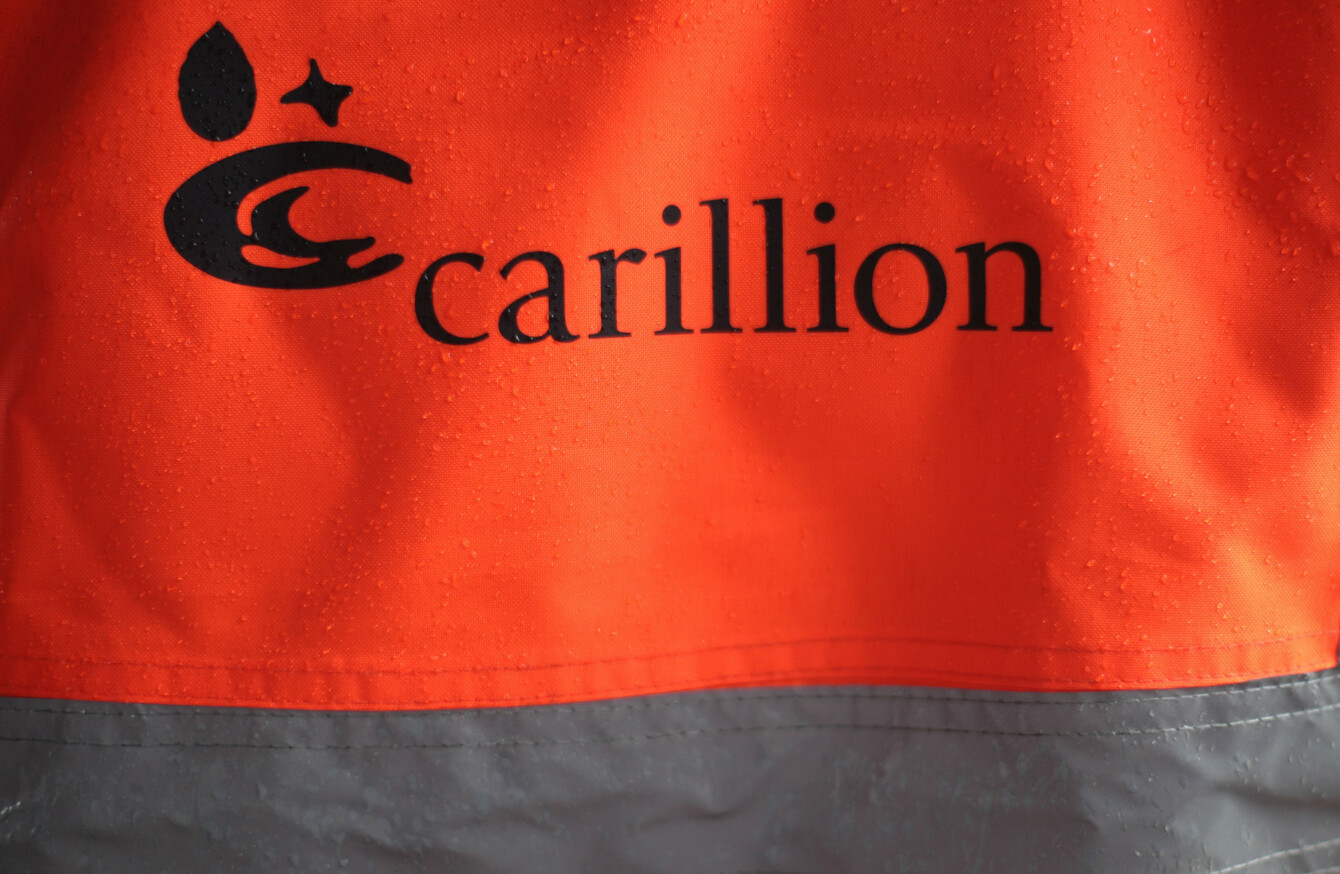 Image: Yui Mok via PA Images
Image: Yui Mok via PA Images
THE BUILDING OF some schools in Ireland is being stalled due to the collapse of Carillion, a UK construction company.
As reported by RTÉ News this morning, the construction of a few schools around the country have been stalled as it's uncertain whether workers will get paid.
The company employs about 20,000 people in the UK, however it's understood that some 43,000 jobs worldwide now hang in the balance.
There are concerns over hundreds of projects on the books of the company which was forced into liquidation after its huge financial troubles of £1.5 billion made the firm buckle.
Carillion is responsible for the design, build, finance and maintenance of five schools on four sites in counties Carlow, Meath, Wexford and Wicklow. 
The new building of secondary school Coláiste Ráithín, located in Bray Co Wicklow, has been completed – but the principal says that he hasn't been handed the keys.
"Our school is complete at this stage, all the final fixings have been done so we're somewhat alarmed this morning at the possibility of workers moving off the site," Gearóid Ó Ciaráin told Morning Ireland.
He said that he was due to be handed the keys in November, but that was delayed until December, and delayed again until last Monday. He still hasn't received the keys and doesn't know when he will.
"We took on extra teachers for home economics and PE because we wanted to hit the new building running. Now the home economics teacher brings her own iron in from home in order to try and keep it going in an ordinary classroom, no cooking facilities at all, and she's very worried that she cannot comply with the normal curriculum."
He said that their new PE teacher has "no fields, no place in which to do PE", there's "no equipment whatsoever" for technology classes, and that pupils and their parents are getting "very fed up with this at this stage".
It seems as if we've wasted a whole year.
"We're in dire straits here it seems outrageous that we can't move into it," he added.
The school was first approved for a new building by Mary O'Rourke in 1995.
Education Minister Richard Bruton said previously that the State has only paid out a small sum of money on works that have already been completed, adding that the State own the schools.
He said he is confident they will be able to discuss a process for resolving and completing these works with the remaining shareholder.
Netherlands-headquartered Dutch Infrastructure Fund (DIF) – a 50% shareholder involved in the scheme – said it hopes to "resolve this complex situation as quickly as possible".
"However, it is inevitable there will be a delay while dealing with the subcontractors and all other stakeholders in the projects," a spokesman for the fund management firm told Fora.ie.
DIF would like to reassure all those in the areas where the schools are being built that we are working as hard as we can to try and find a solution.
#Open journalism No news is bad news Support The Journal

Your contributions will help us continue to deliver the stories that are important to you

Support us now
The schools that Carillion have been tasked to construct new buildings for are:
Tyndall College Campus in Carlow, which will consist of a development that will provide accommodation for over 2,000 post-primary school and Further Institute of Education students
Eureka Secondary School, Kells, in Meath. The project involves the replacement of the post-primary school and will provide 800 pupil places
Loreto College in Wexford, where the secondary school will provide 900 pupil places
Coláiste Ráithín, Bray, County Wicklow is to be replaced with 450 pupil places
St Philomena's National School in Bray, where 24 classrooms in the school are to be replaced. Both Coláiste Ráithín and St Philomena's NS will be constructed on a single new site in Bray.
"It's such a pity that the building is now up and nothing is being done," Ó Ciaráin said.
Few weeks
Speaking today in the Dáil, Taoiseach Leo Varadkar said that the issue should be sorted "within a few weeks".
He said that the Dutch Infrastructure Fund, which is partnered with Carillion in the schemes, has said that the collapse of the company came quicker than they had expected. Varadkar said the fund had told him the matter is a priority and will be sorted soon.
- with reporting from Christina Finn and Paul Hosford.