Image: /Photocall Ireland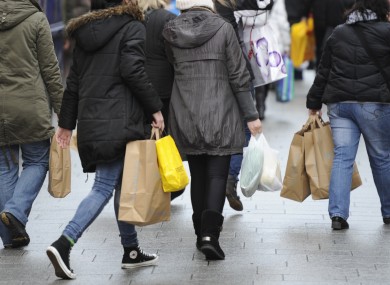 Image: /Photocall Ireland
IRISH RETAIL SALES have increased by 6.2% in volume so far this year, outpacing growth in the value of sales, which stands at 4.1%, new figures from the CSO show.
In a statement following the data release, the Irish Small and Medium Enterprises association warned that costs for the retail sector continue to increase, with thousands of jobs still at risk despite the tentative improvement in the economy.
Davy research predicted consolidation of gains made to date in retail figures, with spend on discretionary items modestly rebounding, while sectors that had not been as heavily hit during the recession were not joining in the recovery.
Breakdown
The greatest month-on-month gains were seen in the motor trades, which increased sales by 4.6%, electrical goods, which climbed by 1.8%, and other retail sales, up 1.4%.
The sectors that slowed the most in May were furniture and lighting, posting a 6.9% decrease, books, newspapers and stationary, down by 3.9% and hardware, paints and glass, which suffered a 2% fall.
Meanwhile, Davy chief economist Conall Mac Coille said that the stockbrokers now expects retail spending when car sales are excluded to expand by 1% in the second quarter of the year, which would be a fifth consecutive quarter of expansion.