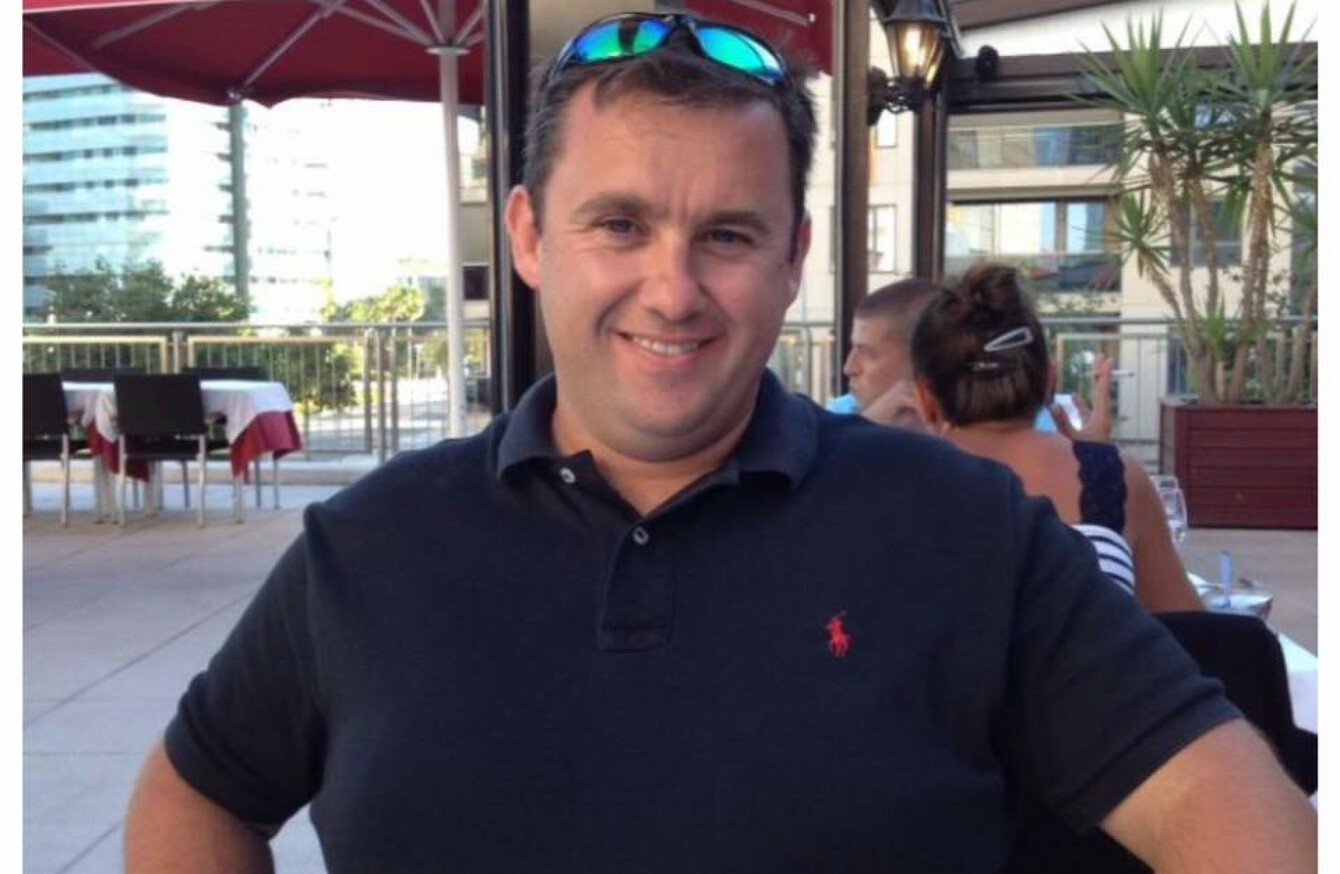 Limerick-born Jason Corbett.
Limerick-born Jason Corbett.
IN OVER THREE hours of closing arguments from both sides today, defence lawyers for Thomas Martens' questioned the totality of evidence against the accused and claimed Martens was an unwilling participant.
In rebuttal, the prosecution said that Martens was dishonest during his testimony.
Molly Corbett and her father, Thomas Martens, are each charged with second-degree murder in the 2015 death of Corbett's husband Jason Corbett in North Carolina.
They claim the Limerick father-of-two was choking Molly Corbett and threatening to kill her and that they acted in self-defence.
Jones Byrd, a lawyer for Martens, said the State's evidence confirms what Martens said on the witness stand.
This includes much of the testimony of Stuart James, the blood spatter analyst who said the first impact came at the bed and the spatters came from the bedroom and not the hallway.
Byrd emphasised transfer blood stains on the chest area of Martens' red polo shirt, which Byrd believed confirmed another part of Martens' testimony.
"That is consistent with Jason Corbett catching the bat and rushing him across the room," Byrd said. "Certainly doesn't contradict it."
Investigators have cast doubt on that defence. Authorities say Jason Corbett was planning to leave Molly Corbett — his second wife and former nanny to his children — and return to his home country of Ireland.
Byrd then questioned why the jury didn't see the full recordings of detectives interviewing Martens or Molly Corbett or why the detectives didn't testify.
Byrd also wondered why James, the blood spatter expert, didn't visit the house or check EMT (emergency medical technician) reports to get a more accurate account of the blood spatter on the bedspread.
Byrd asked:
[James] has been paid good money by the state of North Carolina, and he couldn't be bothered to ask for EMT reports?
Wiped
Byrd later said there was no evidence that indentations on a wall happened the night of the incident, citing that no pieces of dry wall were collected for evidence.
"What else have they not seen?" Byrd asked.
What else did they miss?
David Freedman, the other defence lawyer for Martens, said that on the night of the incident, Martens "awoke from a dream to a nightmare".
Freedman said Martens had no expectation to find anything upstairs. He added that it's normal for a person to bring protection with them when they hear an unsettling noise.
"How irrational is that"? Freedman asked sarcastically, in reference Martens grabbing the bat. "My God!"
Freedman said Martens spent his life defending his country as a part of the FBI, and accused the prosecution of putting his law enforcement career into a negative connotation. The lawyer said Martens went upstairs with the intent to protect, like he did with the FBI for 40 years.
Freedman said the prosecution wants the jury to believe that Martens snapped. But Freedman reminded the jury of a report from a nurse practitioner two weeks before the incident that said Jason Corbett reported dizziness and fainting, wasn't taking his thyroid medication, and felt stressed and angry for no reason.
Freedman claimed the report proves Jason Corbett snapped, not Martens.
"You don't have to believe me," Freedman said. "Listen to Jason Corbett."
The lawyer said Martens had no motivation to throw his life away by attempting to battle a person twice his size with a little league baseball bat. He added that Martens did not want to hit Jason Corbett. Freedman said all Jason Corbett had to do was let go, and the incident would be done.
"Martens was in a fight for his life," Freedman said. "All he wants to do is live."
Freedman said on the night of 2 August 2015, Martens did what he spent his whole life doing, "protecting, or in this case, protecting his young".
End this nightmare and find him not guilty.
Davidson County Assistant District Attorney Alan Martin began his rebuttal by describing the brutality of Jason Corbett's beating.
Martin said Martens and Molly Corbett "beat the skin off his skull".
He added that they didn't just kill Jason Corbett – "they overkilled him".
"They turned it into something that looks like a bad humpty dumpty cartoon," Martin said.
#Open journalism No news is bad news Support The Journal

Your contributions will help us continue to deliver the stories that are important to you

Support us now
Throughout his testimony, Martin banged the bat and brick against the prosecution's table to demonstrate the force of impact from both objects.
The prosecutor reminded the jury that at least four of the impacts were while Jason Corbett was unconscious.
"How much force does it take to split flesh all the way to the skull?!" Martin exclaimed as he banged a baseball bat against a table.
Martin later said, that it took "'I hate you' force".
The prosecutor then recounted the testimony of James, and discussed the blood spatters.
At one point, Martin had Greg Brown, a fellow prosecutor, lie face down on the ground to reenact how Martens and Molly Corbett stood over Jason Corbett while they allegedly hit him.
Jason Corbett is not able to tell you where they beat him, but the blood told Stuart James, and Stuart James told you.
Martin then broke down Martens' testimony, saying parts weren't believable. He claimed that Martens enjoyed "matching wits" with other law enforcement, like he did in the FBI.
Vanished
After going over Martens' testimony, Martin focused on Molly Corbett, who he believed had motive to assault Jason Corbett.
Martin reminded the jury that tissue fragments from Jason Corbett were found on Molly Corbett's pyjamas. He also suggested that even though the sleeping pill Trazodone, which was discussed in the early part of the trial, didn't have an effect on Jason Corbett that it is possible that Molly Corbett attempted to drug him, but failed.
In response to the defence's claims that evidence wasn't sufficient, Martin said the defence wants "a perfect case with perfect evidence", which Martin believed was an impossible standard.
Martin ended his two-hour closing argument by stating that Jason Corbett did not have to die.
"You have a duty to return a verdict that will deliver justice for Jason," Martin said.
Moving forward, the judge will now give instructions to the jury. The 12 selected jurors will then asked to deliberate and reach a verdict.
Comments have been closed for legal reasons.