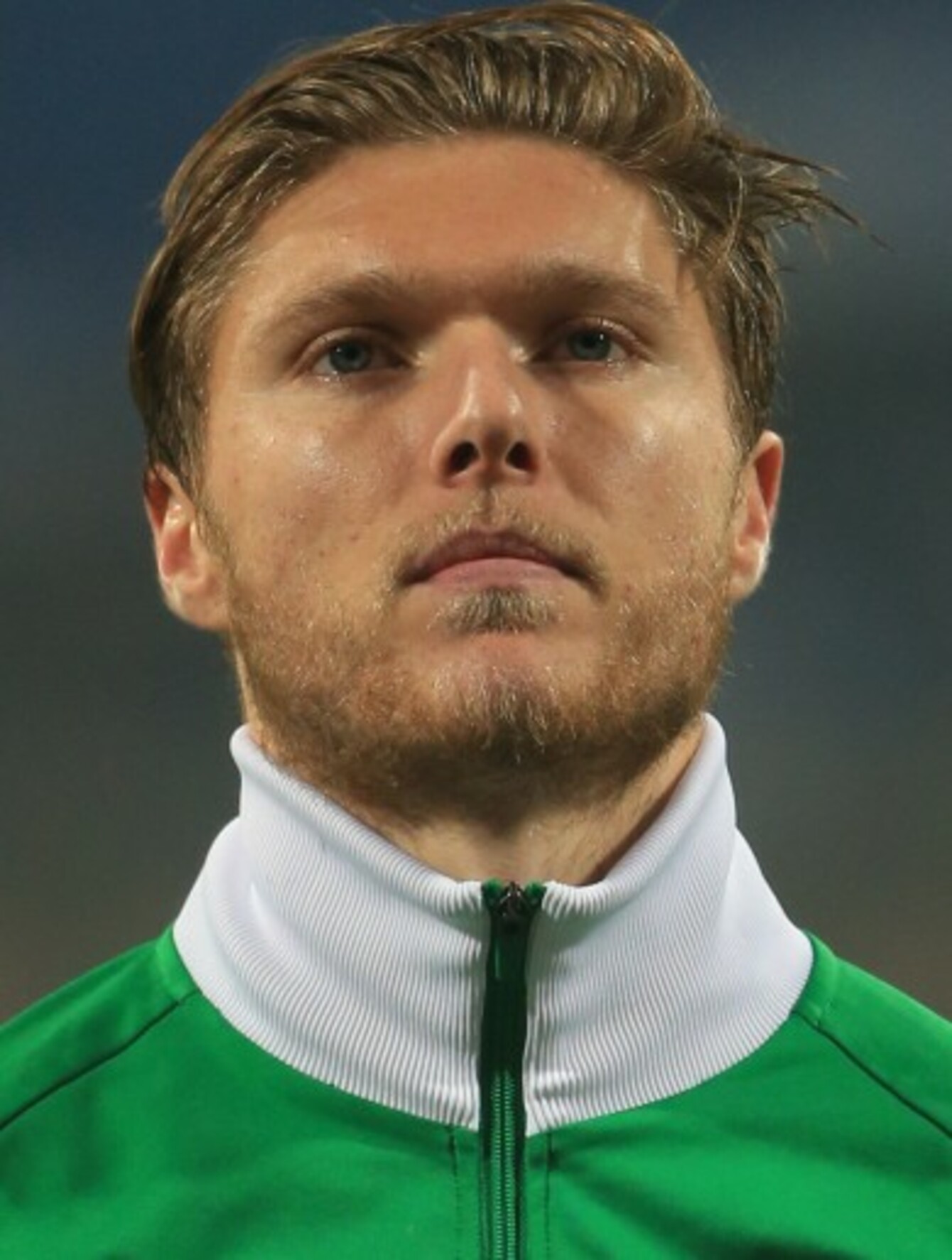 Hendrick plays regularly for the Irish national team.
Image: PA Archive/Press Association Images
Hendrick plays regularly for the Irish national team.
Image: PA Archive/Press Association Images
A SOCCER COACH suffered a triple fractured jaw and feared for his life after he was confronted by a group including Republic of Ireland football star Jeff Hendrick, a court has heard.
Darren McDermott alleged he was dragged from a taxi by Hendrick who was "out of it" and was later chased and beaten.
Hendrick (24), who is originally from Kilmore in north Dublin, but now based in England where he plays midfield for Derby County, is accused of violent disorder at Harcourt Street in Dublin city-centre on 12 October, 2013.
The charge, under the Public Order Act, involves an allegation of the use of, or the threat of violence, which could cause a person to fear for their safety.
His co-accused Jonathan Doran (24), of Kilmore Crescent, Artane, Dublin, is also charged with violent disorder at nearby Montague St but also has an additional charge for assault causing harm to Darren McDermott in connection with the same incident.
Both men have pleaded not guilty and their trial began at Dublin District Court today.
However, after hearing evidence from Darren McDermott who sustained injuries in the alleged incident, Judge John Cheatle refused jurisdiction, meaning the case must go forward to the Circuit Court, which has tougher sentencing powers.
Judge Cheatle said that Mr McDermott had described a terrifying event in which he had been threatened and pursued by Mr Hendrick. He said Mr McDermott had described being followed and knocked to the ground and was allegedly set on, kicked in the face and he gave evidence that he feared for his life.
He noted the man's injuries: a triple fractured jaw and bruising to his chest, body, arms, legs and face.
In evidence, Mr McDermott, a soccer coach who is from Kilmore west in Dublin but now living in Clarehall, in the city's north-side, told the court he had gone out with a few friends to a club in the city-centre.
They watched an Ireland-Germany match and later went to the Krystle nightclub on Harcourt Street.
There he met Mr Hendrick's group and knew one of them because he had coached one of them. He knew Hendrick as a footballer and also knew members of his family.
He said they were chatting and laughing and had photos taken on their phones. He said when his friend went to the bar Mr Hendrick "just turned, his whole demeanour changed, he was not happy with me being in their company".
He said the footballer became quite aggressive and started "verbals". He claimed he tried to calm the situation and told him he knew his brother and family.
It was not really helping, it was not stopping him getting more aggressive.
He said the football international was "sort of threatening, trying to get close to me".
Mr McDermott said his friends were holding him back. He claimed security staff grabbed Mr Hendrick and put him out of the premises. He said he never had any issue with him before and M r Hendrick "just lost it".
He said it was upsetting and about 20 minutes later he decided to go. He said that Mr Hendrick was in a group of five or six gathered outside on steps at the club's entrance. He claimed Jeff Hendrick "went to have a go again, again I tried to calm him down, at that stage he was quite aggressive."
"Ultimately he was looking to get at me, to hit me, to assault me," he alleged.
He said Jeff Hendrick was being held back by his friends and was calling him "a lot of expletives, it's hard to recall the exact words".
Mr McDermott tried to get back into the club but the bouncers would not let him in and they indicated to him that there was a taxi rank nearby.
His friend held off the group while he ran to a taxi which he claimed pulled off but was soon blocked by Mr Hendrick and his friends. He alleged the football star was to his left and was banging on the taxi. Other members of the group were intimidating the driver to stop him pulling off.
He said he activated the door locks and was appealing to the driver to just keep going. He claimed he offered the driver €100 to keep going and told him he feared he was going to get "a hiding".
However, the driver unlocked the car, he said and he alleged that the footballer then pulled him out of the car.
Mr McDermott told Judge Cheatle that he told Mr Hendrick to calm down while others were holding him back. He said the soccer star was "out of it" and he decided to run.
He claimed he was chased and heard shouts "come back".
He did not know how he hit the ground but the next thing he could remember was "straight away people laid into me". He told the court he was kicked to his head and ribs and he held his hands over his head to protect himself.
He said two girls began screaming "get off him, get away from him" and there was a lot of shouting and screaming.
Thank God, God knows what what would have happened, I felt like they saved my life.
Gardai arrived then, he said. He also said he had broken teeth as well as bruising and a triple-fracture jaw.