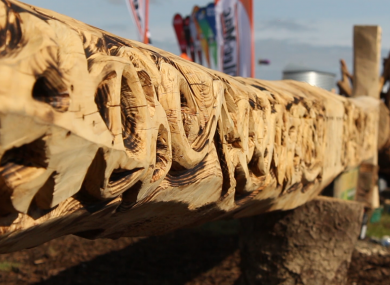 Source: TheJournal.ie/YouTube
JOHN HAYES WAS tasked with carving Marty Morrissey's head from a block of wood at last year's National Ploughing Championships.
This year, John and his team at Special Branch Carvings wanted to go a step further. Quite a few steps in fact… They're carving a 23-metre Irish Douglas fir into a 23 metre Viking Sword.
They've been working on the project since July of this year, and John's hoping that tomorrow it will be officially confirmed as the world's longest carved Viking sword.
John – who also gave us a masterclass in chainsaw carving at the Co Offaly site last year – talked us through his handiwork (and through a few hundred years of Viking history, while he was at it).
Video by Nicky Ryan