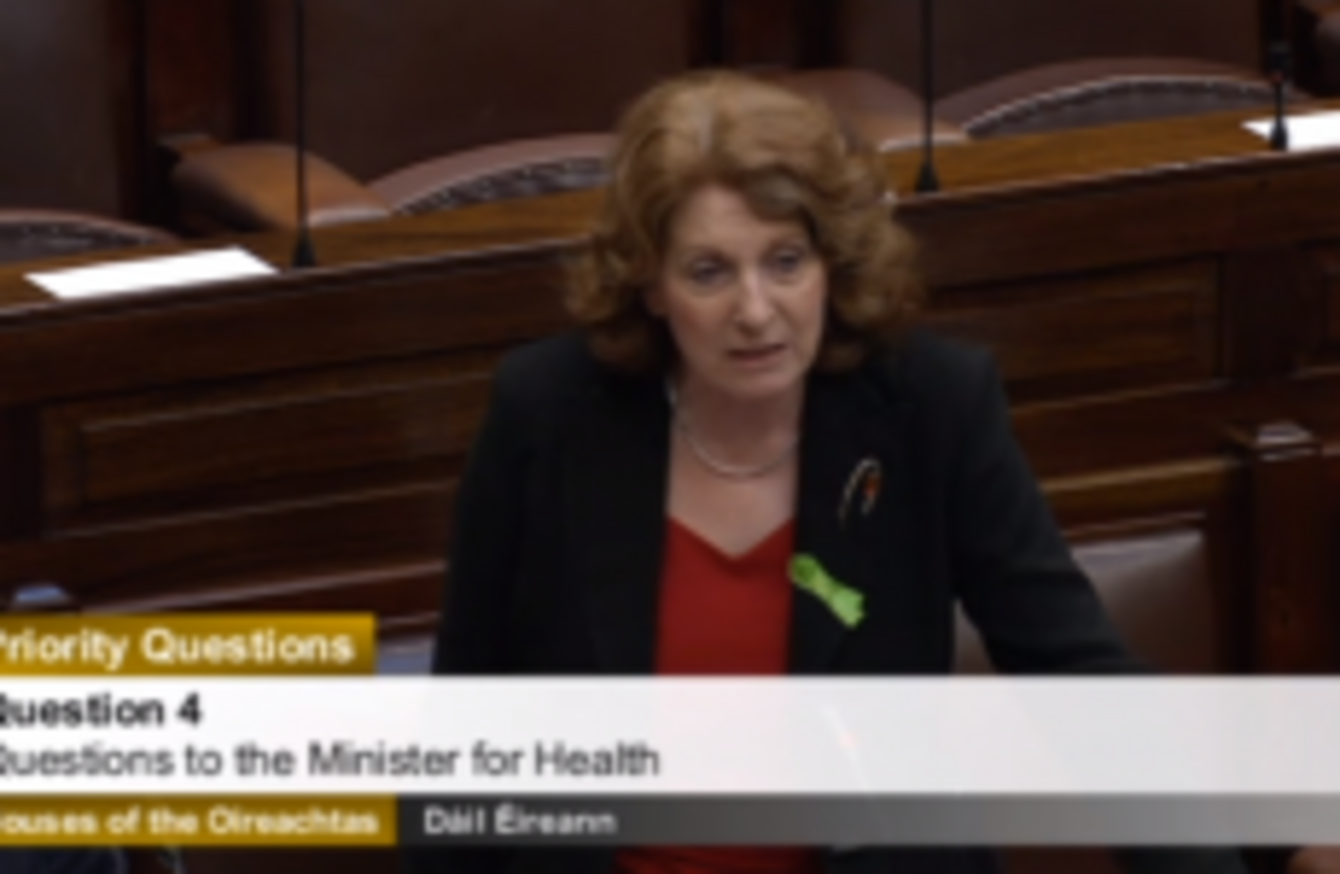 Lynch in the Dáil this morning
Image: Screengrab via Oireachtas TV
Lynch in the Dáil this morning
Image: Screengrab via Oireachtas TV
JUNIOR HEALTH MINISTER Kathleen Lynch has insisted that she never threatened to resign over cuts to mental health services.
Speaking during questions to Ministers at the Department of Health this morning, the Labour TD described claims she threatened to resign as "fantasy."
"I never threatened to resign. I never would, and that's not what I do. I have a job to do and I intend to do it," she said in response to a call from Fianna Fáil's Billy Kelleher to "again threaten to resign" over cuts to mental health funding.
The Sunday Business Post reported earlier this month that Lynch, the Minister of State with responsibility for mental health, was furious over proposed cuts to the mental health budget and told told Health Minister James Reilly, the Taoiseach and the Tánaiste that she "would not stand" for the proposed cuts.
A spokesperson for Lynch declined to comment on claims that she threatened to resign when contacted at the time the story emerged.
In the Dáil this morning, Lynch said there was a lot of opposition to the government's Vision for Change policy which aims to advance mental health services in Ireland.
"Everyone is in favour until it's happening in their area," Lynch said saying "all of a sudden it's the wrong way to go and the wrong thing to be doing" is the reaction when it is implemented.
She said that staffing mental health services had proved difficult in recent times as a result of a requirement for a "different skill mix" and the "different type of people" needed, saying "a whole range of other skill mixes" are needed.
Kelleher said there has been an "awful lot less people" working in the area of mental health than there has been in recent years as a result of the embargo on public sector recruitment and the reduction in overall staff numbers.
Lynch earlier said that €20 million in funding for mental health services next year will allow for 250 to 280 additional staff to be employed by the HSE in various mental health schemes, with recruitment commencing in the first quarter of 2014.
She added that she hoped the positions would be filled by the final quarter of next year.