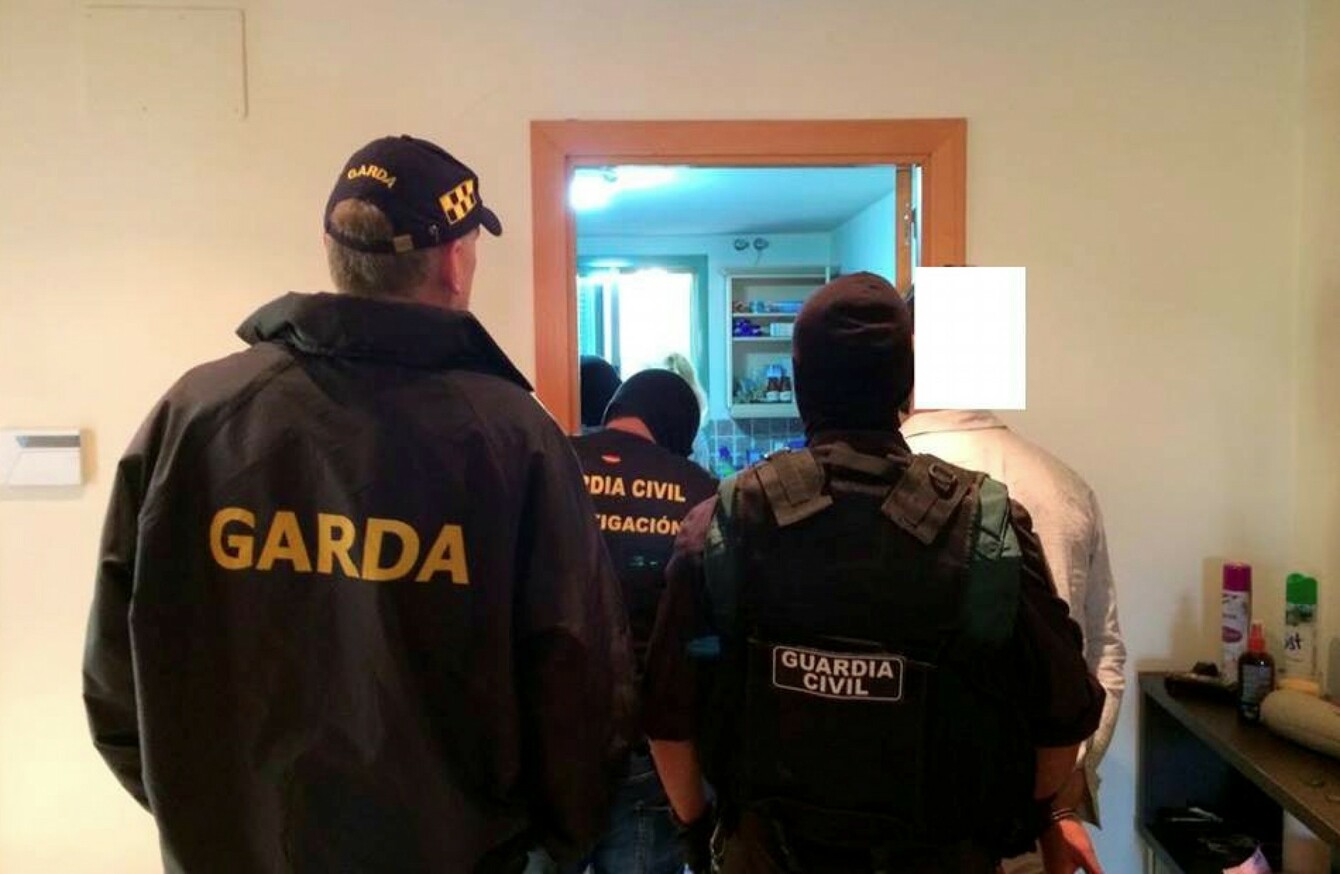 Gardaí, UK police and the Guardia Civil in Spain are all working together.
Image: Garda Press
Gardaí, UK police and the Guardia Civil in Spain are all working together.
Image: Garda Press
A NUMBER OF European Arrests Warrants (EAWs) have been issued for senior members of the Kinahan cartel's leadership, TheJournal.ie has learned.
At least two men, who have been running the cartel's drug and gun enterprise, have been named on the legal documents and are wanted here for questioning in relation to seven murders and significant drug seizures.
UK police are also helping gardaí track down a number of other senior figures who have fled Ireland in recent months.
The men who have left Ireland are considered as high-ranking members of the Irish Kinahan organised crime gang. While there has been a number of significant arrests and charges in relation to some alleged feud murders, gardaí see the potential arrests of these men as a serious blow to the cartel.
These are the men who order gangland murders and also direct where and when shipments of drugs are to arrive into Ireland. They also then order where drug consignments are to be cut, packaged and eventually distributed across the country.
Gardaí have been working on disrupting the distribution networks of senior Kinahan cartel members for years.
Officers now believe that while the leaders are on the run, the logistics of the drug trafficking will be left to relatively inexperienced members of the gang, increasing the likelihood of intercepting significant quantities of drugs and firearms.
One of the men who is now believed to be hiding out on the Costa Del Sol was present at the Regency Hotel attack last year. While it had been claimed that he fled Ireland due to an imminent threat on his life, it is now more likely he feared he was to be arrested for questioning in relation to at least seven murders.
The news comes as an associate of murdered Kinahan gang leader David Byrne was arrested as gardaí stopped what they believed to be an attempt on the life of a senior member of the Hutch gang.
While carrying out a checkpoint in the North Strand area of the north inner city last week. Gardaí became suspicious of car in the area which was subsequently stopped and searched.
This led to the search of another car nearby from which a handgun was recovered. One of the cars contained balaclavas, a loaded Glock handgun and a container of petrol.
Officers believe the men were targeting a senior member of the Hutch gang who lives nearby as retaliation for the murder of Michael Keogh who was shot dead in his car on Dorset Street earlier this month.