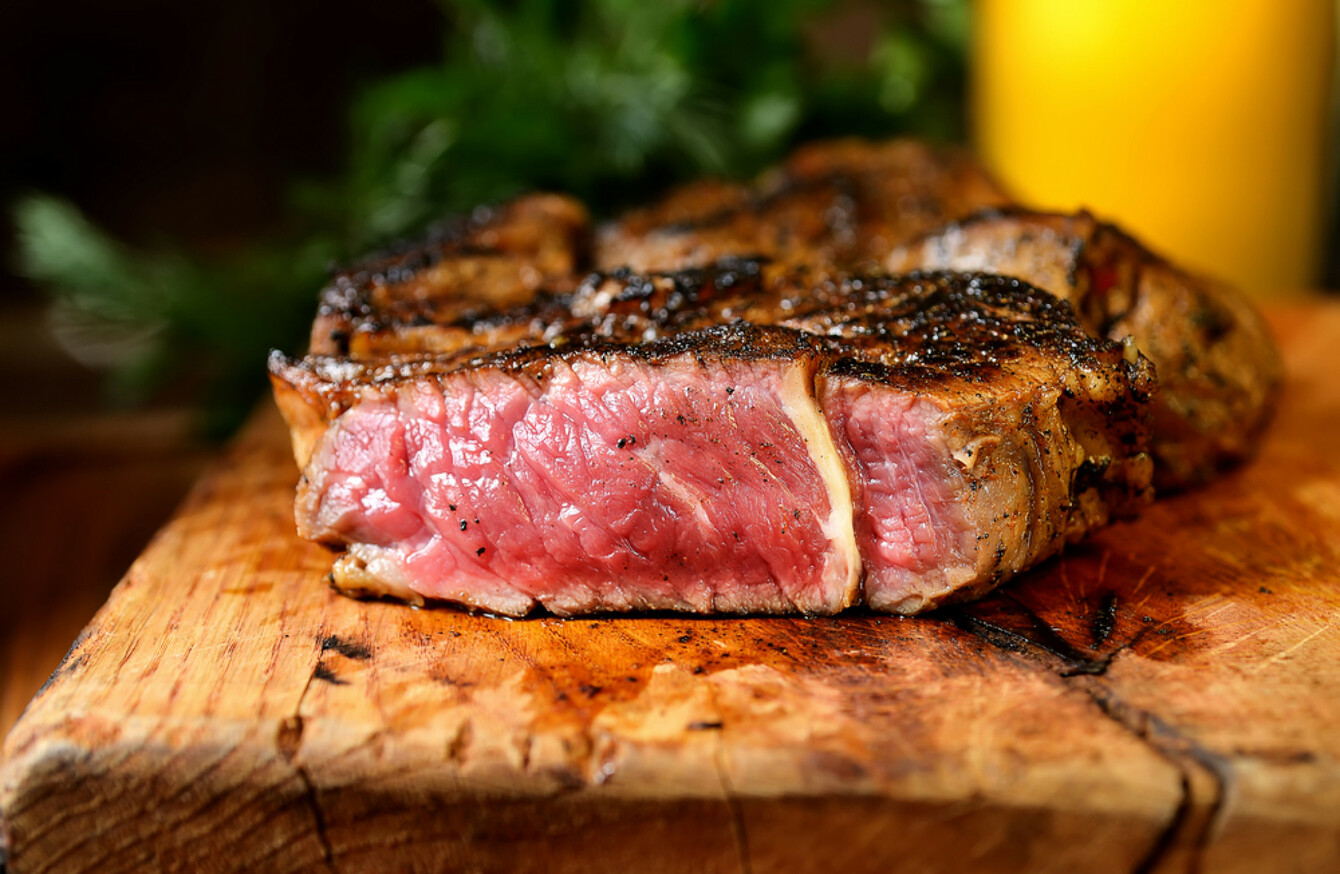 Image: Shutterstock/vengerof
Image: Shutterstock/vengerof
EVERY HOME COOK has their own kitchen hacks, cheats and traditions, and we want to know yours.
Each week as part of our Kitchen Secrets series, we'll be asking readers to share their cooking tips and go-to-dishes. From the secret to quick-and-easy dinners, to the best way to scramble an egg, we'll have a new question every seven days.
This week, we're asking…
What's your tip for perfect steak every time?
You didn't disappoint. Thanks for all your tips – to join our panel, drop us a mail on food@thejournal.ie!
Three minutes for the perfect char:
"The most important thing when cooking stake is to always remember to take your stake out of the refrigerator at least one hour before cooking. I use a cast-iron pan and have it smoking hot. Season the steak and oil the meat not the pan. Place steaks in the pan and don't be tempted to move them around as this lowers the temperature.
"The thickness of your stake  will determine how long they will take to cook but to get a charred crust three minutes of intense heat on each side is essential.
"And finally, resting your meat is another important step to the perfect steak. Leave for six minutes covered loosely, this enables the meat to relax and the final result will be delicious."
- Angie Nolan
Oil the meat, not the pan:
"Meat must be at room temperature. Very hot pan (smoking). Oil the meat not the pan. Cook for five minutes each side for medium rare. Do not season before meat goes into pan as salt will drawn out moisture. Let the meat rest before serving."
- Catherine Hayes
Remember to cook the sides!
"Simply, take the best steak – fillet!
"Make sure it's out of the fridge at least 20 minute before cooking time! Get a good frying pan on the gas and add a cooking oil of choice, preferably olive or a knob or two of butter. Season the steak with ground pepper and salt – more salt than pepper. Get the pan hot, until it starts to smoke a little and pop in the steak. It's gonna sizzle, so a pan cover may come in handy for protection. Cook on a high heat for 2-4 minutes, depending on the thickness. Then turn, just once and cook the 2nd side for the same time! Using tongs, pick up the steak and cook the side, holding and rotating until the side is cooked to satisfaction. Push the top of the steak with your fingers and when soft, remove from the pan and let stand for up to 10 minutes.
"Place it on a plate; drizzle over any sauces remaining from the pan; add another small grind of fresh salt on top, and serve with a fresh tomato and basil salsa on the side and maybe some of last week's Food Journal roast potatoes (but cooked with Rosemary)! You now have a beautiful medium rare steak .. only if served with a good Italian red wine .. and good company too of course! Simple. Enjoy!"
- Ross Boxshall
Use the very scientific hand test
"I like to keep it pretty simple when it comes to steak as the quality of the beef should speak for itself. I buy nice thick rib-eyes and make sure they're at room temperature (not fridge-cold) before cooking.
"Get the pan or griddle on a medium-high heat and rub or brush the steak each side with oil. Don't season now as it can draw out moisture during cooking.
"I use the very scientific hand test to check for 'doneness'. The fleshy part beneath your thumb feels like raw steak. When the tips of your index finger and thumb touch the fleshy part will feel like a rare steak and it continues with this trend. Middle finger and thumb = medium rare, ring finger and thumb = medium, pinky and thumb = well done (aka get out of my house).
"Let your steaks rest for half the cooking time to ensure juiciness (except you, well done person!) season generously with cracked black pepper and sea salt. Voilà!"
- Donna Connolly
And finally, some advice for those of you who cook over charcoal:
"I like the steak cooked medium. Most of the time I make them in the BBQ, once the charcoal is white after being lit, I would slice my steaks 2cm and place them over the grill. To make sure it's medium I would wait until the drops of blood start coming up on the upper face. Followed by salt and pepper sprinkle and turn them until the other face is cooked (grilled) but not overcooked. That gives me my medium steak."
- Danilo Fernandez
Want to be included every week?
We're building a panel of home cooks and foodies from our readers to answer our weekly question and share their kitchen hacks. If you're interested, send us a mail on food@thejournal.ie with 'Home Cooks Panel' in the subject line. Be sure to include:
Your name
Your contact details
What kind of foods you like cooking best