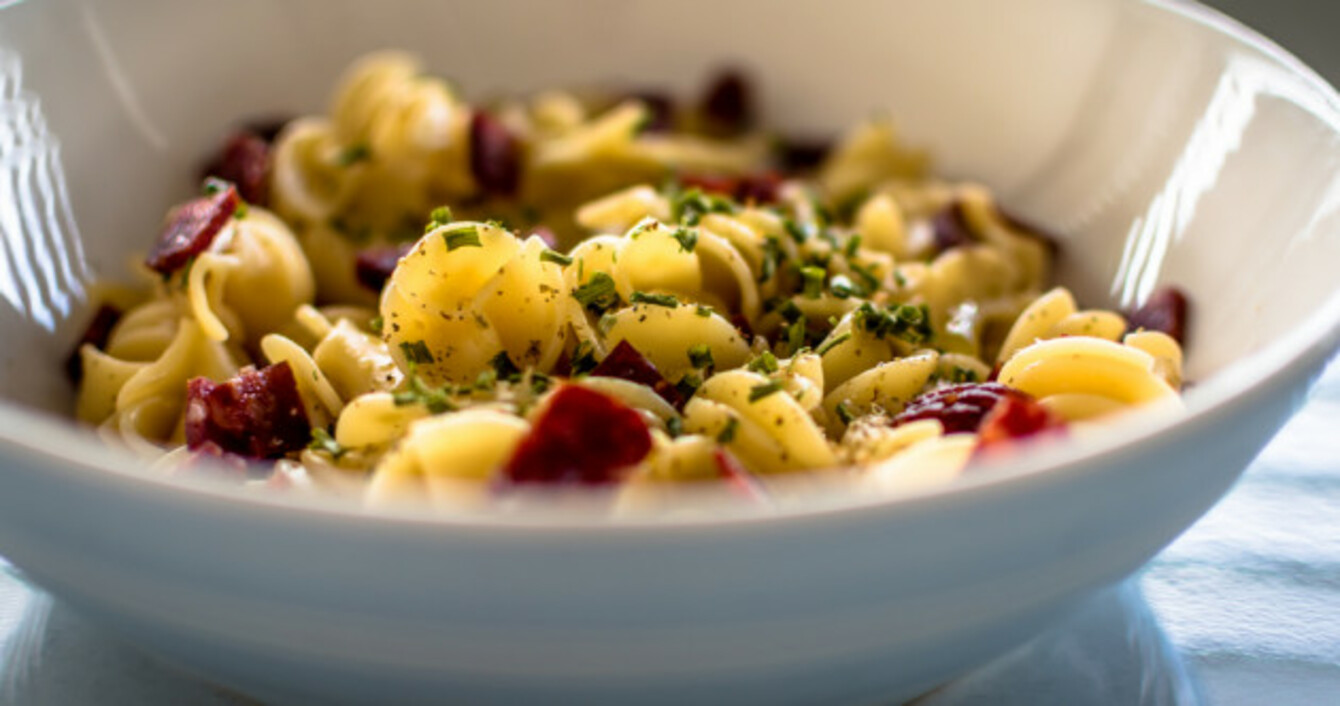 Image: Shutterstock/JivkoM
Image: Shutterstock/JivkoM
FEW INGREDIENTS GIVE as much return on investment as pasta. Though it takes hardly any time to cook, a pot of pasta can become a weeknight dinner, the base of a lunchtime salad, or a meal for ten.
Part of that versatility comes from the huge variation in pasta sizes and shapes out there. It's estimated there are around 350 in total, from classic penne tubes to flower-shaped fiori.
Conchiglie (aka pasta shells) go perfectly with heartier accompaniments like sausage, for example, while long strands like linguine or spaghetti can be a great marriage with creamy or tomato-based sauces.
If you order pasta in an Italian restaurant, it'll most often be the fresh homemade variety – but of the chefs I polled for this piece, a surprising number told me that dried store-bought pasta cooked in salted water comes a close second for texture and taste.
So, got a few packs of pasta in the press? You basically have tonight's dinner sorted, once you decide what to pair with your penne.
Read on for some combos below that'll all come together in less than 15 minutes, including pasta cooking time…
1. Cacio e pepe (Cheese and pepper)
Cacio e pepe sounds much more glamorous than its English translation, right? This classic Roman dish is made with just three ingredients: a really good quality parmesan or another hard cheese, lots of freshly milled black pepper, and spaghetti. Vish Sumputh, head chef at Dublin's Luna, serves this dish with aged truffle pecorino cheese, but for at-home pursuits you can keep it simple.
2. Smoked salmon and cream cheese
Teamed with a splash of vermouth or dry white wine, this is a luxurious sauce that comes together in minutes. The salmon and cream cheese combo is a favourite of cookery teacher Yvonne Carty of HeyPesto, whose secret is to stir in a little bit of dill mustard at the end. Serve with penne and you're good to go.
3. Pesto and broccoli
Pesto pasta is great for leftovers, so be sure to make extra. Use a jar of pesto or whizz some basil, garlic, olive oil and Parmesan in a food processor to make your own. This combo is a favourite of food blogger Rory Carrick, who finishes his off with "a drizzle of good quality olive oil and some shaved Parmesan – rather than grated."
4. White wine and cream
For a very speedy supper, sauté some garlic, add in a glass of white wine and a dash of cream. The world is your oyster from here, because this sauce works well with just about anything: prawns, mushrooms, chicken, peas. Serve on top of tagliatelle or pappardelle.
5. Chorizo and tomatoes
Anything involving chorizo is guaranteed to taste great, but for a dish that packs an extra punch, get the highest quality tomatoes you can find. "Each element must stand out," says Tim Fisher, head chef at Dublin's Osteria Lucio. Tim recommends looking for tomatoes that are small, sweet and with a real concentration of flavour. Vine-ripened cherry tomatoes will work a treat here.
6. Prawns, garlic and chili
Prawns are a popular accompaniment to pasta throughout southern Italy, and their saltiness balances beautifully with garlic and chili. "Always add a splash of the pasta water into the sauce, as it adds a light starchiness to the dish and melds the flavours together," says chef Gaz Smith of Michaels' in Dublin, who plates his prawns up with spaghetti.
7. Butter and Parmesan
A mix of cheese and butter is all you need for a creamy sauce that'll coat tagliatelle like a dream. "Good quality Irish salted butter is key", says food writer Aoife Ryan, who also recommends a decent well-aged Parmesan. Be sure to stir the cheese in well so it doesn't clump.
8. Garlic, lemon and rocket
The fresh flavours in this combination are perfect for summer evenings when you want something light. To get a really great result, let the garlic turn golden in the pan before adding in the cooked spaghetti, a squeeze of lemon and a handful of rocket. While this is a meal in itself, it also acts as a great accompaniment to fish or chicken.
9. A REAL carbonara (read: no cream)
Carbonara is one of the simplest authentic Italian pasta sauces, and the real deal contains only three ingredients, none of which are cream. Instead, combine bacon lardons and Pecorino cheese with an egg yolk for a deliciously smooth sauce, perfect with spaghetti. Care is needed when cooking this dish – if you take your eyes off the sauce for too long, the eggs will scramble, leaving you with a dismal dinner.
Find a huge range of fresh ingredients – and plenty of pasta too – at your local Lidl store.