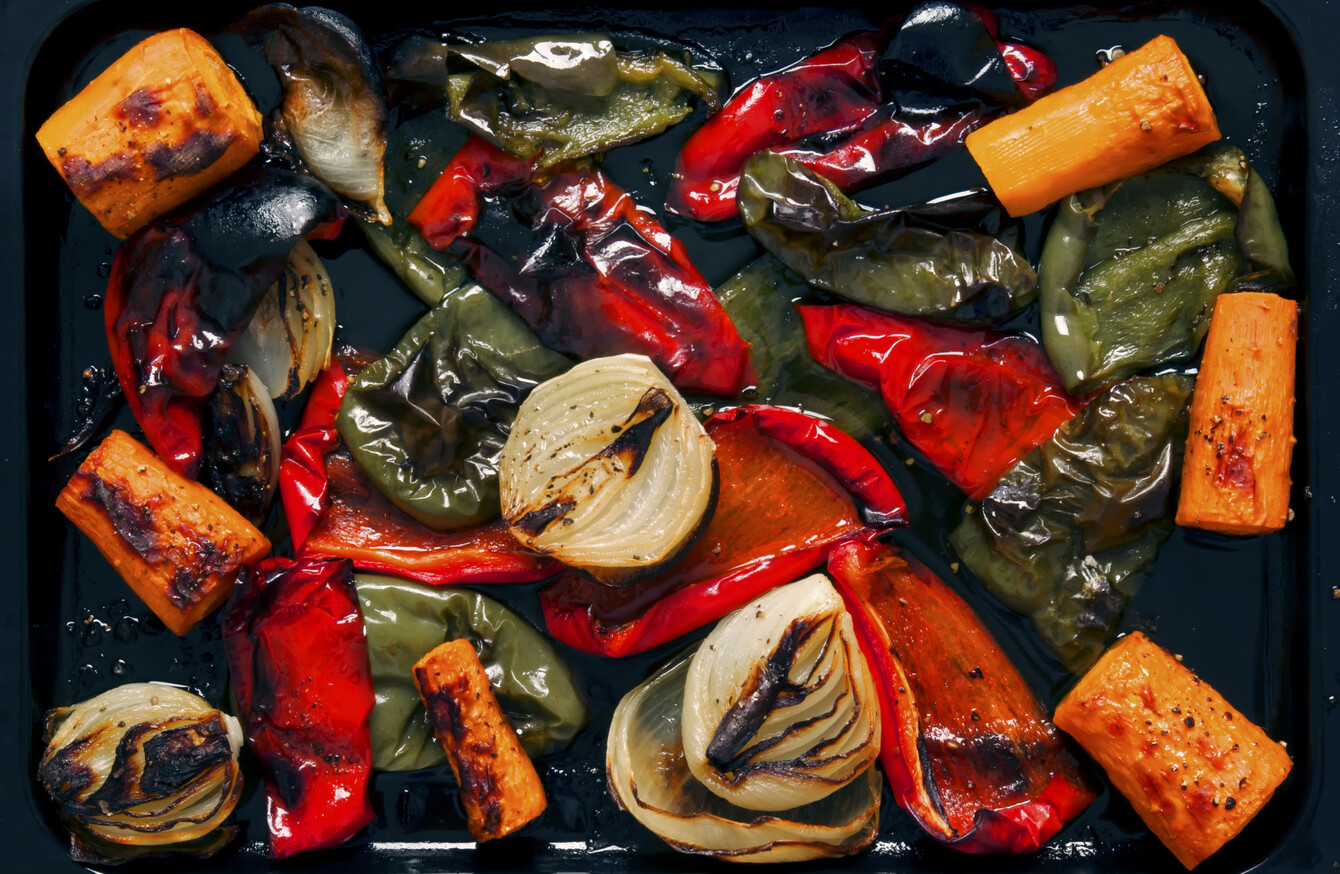 Image: Shutterstock/zkruger
Image: Shutterstock/zkruger
EVERY HOME COOK has their own kitchen hacks, cheats and traditions, and we want to know yours.
Each week as part of our Kitchen Secrets series, we ask our readers to share their cooking tips and go-to-dishes. From the secret to quick-and-easy dinners, to the best way to scramble an egg, we set a new question every seven days.
Whether you want a side dish for a roast, or a simple dinner you won't have to stand over, roasted vegetables can be the perfect stick-them-in-the-oven solution. So this week we're asking our home cooks:
What's the secret to great roast veg?
For next week, we're asking readers to share their favourite summer salads. Comment below, or email us on food@thejournal.ie – and you could see your response in the magazine!
Season the veg *before* putting in the tray – and glaze in the last five minutes
A few secrets for consideration! One is mixing the all of the chopped veggies in a bowl with oil and seasoning before you place in the roasting tray (no parboiling needed)! It really does ensure everything is coated evenly, and you use less oil so better health-wise. 
Two is including quality fresh herbs & fragrant additions (sprigs of fresh rosemary, fresh thyme, fresh oregano, cloves of garlic, roughly chopped red onion and a few cherry tomatoes mixed in all give a gorgeous flavour & perfume to roasted veg!) 
Three is the final 5 minutes. Decide if you want to glaze the veggies and if so add the glazing ingredients and pop back into the hot oven for the final 5 minutes! Glaze can be a tablespoon or two of Irish honey or maple syrup mixed with a good dollop of wholegrain mustard, or a drizzle of balsamic vinegar – stir it together, pop it on the veg, give a good mix to coat and put back in the oven. 
- Lee-Ann Ronan
Snuggle in some herbs for extra flavour
I love to roast Mediterranean vegetables; so large chunks of colourful peppers, red onion, aubergine, courgette and whole cloves of garlic (skin on). Make sure not to overcrowd the baking tray.
Douse with regular (not extra virgin) olive oil and snuggle in fresh sprigs of thyme and oregano between the veg. Season with salt and pepper and roast for about 40 mins at 180°. A great accompaniment to grilled fish and chicken or even stirred through pasta.
- Donna Connolly
Make sure the veg is dry, and don't overcrowd the pan
When making roast veg, firstly make sure it is clean and dry.  Have evenly sized chunks of veg, and don't cut them too small.  Put all the veg into a big bowl with some lightly crushed garlic cloves, add in olive oil and mix until it's all completely covered with oil. Spread it all out on a baking tray, make sure you have space for all the veg, if the tray is too crowded it won't cook properly and won't brown. 
Season with some salt flakes, ground pepper and fresh rosemary.  Put in a preheated oven at 190 for 45-50 minutes. Mix with a spatula half way through.  Brush on some butter before serving.  Make sure you serve on a preheated dish.
- Olly Keegan
Move around regularly while cooking
Par boiling is great but it adds to the complexity, so keeping if simple, just chop the veg into not large pieces and chunks, throw into an oven proof dish, add a good lashing of oil, a big helping of honey or maple syrup,  mixed herbs and mix.
Put in a hot oven (180-200 C) for about 45 minutes (checking and remixing regularly) which helps for soft veg but with a hint of crisping on the outside! Tasty.
- Ross Boxshall