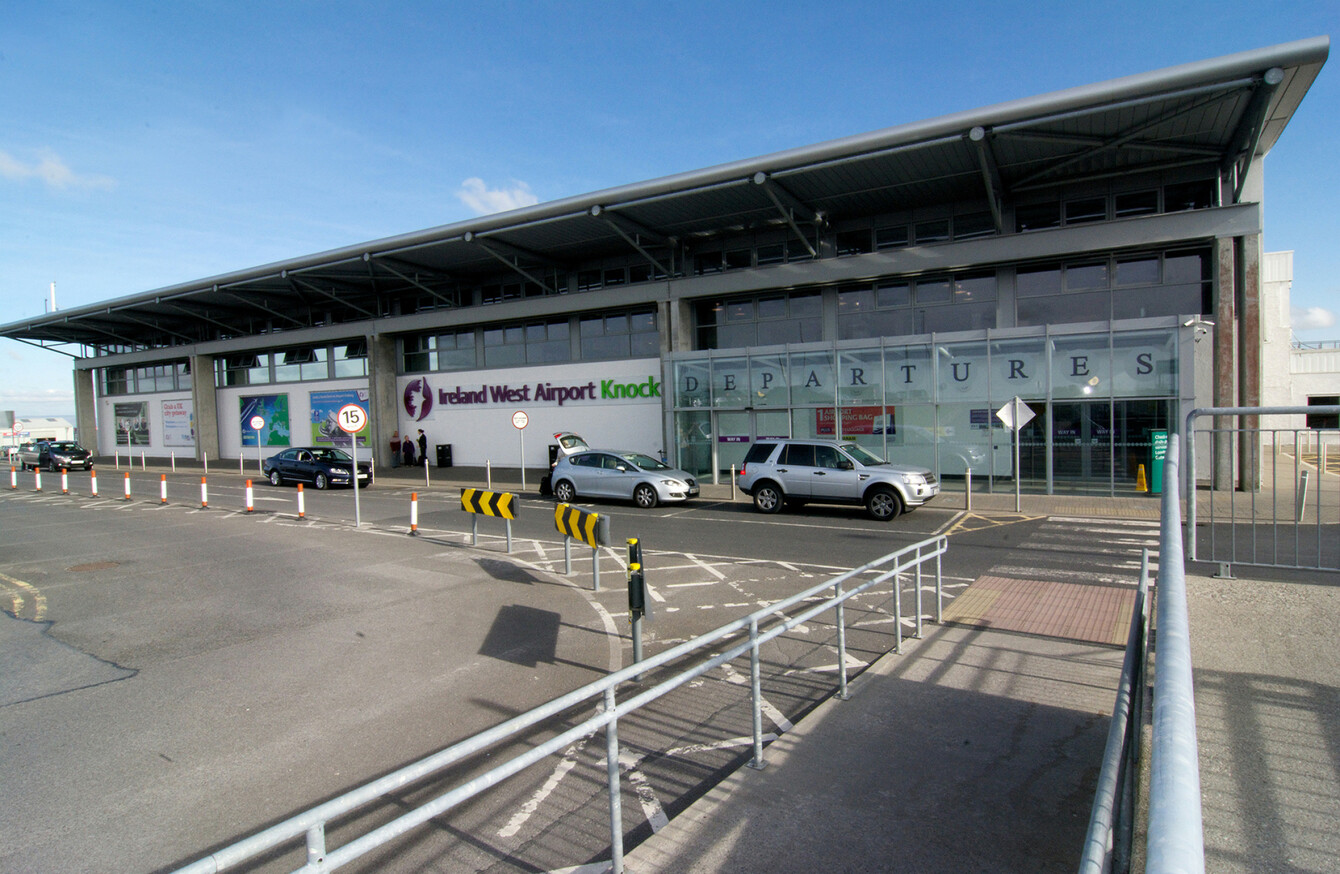 Image: Knock Airport
Image: Knock Airport
IRELAND WEST AIRPORT Knock reported its busiest year on record last year after hitting the 750,000-passenger mark in 2017.
There was a 2% increase in the number of passengers using the Mayo hub last year, meaning 15,500 more customers travelled through it when compared to 2016′s tally.
However, figures supplied by Knock suggest that the pace of growth at the airport slowed down in 2017. According to data published by the CSO, which is the source of official aviation statistics, the regional hub grew its passenger numbers by 7.5% in 2016.
At a time when the wider tourism sector is voicing concerns over the drop-off in UK visitors to Ireland, Knock attributed its growth last year to "a very strong performance" across its nine services to Britain.
Last year, management at the airport – which operates services to 23 destinations in total – rolled out a €15 million facilities investment plan to renovate the hub over a three-year period.
The millions of euro will be put into new passenger facilities, terminal upgrades and other infrastructure works across the airport building and runway.
It's expected that the first €4 million tranche of works will be completed by the end of March this year.
New services
It was announced recently that tour operator TUI will roll out a summer charter service from Knock to Palma Majorca in June.
Regional airline Flybe also recently confirmed that it would add 16,000 seats to its services to Birmingham, Edinburgh and Manchester this year, while Ryanair will add 3,500 seats to its summer service to Milan.
Commenting on the passenger numbers, Knock airport managing director Joe Gilmore said that reaching the 750,000-passenger mark for the first time in the airport's 30-year history was "good news" for both the local and national economy.
In an interview with Fora last year, Gilmore said that airport management is "on the cusp" of relaunching direct air access to Germany, but said regional airports will struggle to hang on to routes without tourism policy commitments from the government.
The most recent set of accounts for Ireland West Airport Knock showed that the hub booked a profit of nearly €643,000 in the year to the end of December 2016 – a more than fivefold increase on the previous 12-month period.
However, the directors' report said the company would have recorded a loss if it hadn't received funding from the Department of Transport.
Last year, the government provided Knock airport with nearly €2 million to cover capital expenditure costs. This was in addition to a €868,500 state grant it received to supplement operational costs.
The taxpayer has put some €36 million into Knock since it opened in 1986 to cover infrastructure spending.
Sign up to our newsletter to receive a regular digest of Fora's top articles delivered to your inbox.
Written by Conor McMahon and posted on Fora.ie