Lauryn Tracy
Image: Gavin Tracy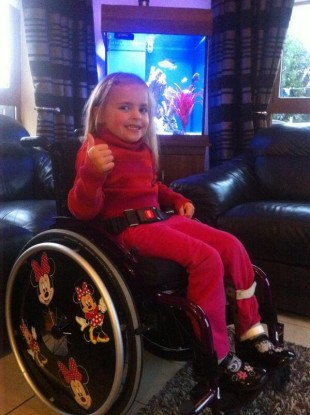 Lauryn Tracy
Image: Gavin Tracy
LAST WEEK WE brought you the news that the parents of a little girl in Wexford were appealing for information after their car which contained their little girl's pink wheelchair and special adapted car seat was stolen.
The car was taken from outside their house in Enniscorthy after their house was broken into at about 2.30am on Thursday morning and the keys were taken.
Five-year-old Lauryn "needs her wheel-chair to get around," said her father, Gavin Tracy, who said he didn't care too much about getting the car back but that it was Lauryn he was worried about.
Overwhelming
One week on, the response from the public has been "overwhelming" said her father.
"The reaction the article by TheJournal.ie has been great. It was all over Facebook and Twitter and many people got in touch to offer their help in anyway they could. Other newspapers picked it up and radio presenters like Ian Dempsey and Ray Darcy got in touch – I think it has been the most talked about stolen car ever!" said Mr Tracy.
Stolen pink wheelchair
He said he was very surprised, as all he wanted to do was hopefully bring it to people's attention in case someone spotted Lauryn's pink wheelchair dumped somewhere.
He added:
I think the car is long gone now, but I had hoped that someone would spot the wheelchair.

I don't think the people who took the car realised what was in the back, but I had hoped that once they had realised they would have done the decent thing and left it somewhere or even rang in an anonymous call about where we could find it.
Public's help
Since the appeal, people have contacted Lauryn's family in their droves. One man offered to put in place a reward of €1000 if the wheelchair was returned, while another person who heard about the specially adapted child's seat being stolen wanted to make contact with the family to offer his assistance.
Meanwhile, Lauryn is no longer without a wheelchair as Fred Storey – a medical, mobility and rehabilitation supplies company has given her a loan of a wheelchair so she can still go to school.
TheJournal.ie received a lot of emails with people asking where they could donate money to Lauryn's cause.
Donations
Thomas Curran, a family friend, wanted to do something constructive, and said he "was inspired by the kind comments of many of your [TheJournal.ie] readers of the article. With that in mind, I set about opening an account where people could donate to the cost of replacing the wheelchair".
The account became active at 3pm yesterday. Anyone who wants to make a donation the details can be found at the bottom of this article.
#Open journalism No news is bad news Support The Journal

Your contributions will help us continue to deliver the stories that are important to you

Support us now
All of the money donated will be used for the purpose of replacing the chair that was stolen along with the family car last week. Should the donations exceed the money required, all surplus funds will be donated 100 per cent to the charity, Irish Dogs For The Disabled.
Celebrities
Mr Tracy said that loads of celebrities had been eager to help also, with singer Bressie retweeting the appeal to more than 140,000 fans.
Lauryn only recently appeared on TV3′s Ireland AM, as she is on the waiting list for the Irish Dogs for the Disabled.
"Just like when she was on TV3, which she recieved a great response to, I think Lauryn just has a capability of warming peoples' hearts. I never expected there would be such a big reaction, but she is a very special girl and I appreciate everyone's help and assistance," said Mr Tracy.
Charity night
A charity night, Blue Light Fight Night, is taking place on 22 November in Wexford in aid of the Irish Dogs for the Disabled. The local gardaí and fire officers will be fighting each other in a while collar boxing tournament. Bernard Dunne and Adam Nolan will be team captains and Enda Brady from Sky News will be the host.
The account, 'Lauryn's Wheelchair Fund' is held in Bank Of Ireland, Main Street, Swords. Sort Code 900703 and the account number is 44897788. This account was set up by friends with a desire to help, and was not requested by the family.