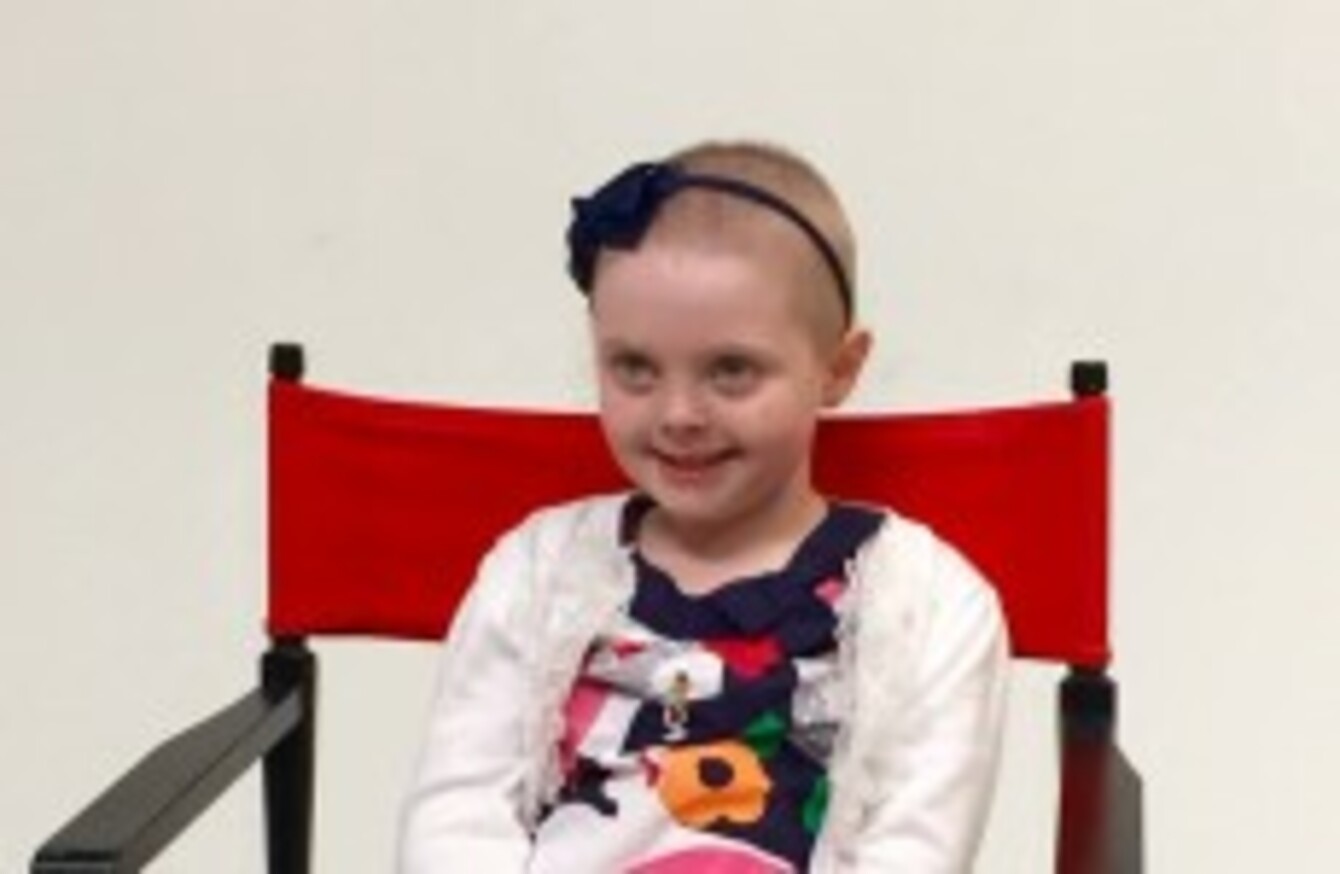 Image: Laura Lavery
Image: Laura Lavery
FRIENDS AND FAMILY of little Leah Carmody (6) are working hard to fundraise in two different countries after she was diagnosed with a brain tumour.
She lives with her parents, Aileen (nee McShane, originally from Ballycolman in Strabane) and dad Mike Carmody (of Tarbert in Co Kerry) in New York, and the family face mounting medical bills.
Leah became seriously ill after taking a tumble at school. Tests showed that she had a brain tumour, which required a shunt to be inserted in her skull, and two biopsies.
After a stroke during one biopsy, she was left partially paralysed, and also has about a year of chemotherapy to undergo.
Fundraising has been taking place in Strabane, New York, and Tarbert for the family, who are said to be facing medical bills of up to $2million.
Tarbert fundraising
Laura Lavery is a family friend of the family's in Tarbert, and has been helping lead the fundraising efforts there.
She has set up a Go Fund Me page (which has raised over €3,000 so far) and has organised a video race night in Tarbert for 2 October. It will take place in Carmody's Bar, which is owned by Leah's grandparents Michael and Nuala Carmody.
"We organised a public meeting and got a great response," said Lavery. "People are doing marathons, people are doing cycling races, and organising family fun days."
After their public meeting, the local community in Tarbert raised around €17,000. Kerry footballer Shane Enright is an ambassador for the Tarbert fundraising. There are 53 people on the Tarbert fundraising committee, testimony to how much people want to support the Carmody family.
The details for theUS Leah Carmody Benefit Fund were featured on the big screen at Croke Park over the weekend during the Kerry and Tyrone game, and there is a hope it might feature in the programme on All-Ireland match day.
The Tyrone team also made a video wishing Leah the best with her treatment.

Source: Leah Carmody Benefit Fund/Vimeo
Lavery's family stayed with the Carmody's in New York a number of times after they emigrated.
The news about Leah was a shock to everyone who knows them, she said.
Especially her grandparents here, because they are so far away. They are elderly people and are not able to travel.
She said that the family faces bills of up to $2million. "It's unbelievable," she said.
"It's great to be involved obviously, once we heard about it, we wanted to get involved straight away. We wouldn't have been able to do it without all the people who came on board. We are just trying to do our best for them, and hopefully Leah will make a full recovery."
In the US, a Leah Carmody Benefit Fund event will be held in Gaelic Park in New York on 18 October, with tickets costing $100. There will also be a golf classic on 12 September.
Over in Tarbert, they're proud to be doing their bit to help the family:
We are only a small parish here, but we are doing our best anyway.