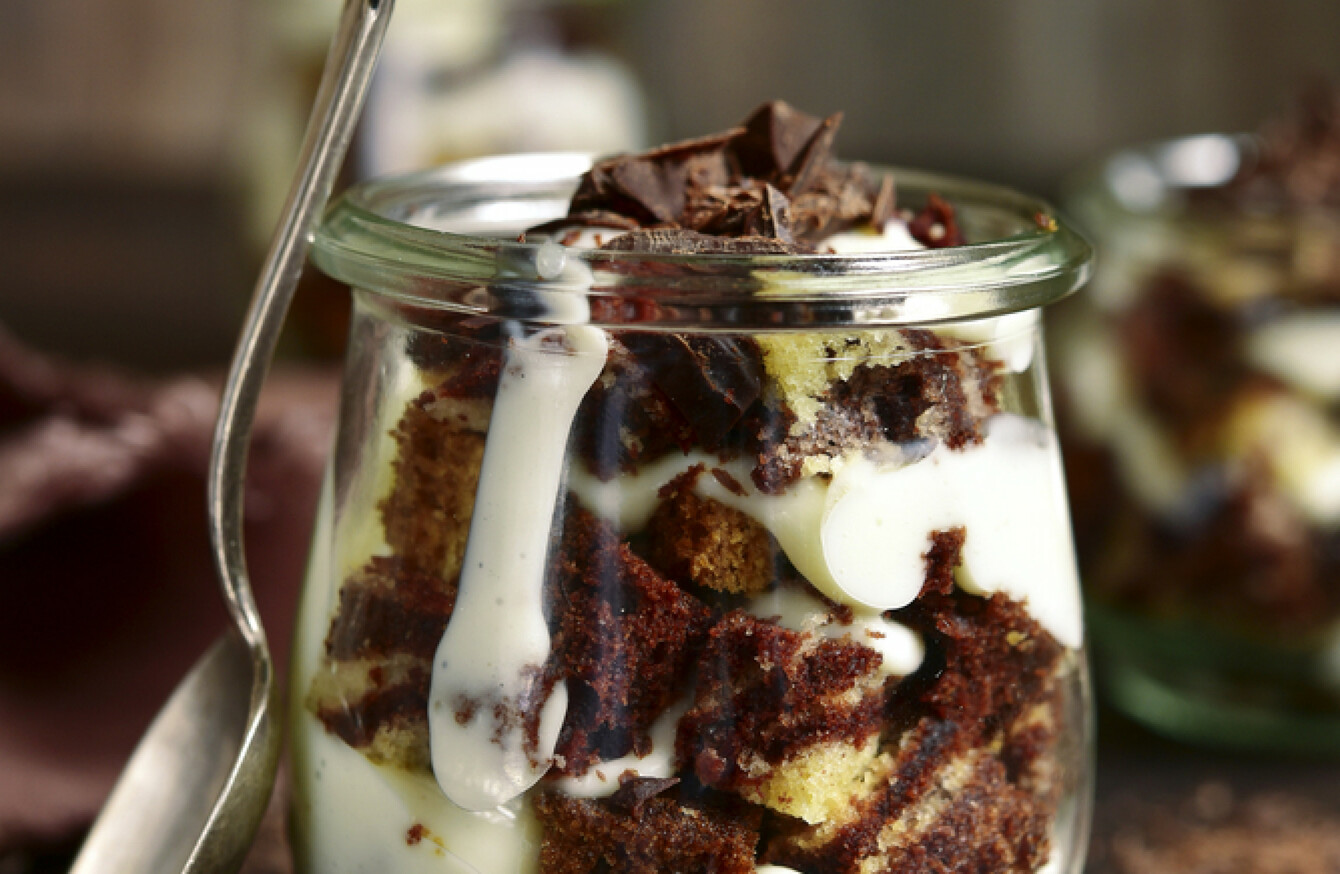 Image: Shutterstock/Liliya Kandrashevich
Image: Shutterstock/Liliya Kandrashevich
THE CHRISTMAS BISCUIT tin… it may be the apple of your eye at the moment, but in a few short days, you might be trying anything you can to get rid of the endless stream of custard creams or chocolate fingers!
There's no need to scoff it all up, or leave it lying there with the risk of going stale. With some imagination the leftovers from a tin of biscuits can be turned into something new and exciting to enjoy straight away or later. Read our favourite ways to use up the end of the biscuit tin below.
Chocolate fridge cake: Place whatever biscuits you'd like to use up in a ziplock bag and break them into pieces using a wooden spoon. In a bowl, melt some dark chocolate and butter together, then add in a tin of condensed milk and the biscuit pieces. Tip the mixture into a brownie tray lined with parchment and smooth the top. Chill in the fridge overnight, cut into squares and dust with icing sugar. Store in an airtight container to enjoy over the next week, if they last that long!
Cheesecake jars: Blitz leftover biscuits in a food processor and spoon into jars to fill the bottom centimetre of each jar. In a bowl, make the cheesecake filling by whisking a tub of cream cheese, a carton of double cream, icing sugar, and vanilla extract until soft peaks form.
Layer some of this mixture into the jar followed by a layer of chopped berries, another layer of biscuits and repeat until the ingredients have been used up. Top with some more berries and chill in the fridge for 20 minutes or until ready to serve. 
Biscuit brownies: Never thought of topping your favourite brownie mixture with some crushed biscuits? The biscuits add a lovely crunch and we guarantee, once you try this you'll never make brownies any other way again!
If you don't already have a favourite brownie recipe, mix 100g melted butter and 200g melted chocolate in a bowl and, in a separate bowl beat 4 eggs with 250g sugar until light and fluffy. Fold the two mixes together and gently mix in 100g flour, 2 heaped spoonfuls of cocoa and a pinch of baking powder. Top with some broken biscuit pieces and bake for about 25 minutes. Allow to cool in the tin, then cut into squares and enjoy!
Biscuit ice cream cake: This dessert couldn't be easier, or more moreish! First up, take a tub of your favourite vanilla ice cream and leave it to soften in the fridge for about 20 minutes. Crush whatever leftover biscuits you have and, when the ice cream has softened, mix the biscuits through until combined.
Line a round cake tin with cling film, and pour the ice cream mix in, smoothing over the top. Top with some more biscuits, or marshmallow and white chocolate pieces for something extra sweet! Place in the freezer overnight or until ready to serve.
Chocolate cheesecake truffles: A flavour sensation in one bite! Pop leftover biscuits into a food processor and blitz. Follow it with a tub of cream cheese and a spoonful of icing sugar, and blitz again until fully combined.
Using your hands, form the mixture into little balls and freeze. Meanwhile, melt white or dark chocolate in a bowl in the microwave, and allow to cool (but not harden), then remove the chocolate balls from the freezer. Coat each ball in the melted chocolate and place on a baking tray lined with parchment. Decorate with some chocolate sprinkles or nuts, then allow to cool in the freezer until ready to eat.
#Open journalism
No news is bad news
Support The Journal
Your contributions will help us continue to deliver the stories that are important to you
Support us now