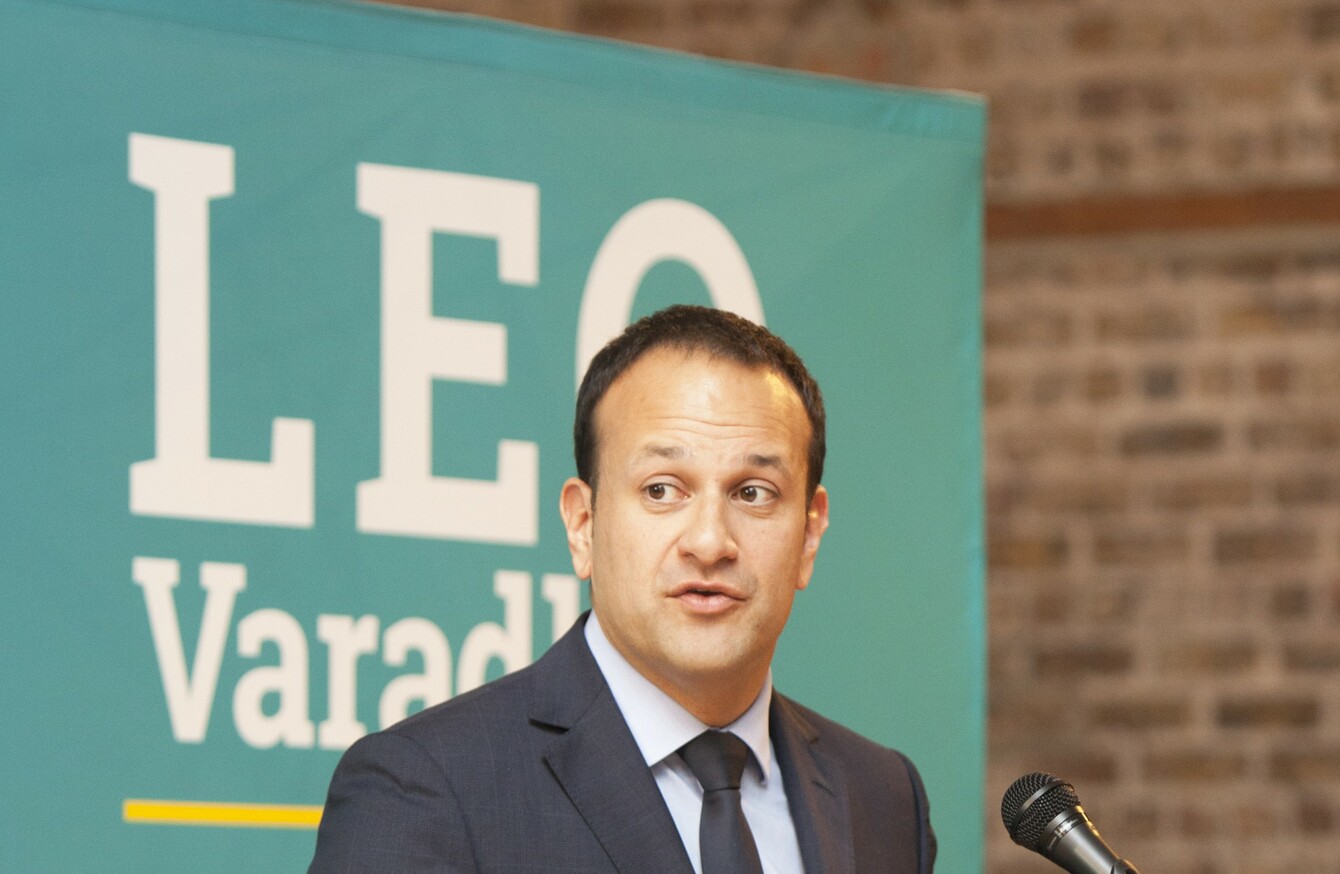 Image: Leah Farrell
Image: Leah Farrell
Updated at 10.10pm
LEO VARADKAR HAS defended his proposal to ban 'essential' public workers from going on strike, and elaborated on what he meant by the comments, which have inflamed some unions and workers.
The social protection minister and Fine Gael leadership candidate told RTÉ's Six One News this afternoon that he thinks it's 'wrong' to portray his proposal as a strike ban.
"It's not that. If a dispute is long and protracted, and if it goes to the Labour Court – bear in mind that the union and employer have to agree that it goes to the Labour Court – that should be the end of it.
The unions and the employers should accept the outcome of the Labour Court.
He said that this outcome would solely be for the emergency services, and stressed that it's not just the unions that would have to accept the proposals: "…it's the employer and sometimes the government as well".
He also clarified other controversial comments he made over the weekend, when he said that if elected Taoiseach he would represent 'people who get up early in the morning'.
Unfortunately there are a group of people, very often supporters of the far left, that believe they shouldn't pay anything and that Apple, bondholders, or billionaires should pay…
"Everyone who can, should pay into the system."
He said that the group of people who have that political ideology are "pretty small but they're loud".
"[They think there should be] free education, free healthcare, free housing, but shouldn't have to contribute to it. I think that's dishonest: you work hard and pay into the system."
He said that what he meant by 'people who get up early in the morning' was people with long commutes, parents, and carers, and he committed to ensuring that those groups would pay less tax.
Earlier
At the launch of his manifesto today, Varadkar outlined his wish to introduce what he called a ban on "essential" public sector workers from going on strike, according to Leo Varadkar.
Speaking at his policy launch in the Smock Alley Theatre in Dublin, the Social Protection Minister (who is already being dubbed the next Taoiseach) told reporters that Labour Court recommendations should be binding on employers and unions.
His manifesto states the public should "no longer be inconvenienced by strike action in essential services".
When pressed on what is the definition of essential services, Varadkar said the definition would be determined by the Oireachtas.
His comments have been criticised by the head of the National Bus and Rail Union (NBRU) Dermot O'Leary, who accused Varadkar of having an "undemocratic 'Tory' style mantra".
It seems to me that Leo, in his determination to appeal to certain business interests, has decided to set course on an anti-trade union, anti-worker policy. Whilst I'm not at all surprised with Leo 'Thatcher' Varadkar, I would be amazed and appalled if Fianna Fail, through its supply and confidence agreement, was to support such a draconian attack on workers in this country.
When asked for specific examples, Varadkar had said emergency service workers and also air traffic controllers.
He said he did not envisage the legislation extending to health workers "across the board", but said it could "include emergency services where it is a matter of life and death".
When asked if it would include the gardaí, he said he does not have a difficulty with the gardaí accessing the Labour Court, but stated that as it stands at the moment, gardaí are banned from striking.
Help-to-Buy Scheme 
Another item in his manifesto is sure to raise the eyebrows of his opponent, Simon Coveney.
The First Time Buyers Scheme (which is Coveney's baby) will be scrapped if a review finds that it is pushing up property prices, said Varadkar.
He said the scheme could be "phased out", with any money saved used on the construction of housing for older people which he said will incentivise retired people to move out of large family homes.
The eleven-page policy document of big ideas is Varadkar's pitch to become the next Taoiseach.
Varadkar promised that those who paid their water charges will be refunded this year.
Abortion referendum 
He also committed to a referendum on abortion being held next year.
He said Fine Gael should be a "warm house for those who hold traditional views as well as those who hold liberal ones".
He denied that the Citizen's Assembly was a time-wasting exercise, and said the Oireachtas will now try to form a question that will be put to the people next year.
He told the media today that his personal opinion on abortion should not inform government policy, and admitted his views have been evolving on the issue.
"I am somebody who has had an evolving view on this issue, I have changed my mind a few times. I find it difficult, I struggle with it. I certainly would be in favour of removing the Eighth Amendment. I think it should be deleted and I am in favour, in a personal view of abortion in certain circumstances (fatal foetal abnormalities, rape). I personally would not favour abortion on request," said the minister.
Tax and pensions
He wants to reduce the marginal tax rates of income tax, stating that no one should have to pay more than 50c out of every euro they earn.
There should be tax equality for all workers, re-pitching his idea that self-employed people should be able to opt in to pay more PRSI so as to avail of all benefits.
In addition, the Universal Social Charge (USC) would be merged with PRSI to make a new system of social insurance.
He also wants pensions to be linked to inflation, but said something needs to be done to tackle the figure that 35% of workers in the private sector have no pension.
He wants to enrol workers under 60 to a personal pension savings scheme, whereby contributions will be made by employees and employers. The State will provide a bonus similar to that boom-time savings scheme known as the SSIA.
What else? 
In terms of Brexit, he said: "We will argue for Northern Ireland to remain in the Single Market, Common Agricultural Policy, Interreg, Erasmus and other programmes".
However, he said he is opposed to a border poll at this time.
Varadkar wants to bring forward a new capital spending plan that will fast-track the likes of Dublin Metro and the M20.
He also wants to double government investment in the arts, culture and sport – something he says will cost €44 million per year, over seven years.
Varadkar disputed that such investments could be seen to be buying off his supporters, and said not one of the TDs that pledged their support for him have been promised jobs around the Cabinet table.
However, he did state that he had "listened to their ambitions" of leadership.
Speaking about Housing Minister Simon Coveney, Varadkar said he is an "honourable man" who is "very diligent".
"I admire the fact he is staying in the race," he added.
"This race is still on, it's far from over," said Varadkar.
- With reporting by Michelle Hennessy and Gráinne Ní Aodha