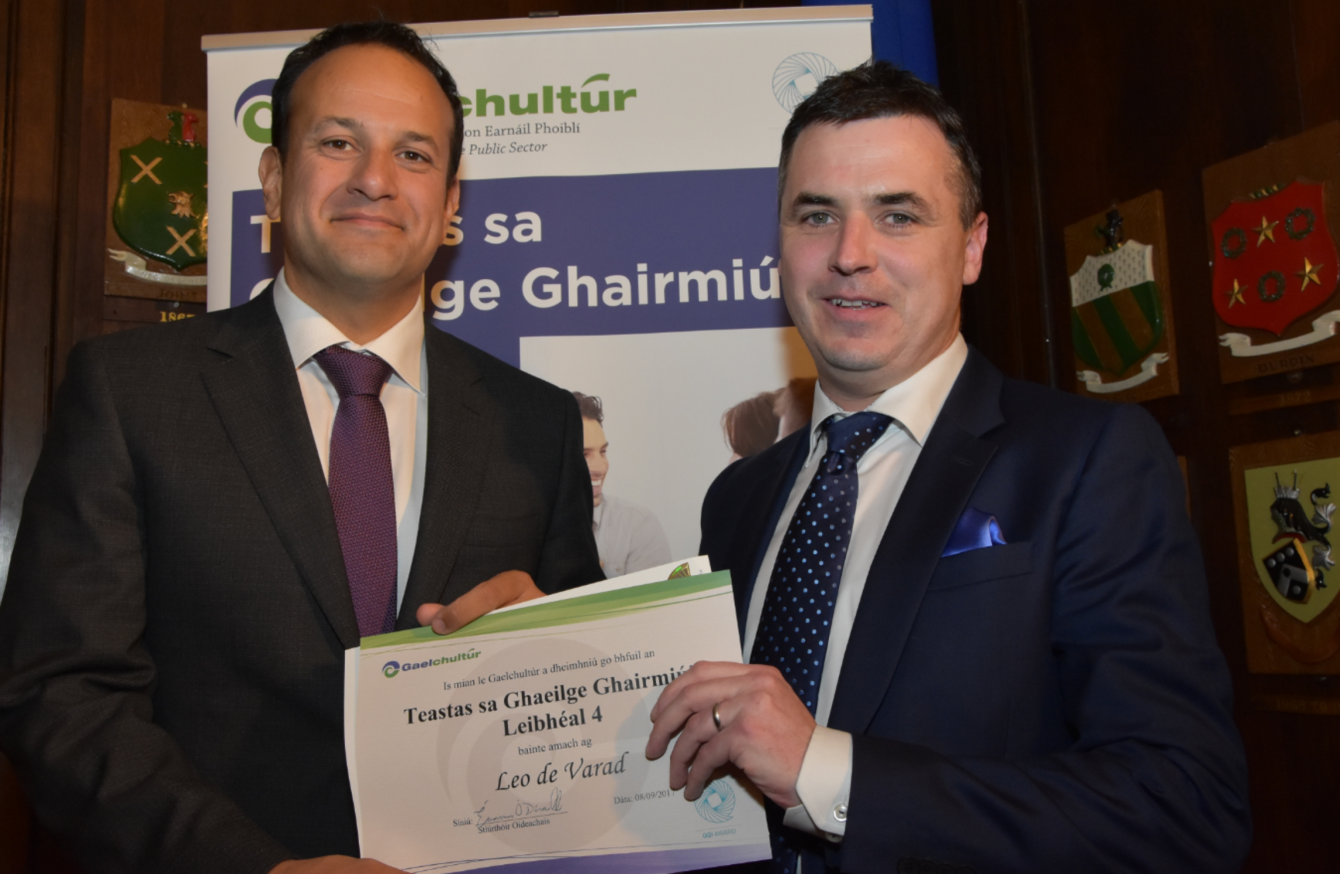 Image: Joanna Travers via Gaelchultúir
Image: Joanna Travers via Gaelchultúir
IN CASE YOU didn't know, Taoiseach Leo Varadkar has been brushing up on his Irish language skills by attending a three-hour class every Wednesday morning.
For three months in spring, Varadkar attended the intermediate Gaelchultúir course in Dublin, completing an Irish language oral exam at its end – which was held on the same day Enda Kenny announced that he was resigning as Taoiseach.
Last night, he was among 70 people presented with a certificate for his spoken language level, which was addressed to a Leo "de Varad" – a curious Irish-language version of the Taoiseach's surname.
Speaking in Irish last night, the Taoiseach said: "I made a decision at the beginning of the year to undertake the Certificate in Professional Irish because I wanted to improve my standard of Irish.
I studied the language at school, of course, but like a lot of people in this country I haven't had many opportunities to use it since then and was therefore out of practice.
He added that it was "a source of great pride" for him to have gained the certificate and that he wanted to "set a good example" as regards using the Irish language.
Varadkar told the Dáil previously that he has a great love for the Irish language, and has been working towards improving his fluency for "the past few years".
He said that he was on a "language journey" and invited others to follow his example and join him on that journey – something his party colleague Joe McHugh also went through a few years ago (but as a junior minister for Gaeltacht affairs with little or no Irish, it could be argued he didn't have much of a choice).
He's not the only Taoiseach to make efforts towards his Irish language skills – Enda Kenny is fluent in the national language, and would answer questions from the media through Irish when prompted. Brian Cowen was similarly abled, and was regularly interviewed on Irish-language media – he did his first interview after resigning as Taoiseach on the Irish-language TV station TG4.
#Open journalism No news is bad news Support The Journal

Your contributions will help us continue to deliver the stories that are important to you

Support us now
The Irish Language Commissioner Rónán Ó Domhnaill, who presented the certificate to the Taoiseach and the other recipients, congratulated Leó for leading by example as regards the language.
"The Taoiseach worked extremely hard during the course," says Éamonn Ó Dónaill, Gaelchultúr's Director of Education.
"It's psychologically important for the Irish language community to have a Taoiseach in charge of the country who has respect for the language – it will add greatly to the status of the language to have such a powerful and influential figure taking such an interest in it."