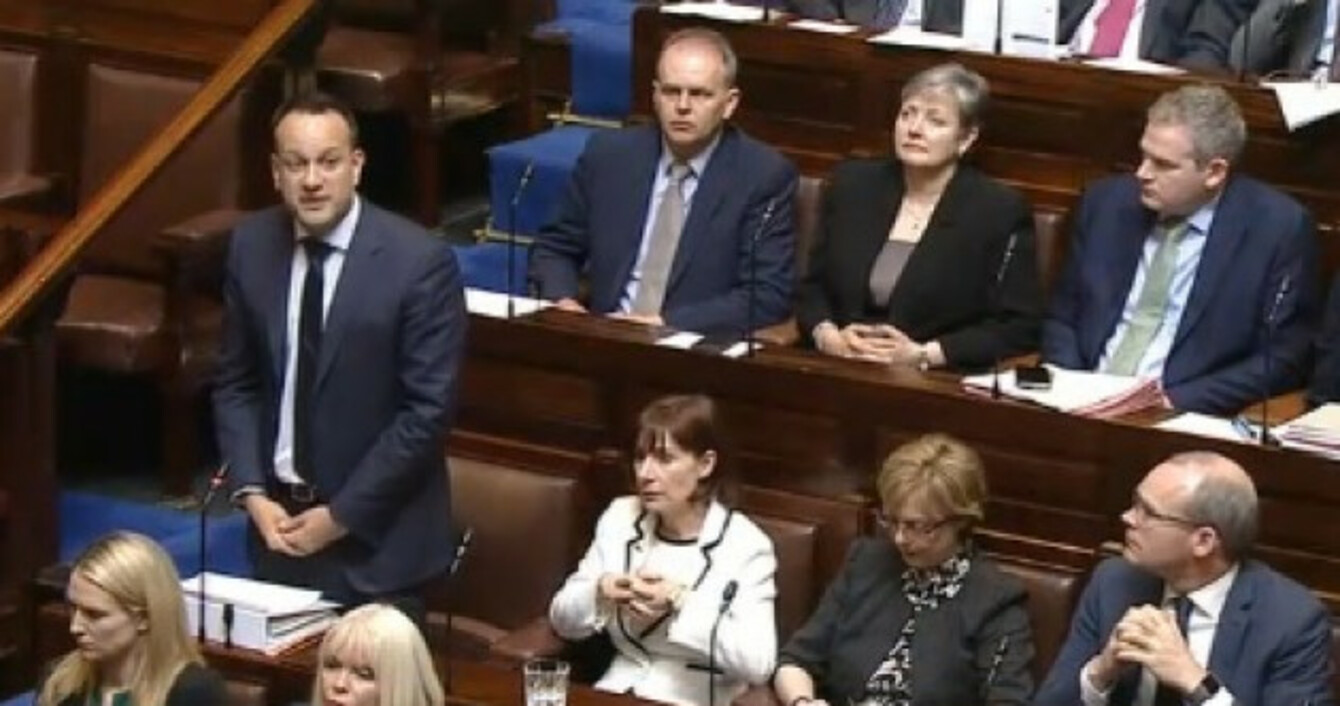 Leo Varadkar speaking in the Dáil during Leaders' Questions a short time ago.
Image: Oireachtas.ie
Leo Varadkar speaking in the Dáil during Leaders' Questions a short time ago.
Image: Oireachtas.ie
TAOISEACH LEO VARADKAR has announced that there will be a redress scheme for women affected by the CervicalCheck controversy.
"We will need a scheme of redress for women whose cancer was missed, beyond normal error," the Taoiseach told the Dáil today.
Speaking during Leaders' Questions, he said he is deeply concerned about the new figures that emerged last night.
He said he does not want a situation where even his ministers are not being told the full facts.
He told TDs today that the government still do not have all the information.
'Time and space'
Asking the House for "time and space" to gather the facts, he asked TDs for calm.
Last night, Minister for Health Simon Harris confirmed "a considerable number" of women with the condition had not been subjected to an audit of their screening history.
It has also been revealed that 17 women who were diagnosed with cancer whose cases were reviewed as part of an audit have died.
All of this was brought into the public eye following a court case by Vicky Phelan, who is terminally ill and was last week awarded €2.5 million over incorrect smear test results from 2011.
This afternoon, Varadkar said he did not want to act in haste without knowing the full picture, but said the government is taking action on the issues.
"We are working as hard as we can," said the Taoiseach.
He said a team of experts will now re-examine all the smear tests impacted by the scandal which will be completed by the end of May. He told the Dáil he still did not know the final figures.
Varadkar said it is now likely that many of the 3,000 women diagnosed between 2008-2018 may never have had a smear test.
He also confirmed that be a statutory inquiry and a redress scheme for women will be set up.
"A lot of women are feeling very worried today," he said. He wanted to reassure women that this scandal only impacts women who have already been diagnosed and informed of their cancer diagnosis.
He reiterated the point that this controversy does not mean women will get calls that a cancer diagnosis has been concealed from them.
He said for women who want a repeat smear or review of their test, the State will meet that cost, as well as the GP appointment fee.
Pressure mounts on HSE boss
Pressure has also been mounting on the HSE boss, Tony O'Brien and his role in the controversy.
Fianna Fáil leader Michéal Martin accused the government of incompetency in dealing with the situation and the "drip, drip" of information to the public.
He also said the Health Minister Harris made a serious error in allowing O'Brien to take up a role in a US company that manufactures contraceptives.
Martin said O'Brien should not have been allowed to do so.
#Open journalism No news is bad news Support The Journal

Your contributions will help us continue to deliver the stories that are important to you

Support us now
He said he should either retire, and take up the new role or have been refused permission to take on the position while working for the HSE. O'Brien should not have been allowed to do both jobs, said Martin.
Sinn Féin's Mary Lou McDonald also rounded on the HSE chief executive. She called for accountability and asked the Taoiseach to sack O'Brien.
She said she is convinced that "a cover up" and "a case of deceit of the greatest nature" has been carried out by the HSE. In any other company or walk of life, the boss would lose their job, she told the Dáil.
The Taoiseach said a lot of allegations had been levelled over the course of events, and said all of these allegations would be investigated.
He defended the health minister's decision to allow O'Brien take up a position on the board of the private company, despite being head of the health service.
Labour's Brendan Howlin reiterated a point made by Martin that he has "no axe to grind" with O'Brien. However, he said there is a "clear conflict of interest". He said it was "not proper" that he take up such a job while serving as chief executive.
The HSE boss is due to retire in a matter of weeks.
In a surprise contribution, Social Democrats Roísín Shortall asked the Taoiseach to confirm that the chairman of that US company (which O'Brien is now a board member), Thomas Lynch, hosted a fundraiser for the Taoiseach last year.
Varadkar confirmed that is the case by nodding and stating it is a matter for the record.
"I know Thomas Lynch. He'd be well known to lots of people in business circles. He's a successful business person who's the chair of a number of bodies including that board," said the Taoiseach.