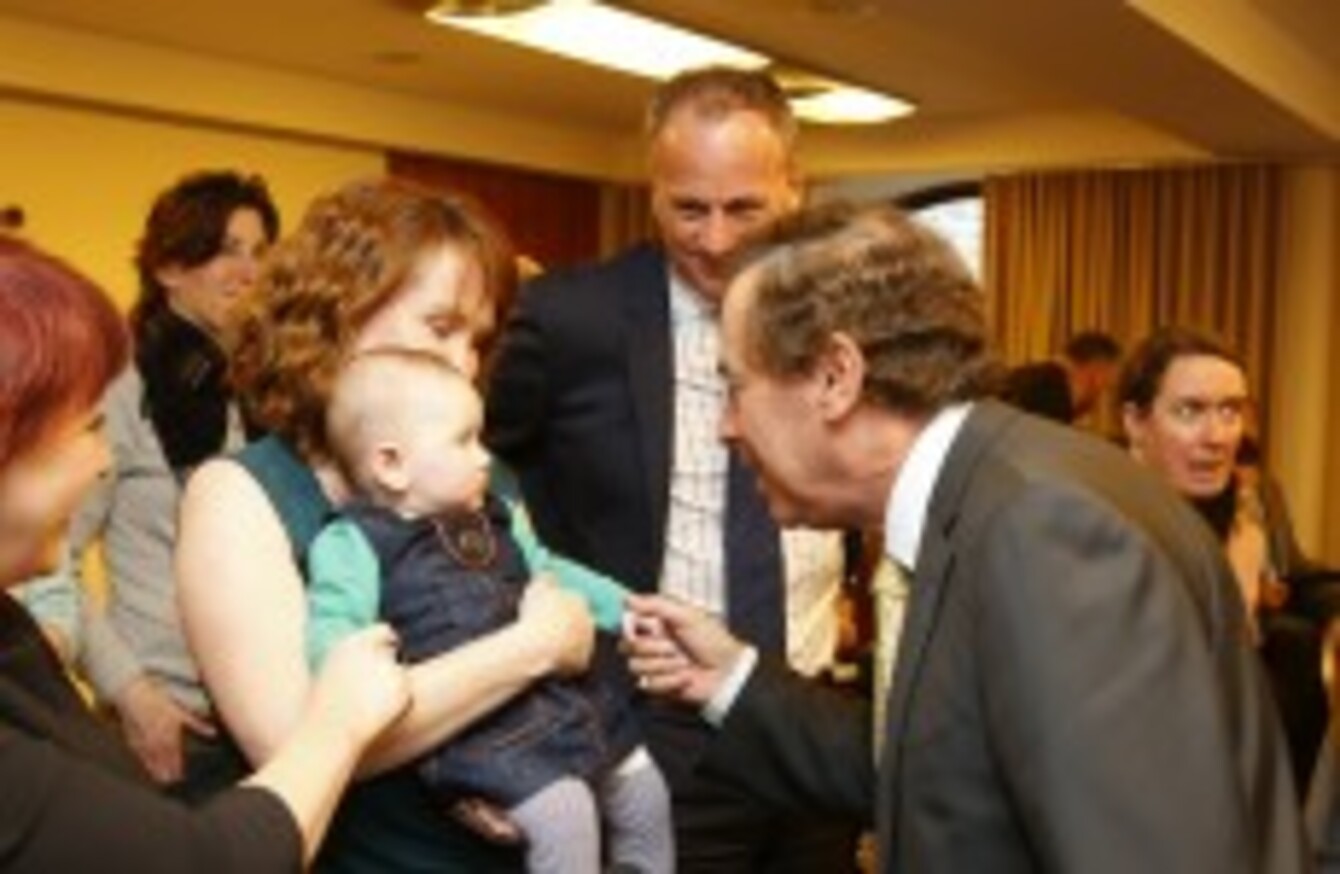 Alan Shatter is pictured with 5-month-old Edie Rose Robinson Griffith and her mother Moninne Griffith.
Image: Sasko Lazarov/Photocall Ireland
Alan Shatter is pictured with 5-month-old Edie Rose Robinson Griffith and her mother Moninne Griffith.
Image: Sasko Lazarov/Photocall Ireland
MINISTER ALAN SHATTER says he will publish the anticipated Child and Family Relationships Bill, new legislation that gives security and rights to all family forms, "very shortly".
He expects the laws – which will cover the legal status of children in civil partnerships, surrogacy arrangements and assisted human reproduction - to be enacted by the end of this year, ahead of a planned referendum on same-sex marriage in 2015.
Although the imminent piece of legislation doesn't deal with gay and lesbian marriage, Shatter believes it will clear the path for the Irish public to vote for it because there will be no "extraneous" elements to be debated.
Speaking at an LGBT Parenting conference today, he said, "There is a simple message about this referendum. This isn't a complicated issue. It is about one very simple thing.
"Which is whether people of same sex should be allowed celebrate a ceremony that's called marriage as opposed to a ceremony called civil partnership. There is no other issue that will arise.
"Because much of the issues that do arise have been addressed in the 2010 Act. Any of the other issues in the Children and Family Relationships Bill will be addressed by the end of this year. And they have to be addressed regardless of whether same-sex marriage is introduced.
So as we head into 2015, there will be one issue and one issue only: Do you believe individuals should be allowed to enter same-sex marriages or should we discriminate against people because of their sexual orientation and deny that to them?
He noted that the "roof hasn't fallen in" since civil partnership was introduced, adding that replacing those unions with marriages will also not lead to the "roof falling in".
Bill by December 2014
Commenting on this year's legislation, Shatter said he wants the Oireachtas committee to complete their process of examining the Bill by Easter.
The Equality Minister said he hopes the debate on the issues surrounding the proposed changes will be respectful and will "at no stage descend into an abusive narrative".
He said he presumes opposing TDs will not emerge from the undergrowth once the 150-page Bill is released. He also told TheJournal.ie that there is support and understanding among Fine Gael and Labour deputies for the legislation, noting that the developments it will bring were signposted in the Programme for Government.
During a questions-and-answers session after his address, audience members thanked the Minister for his courage to bring forward the legislation and put queries to him about their own personal situations.
Two young men asked about their rights to adopt a child together. Although the issue has to be covered separately -through that Department of Children – Shatter said they May issue a Cabinet statement of intent if the heads of Bill are not ready for publication at the same time.
He noted that an individual can adopt a child, regardless of sexual orientation. However, the only couple recognised by adoption rules are married ones, therefore excluding LGBT couples and co-habiting couples.
#Open journalism No news is bad news Support The Journal

Your contributions will help us continue to deliver the stories that are important to you

Support us now
Asked about inheritance tax, Shatter noted that some of the changes coming from the legislation will have to be subsequently dealt with. For example, in this instance, amendments to the Finance Bill will be required.
Speaking of the so-called, traditional nuclear family, the Fine Gael TD said there is no monopoly on family form. He claimed that the notion of that form came from US advertising and not Ireland's own history.
"One hundred years ago, children would routinely have been living in families that included parents, grandparents, aunts and uncles," he explained. "Some would have been reared by grandparents or by aunts and uncles. Children were often sent to childless relatives to be reared when families had too many mouths to feed.  That children were often reared in non-traditional families is reflected in the popular culture of the past 150 years which abounds in stories of children growing up successfully in such families.
So Anne of Green Gables flourished in late nineteenth-century Canada when rescued by the middle-aged siblings, Marilla and Matthew.  Similarly, in the Wizard of Oz, Dorothy's endless quest was to get home, not to a nuclear family but rather to her Aunt Em.
Shatter also revealed that the Wizard of Oz "scared the bejaysus out of him".