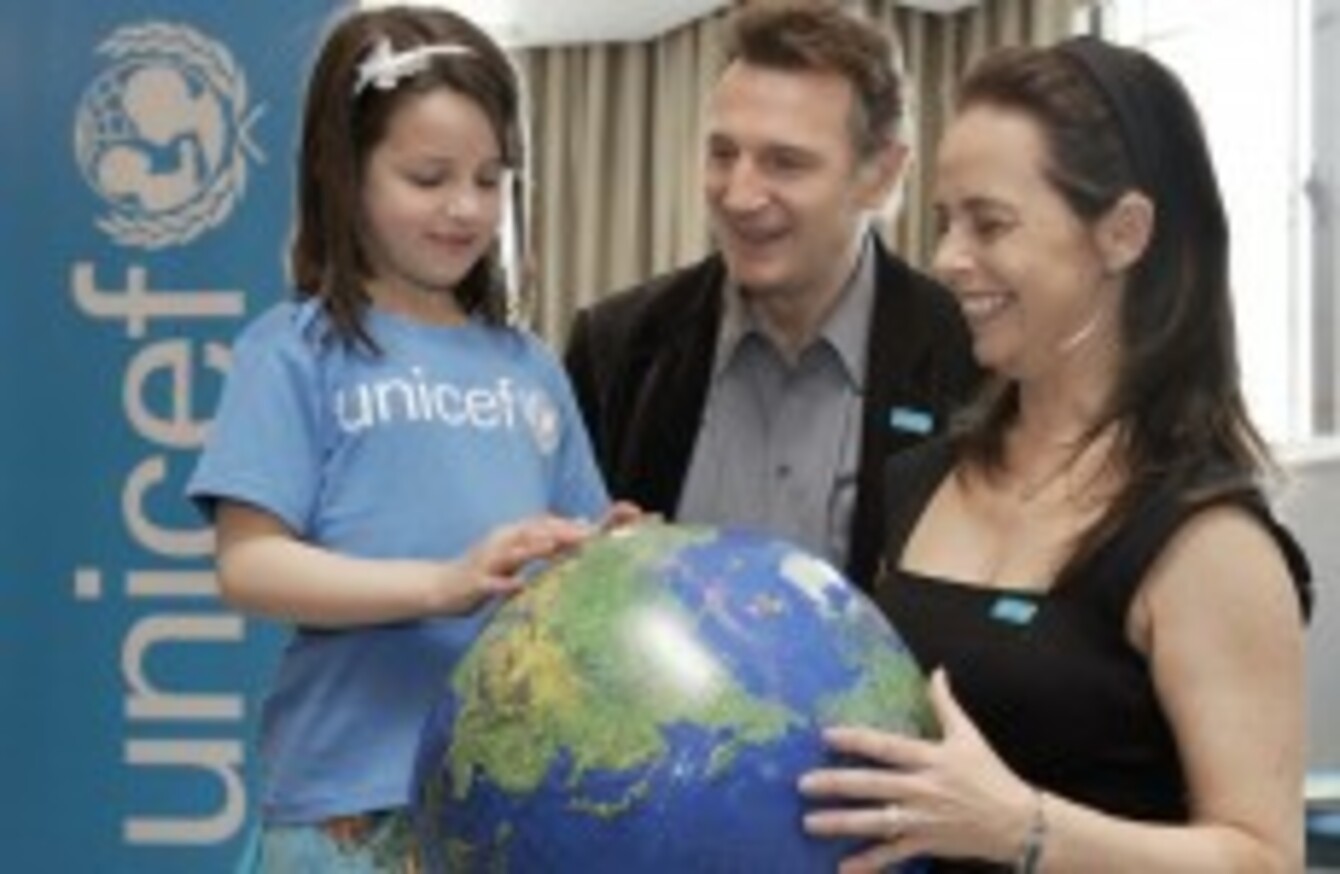 Liam Neeson, Melanie Verwoerd and friend announce Neeson's new role as a Unicef global ambassador
Liam Neeson, Melanie Verwoerd and friend announce Neeson's new role as a Unicef global ambassador
ACTOR LIAM NEESON has just been appointed the very first Irish Unicef goodwill ambassador.
He joins a very select group of around 20 public figures who have taken a global role in publicising and researching humanitarian issues that affect children.
Julianne Savage of Unicef Ireland told TheJournal.ie that while Neeson had been a national ambassador for Unicef in Ireland, this new role makes him part of a "very prestigious group" which includes Roger Moore, David Beckham, Shakira, Lional Messi and Neeson's mother-in-law Vanessa Redgrave, mother of his late wife Natasha Richardson. Savage said:
They don't get there without showing real commitment to Unicef's work. Liam has been a fantastic national ambassador for Unicef since 1997 and given immense support to our projects. He is the first Irish person to be appointed to this global role.
Neeson's tenure as a goodwill ambassador will focus on two key issues, says Savage.
He is a huge campaigner on the issue of HIV/Aids and he has also carried out a lot of research on juvenile sexual trafficking, which he first started looking into for his role in the film Taken.
The plot of Taken involved the issues of trafficking, kidnapping and exploitation.
One of Neeson's first tasks in his new position will be to return to Mozambique, which he visited in 2005, to examine the progress to date on a Unicef project which aims to lower the rate of transmission of the HIV virus from mother to child, and also a centre for abused, abandoned and orphaned children.
Melanie Verwoerd, Executive Director of Unicef Ireland and former partner of the late Gerry Ryan, said that Unicef were very "excited" to have Liam Neeson as a goodwill ambassador.
Neeson said:
I am deeply honoured to have been asked by Unicef to become a goodwill ambassador and am committed to working with Unicef to help children overcome poverty, violence, disease and discrimination across the world.
Ireland's national ambassadors for Unicef include rugby player Donncha O'Callaghan, author Cathy Kelly, GAA player Joe Canning, Dustin the Turkey and Rory McIlroy, who was appointed to the role just last week.