Liveblog
IT'S THURSDAY: less than 48 hours to go until the weekend.
We'll be with you until 9am this morning, bringing you all the latest traffic, transport and weather news.
Morning all!
Catherine Healy here on TheJournal.ie's commuting liveblog, helping you get where you need to go.
Spotted something we should know about? Email catherine@thejournal.ie, tips@thejournal.ie or tweet me @Chealy_.
Not while driving, of course.
Let's take a look at the weather forecast.
It looks like we're in for a slightly less chilly day with temperatures reaching 10 to 11 degrees.
The rain isn't going anywhere, though: scattered showers in the west early this morning are expected to merge to persistent rain, extending eastwards to all areas through the rest of the morning.
Met Éireann has also issued a status yellow advisory for tonight, warning that winds could reach up to 110 km/h.
Driving through Mullingar this morning? AA Roadwatch says there's no longer a stop/go system in place on the Ballymahon Road heading into the town due to flooding.
In Dublin, traffic is already heavy along the city centre quays.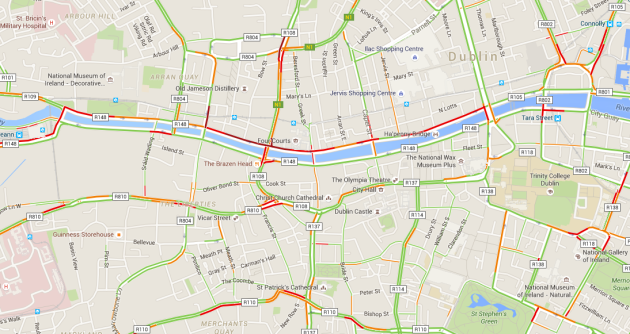 Here's a nice read to bookmark for later: Photographer Peter Varga, the founder of Humans of Dublin, spoke to our reporter Michelle Hennessy about how the project showed him what happiness is really all about. Read on here.
Rain, rain, miserable rain. The following roads are closed this morning due to flooding:
N71 Killarney/Molls Gap Road (Kerry)
R393 Longford/Ardagh Road (Longford) at Blackbridge
R298 Enniscrone/Tullylin Road (Sligo) at Lacknaslevia
R294 Tubbercurry/ Boyle Road (Sligo) at Oghambaun and Quarryfield
R367 Tulsk/ Ballintober Road (Roscommon) on the Tulsk side of Castleplunket
In more flooding news, the western corridor train line between Ennis and Limerick is still impassable. Bus transfers are in operation with a restricted service into and out of Sixmilebridge in Clare.
Be careful out there, folks. High winds mean there could likely be debris on secondary roads. AA Roadwatch is warning drivers to be especially mindful of pedestrians, cyclists and motorcyclists.
Here's what Ireland looks like right now on an animated wind map.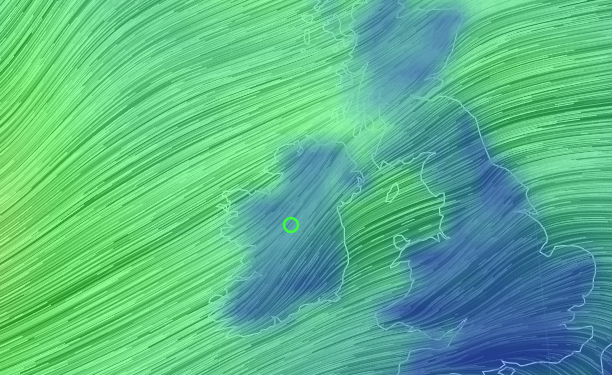 Need to catch up on this morning's top stories? Read our 8 at 8 here.
The banking inquiry report dominates this morning's headlines: here's what you need to know if you haven't been paying attention.
In Galway, there are delays heading into Galway Technology Park on Ballybrit Crescent.
It's busy on the N17 Tuam Rd southbound heading into Claregalway and slow approaching the Bothar na dTreabh junction.
There are some delays on the Headford Rd southbound approaching the Kirwan roundabout. It's also slow in parts of the Dublin Road inbound between the Martin roundabout and GMIT.
If you use the N4 and need to be in work soon, you might want to get out on the road sharpish. Delays are being reported on the Lucan Road from J4 Newcastle to the M50 Interchange.
Traffic on O'Connell Street is reduced to one lane due to Luas works.
Also affected by the construction are:
Marlborough Street (closed from Parnell Street to Cathal Brugha Street)
Parnell Street (one-way westbound from the Marlborough Street junction through to Dominick Street Lower)
Cathedral Street (closed between Thomas Lane and Marlborough Street)
Visit AA Roadwatch for details of all road closures.
There are reports of debris on the M7 Dublin/Limerick Road southbound at J12 Newbridge in the right lane.
Elsewhere in Kildare, it's very busy heading inbound towards Rathcoole due to an earlier breakdown.
In Cork, there are delays northbound both ways on the N28 Ringaskiddy Road between Carrs Hill and Maryborough Hill, and eastbound on the same route from the Shannonpark roundabout to Shanbally Cross.
There are also inbound delays on the N27 South City Link Road from the Douglas Road junction onto Albert Street.
Meanwhile, across the water, severe weather warnings are in places across Wales, Scotland and parts of the UK with heavy rain expected to cause extensive flooding.
This was the scene in Lancashire yesterday as Storm Jonas swept in from the Atlantic. Yikes.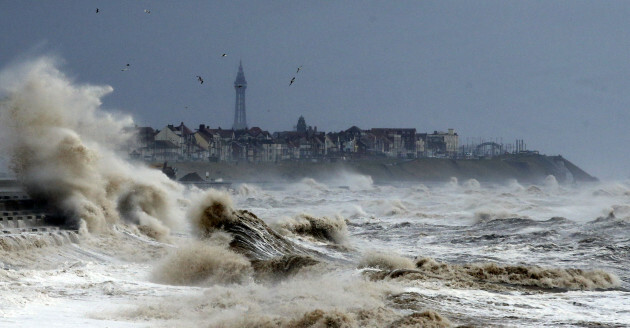 Source: PA
Stuck on the bus, train or Luas? Here are some stories to read:
If you're in Dublin tonight, remember that the free-flow slip from the M50 northbound to the N7 Naas Road outbound will be closed from 10pm to 6am. You can divert via the Long Mile Road.
The Samuel Beckett Bridge will also be out of operation from 9pm until midnight.
That's it for this morning! See you back here at 7am tomorrow.
http://gph.is/1OomQfu
Contribute to this story: