Sean Cox was left in critical condition after the attack
Image: Merseyside Police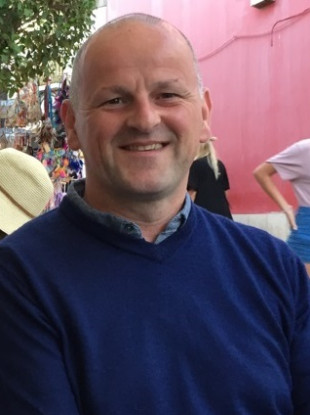 Sean Cox was left in critical condition after the attack
Image: Merseyside Police
ON TUESDAY 24 April, Sean Cox is on his way to Anfield to watch Liverpool Football Club play its biggest game for the best part of a decade.
Champions League Semi-Final. 54,000 screaming fans. The team from Merseyside on the brink of glory, again.
At the quarter-final stage, the rousing fans spurred the team to beat the much fancied Man City. This time, they're actually favourites against a Roma team that also hasn't tasted glory in quite some time.
Cox is going to the game with his brother, who lives in the UK. But, unlike the hundreds, potentially thousands, of Irish people about to attend the game, the 54-year-old man from Meath doesn't make it to the match.
A short time after an incident outside the Albert pub on Anfield's doorstep, Sean Cox is rushed to hospital and two Roma fans have been arrested on suspicion of attempted murder. The pair – both in their 20s – would later be charged with violent disorder and wounding/inflicting grievous bodily harm, and violent disorder, respectively.
As his family rushed to be by his side, a GoFundMe started by an admin on the Irish Liverpool Reds Facebook page starts to gather momentum. In just six days, it raises over €76,000. He is a part of a community, and they are helping him and his family in his hour of need.
The story of a man going over to follow a beloved team is one that is familiar to the thousands who get up at the crack of dawn every Saturday morning to catch the early train or boat over to see their team – be it Liverpool, Man Utd, Celtic or the hundreds of other teams in the UK.
They bring their sons, daughters, partners, brothers, sisters to share in the mutual love of a team that may go back decades.
With further Champions League glory again in reach, and the prospect of a 3,000km journey for the Irish Liverpool fans willing to brave the trip to Kiev, it's little wonder that a round trip from Dublin to the Ukrainian capital for the weekend of the final costs three times more than the average weekend.
And that was just checking the price before it was confirmed they'd reached the final.
How are the Irish fans feeling after what happened to Sean Cox? Why do they spend so much time and money following the team? TheJournal.ie spoke to some regular followers of Liverpool who travel far and wide to see the matches.
'I didn't know if I was in Dublin or Liverpool'
Karl Wright, who is originally from Liverpool, has been living in Ireland for the past 20 years. He quickly became involved in the fan community here after he went to a pub in Dublin city centre to watch a game.
"I walked in and all I could see were red jersies," he told TheJournal.ie. "I didn't know if I was in Dublin or Liverpool. A few years later I joined the supporters group."
That group is Irish Liverpool Reds, who regularly meet up to watch matches here or organise trips to Merseyside or beyond to follow the team.
Wright said that it is clear every time he makes the journey over to follow the team is the sheer number of Irish people who make the trip, and the affinity the people of Merseyside have with Irish people.
"They're well loved in Liverpool," he said. "There's always such a nice atmosphere. I brought my son over for the first time a few years ago. Everywhere we go we're welcomed. It's a very close community."
Mark Farnan is vice chairperson of the Dublin 15 Liverpool Supporters Club and told TheJournal.ie that people come from well beyond the confines of Blanchardstown and Clonsilla to be part of the group.
"Ten of us started the club around nine years ago," he said. "Now there's over 100 of us. They come from the inner city, Kildare, Meath, even Cork. Because we're affiliated with the club, we can get a ticket allocation, so we organise trips over regularly."
The supporters club has a president, chairperson, vice-chairperson and treasurers to keep the whole operation ticking over.
Farnan said: "We'd have another subcommittee, and we'd organise things like Christmas parties for the kids, or arrange for ex-pros to come over for a night.
It's very family orientated. It's great to get the kids involved because from so young, they're so into it too.
He said that he would regularly go on day trips over to see the team and, like so many other fans, it's just his "thing", something that he became interested in many years ago and found a community that shared that passion.
Joe Currums, also a member of Irish Liverpool Reds, told TheJournal.ie that the atmosphere created amongst the fans here is a huge draw.
"We're going to Murrays [on Dublin's O'Connell Street] tonight," he said, on the day of the second leg against Roma last Wednesday. "There's a great community of us, and we always try to get over when we can. When we are there, there's never a bit of trouble. The Irish always get a great reception there, anyway."
'Just shocked'
Farnan attended the game against Roma in Anfield, and was on the drive back to the get the boat in Holyhead when news began to filter through that a fan had been seriously attacked.
"I just couldn't believe it," he said. "We didn't know he was an Irishman until the next day. The atmosphere at the game had been electric. I couldn't understand it when I heard."
Wright echoed Farnan – "I couldn't believe what had happened" – and said that when they got wind that it was Cox, he said "you're not serious, he's from Ireland, as well".
He said that the outpouring of support for Cox since the attack had been fantastic.
"His GAA shirt was hanging up in the dressing room last Saturday against Stoke," Wright said.
"A lot of people in Liverpool have shown a lot of support. The 12th Man – offered the family to stay free of charge. And it's not just the fans, the whole club has responded."
This included Liverpool club captain Jordan Henderson penning a letter to St Peter's Dunboyne GAA club – of which Cos is a member – sending his support.
#Open journalism No news is bad news Support The Journal

Your contributions will help us continue to deliver the stories that are important to you

Support us now
He wrote: "I've never had the privilege to meet Sean, but in recent days I've been reading in the media about how much he's loved and respected in the community of Dunboyne and in particular the important role he plays at your club.
Our greatest wish in this moment is that Sean can return home with his family and see that the two sporting clubs he cherishes the most came together because of him.
On the GoFundMe page, Farnan said that it "took off like wildfire".
"Everytime I went to check it, the bar had been raised again," he said.
It just goes to show you. We're a family in itself.
Started by Irish Liverpool Reds, the GoFundMe funds are set to go towards Cox and his family to pay for any medical costs and to support them while they are in England.
There were also flags on display dedicated to Cox at the away leg against Roma, and Liverpool's most recent Premier League game.
You'll Never Walk Alone

The experience of these fans with their sense of community is broadly mirrored across the various clubs that have a wide support in Ireland. In Liverpool's case, its fans here have the very biggest occasion to look forward to this month.
Wright said he is now scrambling to get to Kiev, where Liverpool will face Real Madrid in the Champions League Final, by any means necessary.
He and a whole host of Irish fans will be doing the same. "We keep in touch with each other," he said.
"We're looking at all our options at the minute. There's various means. Flying to Kiev straight is too expensive. We're looking at Amsterdam, and then a train the rest of the way. Or a flight to Warsaw, and then a train. Whichever way it could take 24 hours to get there."
While the events around both Roma games – there were reports of trouble at the second leg too – may put off going to that particular destination, the fans won't be deterred from following their club around.
"Sean didn't know what was coming," Farnan said. "He'd have been like myself, maybe not get over to see games as often as people who live there. It's a hobby of mine, it's something I'm passionate about. It's my outlet.
There's so many different supporters groups in Ireland. We're all the same. We're not there to cause anyone any hassle. We're just there to watch a football match.
Currums added: "It's as simple as this. If you go to a football match. You should come home from a football match."