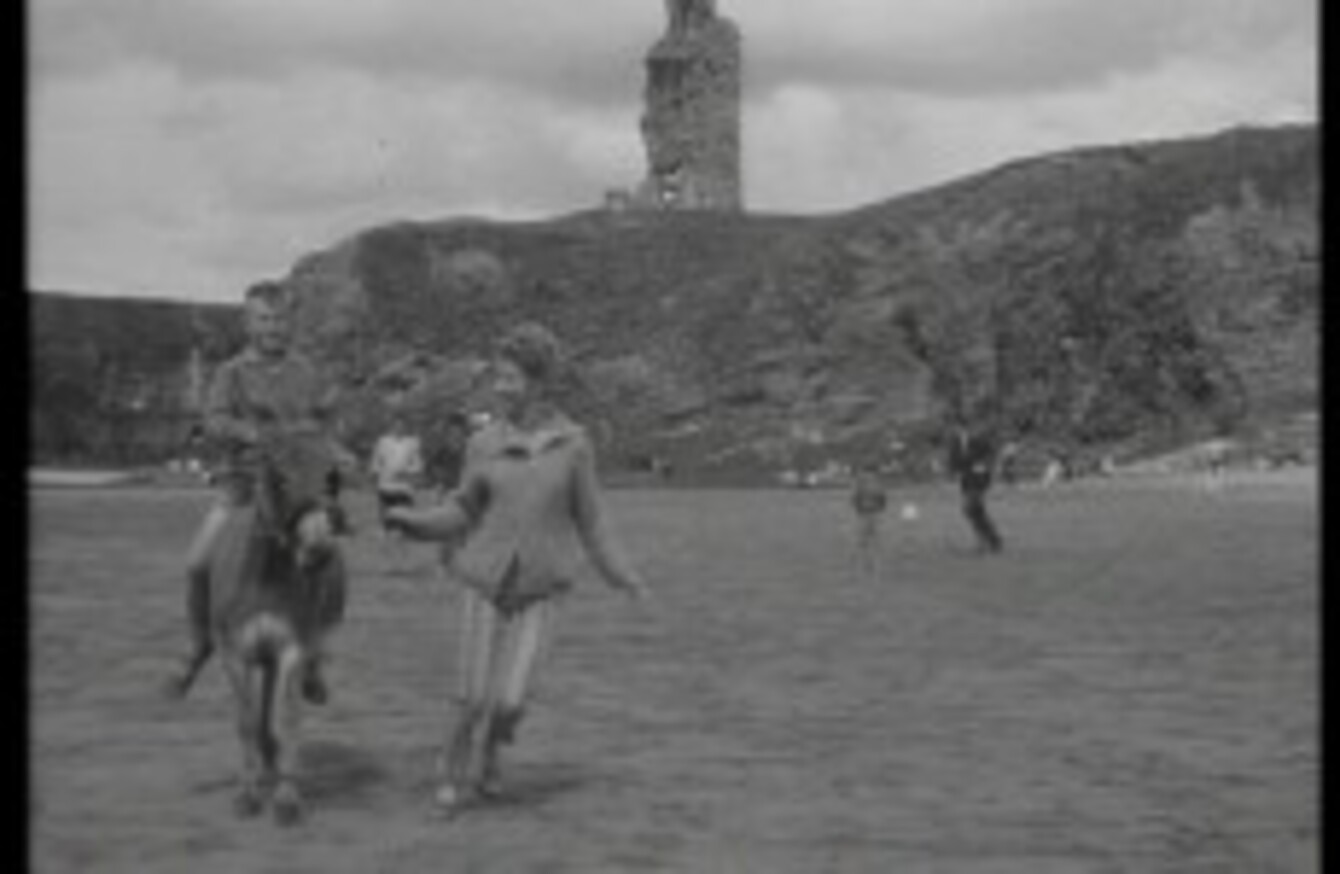 Image: IFI via Irish Film Archive
Image: IFI via Irish Film Archive
WOULD YOU LIKE to see old film footage from your local area being screened in your community?
'Local Films for Focal People' is a project being run by the IFI Irish Film Archive in which it travels to different parts of the country showing archived screenings of footage from local areas.
It's bringing the footage back to the communities in which it was made.
Head of IFI Irish Film Programming, Sunniva O Flynn, explained to TheJournal.ie how this project is allowing people to see footage that they may actually be in and aren't even aware of.
It's a great chance for local communities to examine their heritage and it also gives the IFI a chance to update its archives as locals can identify places and people that the IFI couldn't identify.
"The catalogue here is now enhanced and made more accurate."
It started in Galway and was part of the Film Fleadh during the summer. The response to the screening was so enthusiastic that it returned as part of Galway culture night.
Last month a screening called 'Tipperary Tales' was held in Thurles and next week a screening will be held in Kerry.
A story appeared in TheJournal.ie in September about an 86-year-old man, Eoin Downing, who just saw a film he was in during the 1950s – after his nephew tracked it down.
That film, Bally Cashel Ferry, will be among the films screened in Kenmare this coming Thursday and Waterville on Friday.
Ballycashel Ferry

Ballycashel Ferry

Ballycashel Ferry
Downing spoke to TheJournal.ie straight after he viewed it, "I really enjoyed watching it, it reminded me of all the people who were in it and are now gone."
He also added that he got paid a bottle of orange for playing his role.
Radharc's Irish Holidays Ballybunion from 1963 will also be among the films shown:
Heritage
Sunniva explained that the screenings have a hugely nostalgic feel as people who had been there come to watch.
She also pointed out that the material is important as it documents a time in Irish life that wasn't near as well documented as now.
For so many people in Ireland- their childhood or teenage years aren't as well documented as they are today – to be able to watch back and connect with a time that you grew up in is enormously valuable.
"We showed a film in Tipperary last month that was made by Jim McEvoy between 1962-1965 about the canon hayes community centre.
It was a very warm upbeat film about young people who were involved with charity work like meals and wheels on going on day trips and it really gave a great insight into people who were hopeful at a time when Ireland was just emerging from a dark period.
"The audience in Thurles really responded well to that – many of them remembered that period."
Do you want footage from your area to be screened?
Sunniva explained that the IFI Irish Film Archive plan to do about four or five screenings a year and that people can get in touch if they'd like to see it happen in their area or if they have any footage they would like shown.
The next port of call is Manorhamilton in Leitrim on November 26.
In the New Year- it will be a combination of us looking for arts centres but we are open to invitations from local heritage groups and film societies.
"We also welcome new footage from an area if material comes to light. We would need to examine and restore it but we'd love to get all quality material screened in the local communities. What we're really interested in is documentaries and factual films that focus on the locality.
"We want the footage to be seen so Arts centres or places that can hold a large screening are ideal.
Eventually we would love to cover the entire country and then start all over again.
You can get touch with the IFI Irish Film Archive here.