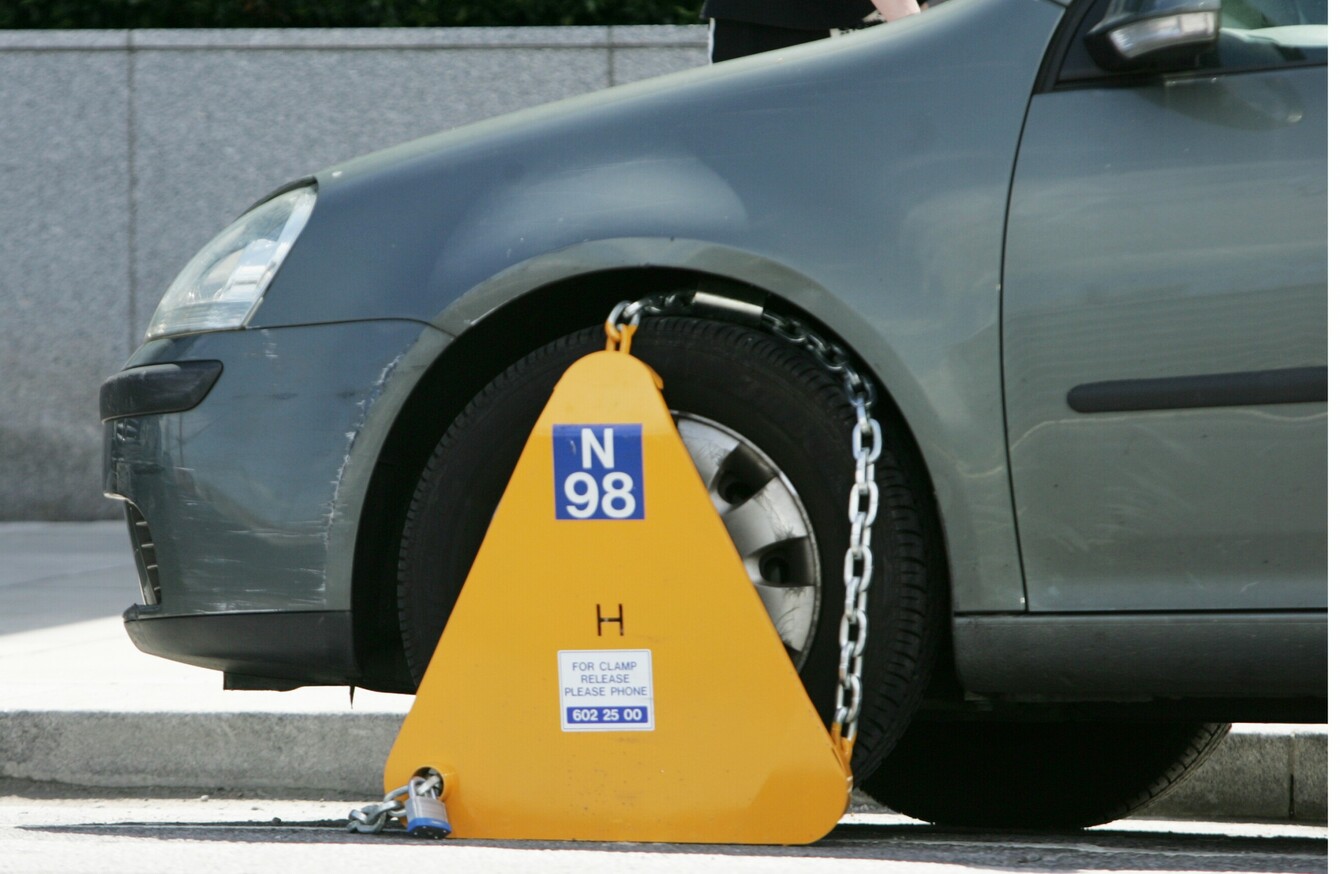 THE LONG AWAITED legislation to regulate clamping in Ireland is to finally commence next Thursday.
For years there have been outcries from members of the public who have felt hard-done by from clamping companies.
Under the Vehicle Clamping Act 2015 a maximum clamp fee is to be set and a statutory complaints and appeals procedure established.
This two-tier appeals process will hear appeals from drivers who have had their cars clamped or vehicles removed.
Code of conduct for clampers 
It also provides for the provision of appropriate signage in places where clamping is in operation. Clamping operators will also be obliged to adhere to a code of conduct.
The Act will also provide for the necessary enforcement and investigate powers needed to investigate and prosecute any alleged breaches of regulations by clampers.
However, the first step in the commencement of the law is to first publish the above regulations and allow for a period of consultation. This will be done on 1 June.
Following consideration of any submissions received, the National Transport Authority (NTA) will then assume all its new responsibilities effective from 1 October.
Essentially, this means the new rules will not come into effect until the October date.
Government action first promised in 2010
Regulation of the industry was first proposed by Fine Gael in 2010. The party's spokesperson on Transport (and now FG leadership contender) Simon Coveney launched the Vehicle Immobilisation Regulation Bill to regulate clampers.
In 2014, the then Transport Minister (another Fine Gael leadership candidate) Leo Varadkar posed with a clamp outside Government Buildings and promised that the days of "rogue clampers" were coming to an end, promising the new laws would be in place in 2015.
#Open journalism No news is bad news Support The Journal

Your contributions will help us continue to deliver the stories that are important to you

Support us now
Over that three-year period, incidents continued to emerge, such as at Newbridge railway station in Kildare last year, where cars were clamped in the station car park despite having valid parking tickets.
Local Authorities have also made a lot of money over the years through the collection of clamping fees. Last year, Dublin City Council collected more than €4.2 million in fees from clamped cars around the city.
Complaints procedure 
"I am delighted to be able to commence the Vehicle Clamping Act 2015. The Act will benefit people through providing a robust regulatory framework for vehicle clamping and importantly will also allow for the establishment of statutory complaints and appeals procedures," said Minister for Transport Shane Ross.
I know that people have called for a statutory regulatory framework in relation to vehicle clamping for many years.
The Act designates the National Transport Authority (NTA) as the statutory regulator for clamping and my commencement of the Act will now allow the NTA publish draft regulations relating to clamping, signage and clamp release charges and invite submissions from members of the public on those draft regulations.
The department states the delay in the regulations coming online was due the NTA requiring additional resources for it to take on the new responsibilities. An amendment was also required to the original plans, which didn't occur until April 2017.