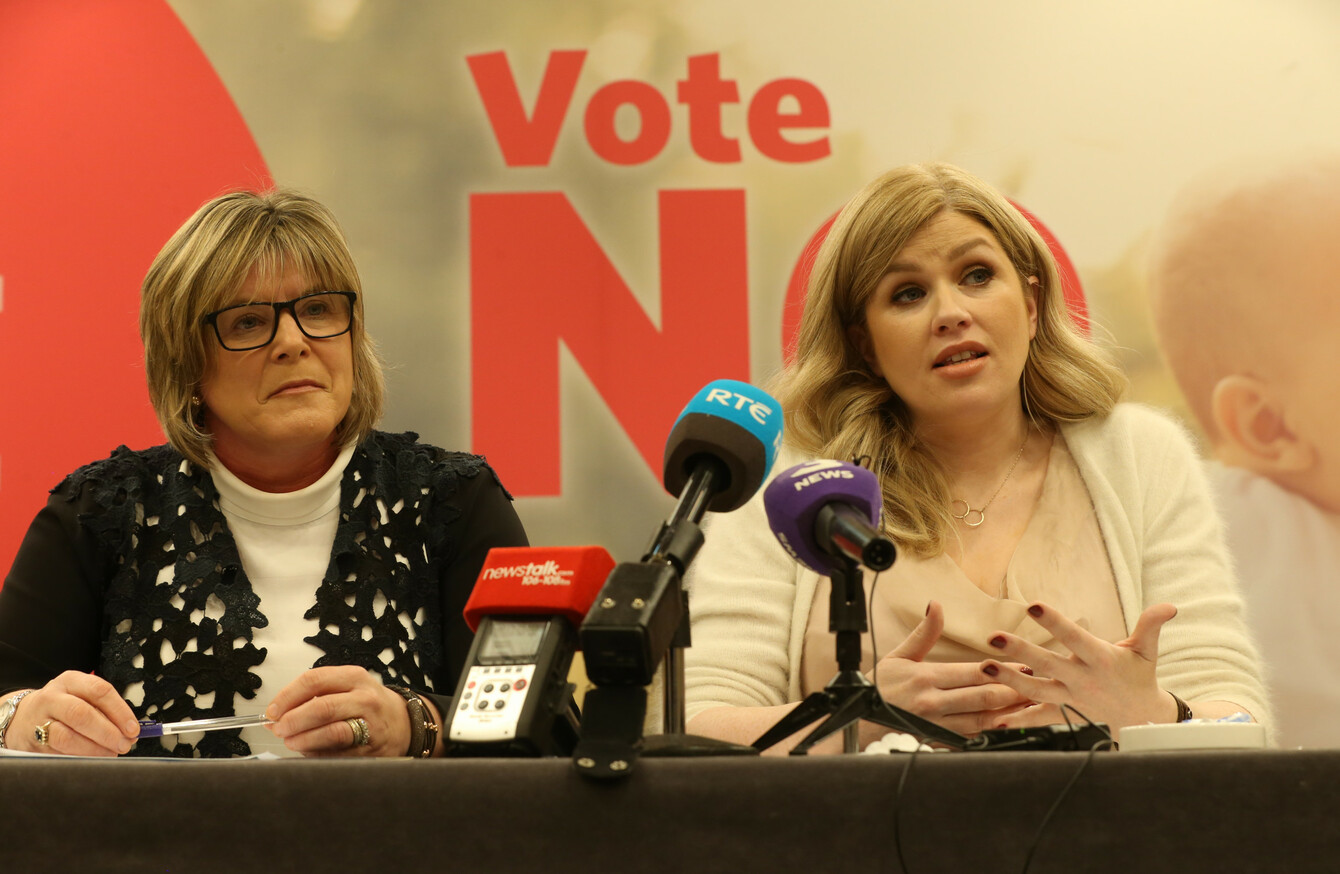 Image: Sam Boal
Image: Sam Boal
THE LOVE BOTH movement has called for a switch in focus in the Eighth Amendment referendum campaign to highlight alternatives to abortion.
Speaking to reporters in Dublin today, Love Both spokesperson Sinead Slattery said that instead of introducing abortion, "we should be working together to make Ireland a pioneering centre of excellence for perinatal palliative care facilities to help families of babies with a life-limiting condition".
Fianna Fáil TD Mary Butler also spoke at the press conference about the need for further investment in perinatal hospice facilities so that parents with very sick babies can receive the support they need.
"Unfortunately the only solution the committee [on the Eighth Amendment] has offered to anybody who is going through a crisis pregnancy is abortion and we all know there are alternatives," she told reporters.
It was pointed out to Butler that the committee had in fact recommended expanding perinatal hospice care and that Minister for Health Simon Harris has already committed to taking action in that area, regardless of the outcome of the referendum.
Butler said that while that was welcome, "we would have to see the detail". She also said that the impression she got from the committee was that "way more emphasis" was placed on abortion as a solution.
'Each time it was a little baby'
Reporters also heard from Ade Stack, who shared the story of the birth of her son Hugh in 2012. He lived for 247 days.
"We're okay with Hugh living for eight months," she said, explaining that during that time he was loved and he was not in any pain.
However she said Ireland "wasn't ready for his short life" and rather than time in hospital, what the family really needed was a hospice.
"We just need to make a place in Ireland where my son could have had the care he needed."
Ade and her husband Martin set up a charity called Hugh's House a number of years ago to provide a temporary home close to the children's hospital for families who have a terminally ill child.
"There are 11 families living in Dublin for free for as long as their children need to be in hospital." She said the charity does not receive any government funding.
When asked about other parents who do not want to bring the pregnancy to full term after receiving a fatal foetal diagnosis, she said she can not accept that the unborn child is "not a person".
"I've had four children, and I was kicked by one of them at 14 weeks," she said.
I still know in my heart that each time it was a little baby.
Homeless women
Love Both spokesperson Sinead Slattery said Irish society should "be focusing on initiatives that bring us together rather than divide us".
In 2017, there were close to 30 homeless pregnant women living rough on the streets of our cities during 2017. This human suffering could be alleviated and suitable sheltered accommodation found, if the political focus were on alternatives to abortion rather than on obliterating all legal protection from unborn babies.
She also pointed out that hundreds of Irish couples are on waiting lists having been declared suitable to adopt a child.
#Open journalism No news is bad news Support The Journal

Your contributions will help us continue to deliver the stories that are important to you

Support us now
Slattery was asked what Love Both was suggesting as an alternative solution for victims of rape and incest who do not want to continue with their pregnancy.
"We all know that this referendum is not about hard cases or cases that represent a very small percentage of the reasons why women have abortions," she said.
She said the government had a chance to "address those specific issues in a different way".
Slattery also made reference to the case of one 13-year-old rape victim who had said "it was the abortion that was the hardest to get over, rather than the rape".