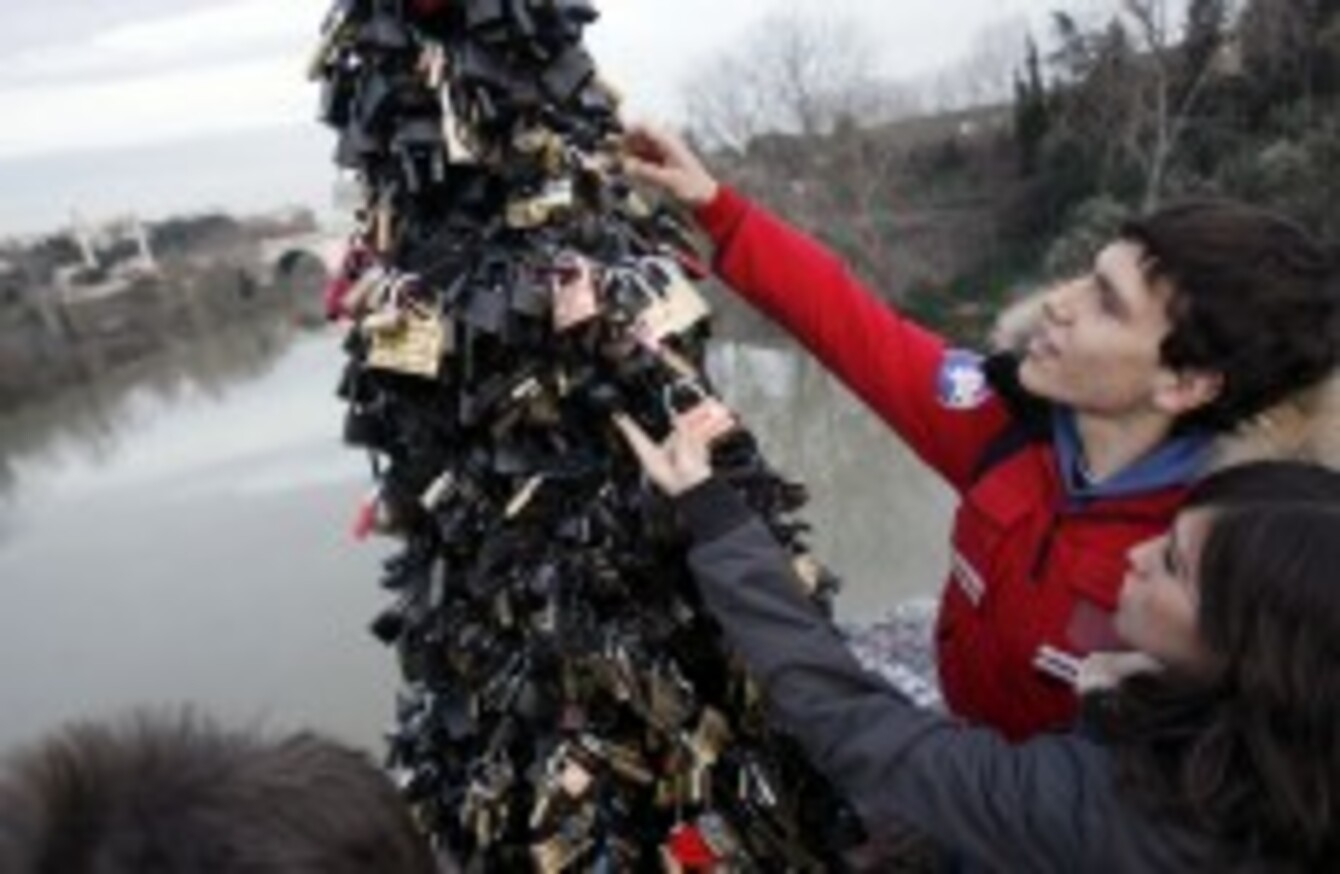 Youths read messages on locks attached to a lamp post on Rome's Ponte Milvio Bridge, on Valentine's Day, Wednesday, Feb. 14, 2007
Image: ALESSANDRA TARANTINO/AP/Press Association Images
Youths read messages on locks attached to a lamp post on Rome's Ponte Milvio Bridge, on Valentine's Day, Wednesday, Feb. 14, 2007
Image: ALESSANDRA TARANTINO/AP/Press Association Images
LOVE LOCKS TIED to a bridge in Rome by young couples are to be removed because their combined weight is causing problems.
Lovers have tied the padlocks to the bridge and thrown away the key since late 2006, inspired by characters in the book I Want You by Italian author Federico Moccia.
However, Rome isn't the only place it happens – love locks have been affixed to structures around Europe and Asia, including our own Ha'Penny Bridge and Millennium Bridge in Dublin.
But these latter locks didn't last long, as the council removed them in January, and asked people not to do it again.
Some couples might not have gotten the hint though – the photo below was taken in May:
(Sam Boal/Photocall Ireland)
The BBC reports that authorities have begun to remove the locks from the Ponte Milvio with bolt-cutters as rust from the locks is damaging the bridge.
The bridge spans part of the Tiber and was first built in 206 BC, being renovated a number of times and then repaired in 1429.
In 2007, the lamppost on the bridge where the padlocks had initially been placed partially collapsed, as the Daily Mail reports – but that didn't stop the star-crossed couples, who simply went on to put the love locks elsewhere on the structure.
Here's an Italian video that shows some of the locks on Ponte Milvio in 2008.

(romakult/Youtube)