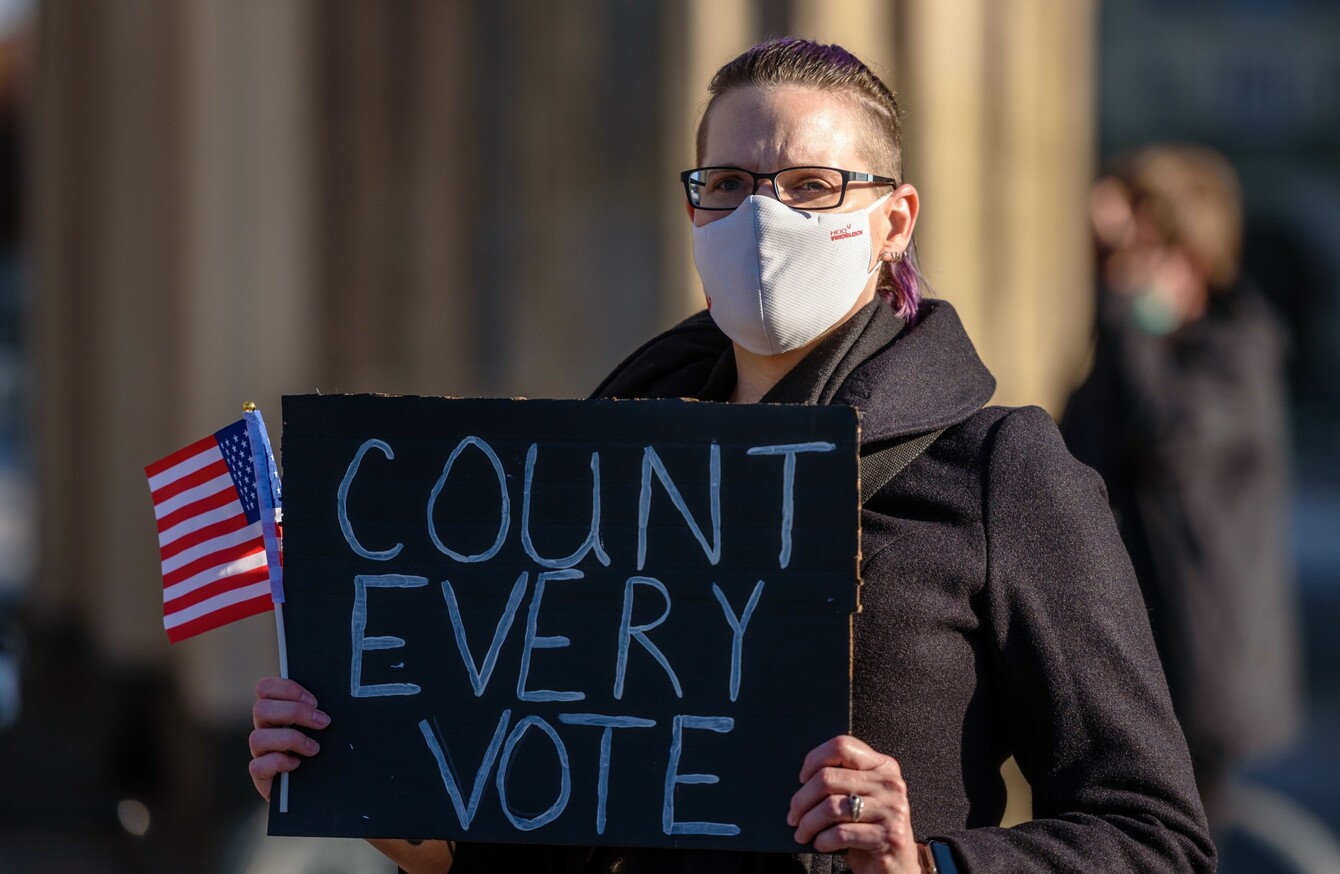 A supporter of Joe Biden holding a sign reading 'Count every vote' at a protest at the Brandenburg Gate in Berlin, Germany, today.
Image: Jan Scheunert/Sipa USA
A supporter of Joe Biden holding a sign reading 'Count every vote' at a protest at the Brandenburg Gate in Berlin, Germany, today.
Image: Jan Scheunert/Sipa USA
Updated Nov 4th 2020, 10:15 PM
WELL, IT HAS been a long night and a long day, but it looks like there may be a result soon in the US Presidential Election 2020.  
With votes still due in Nevada, Arizona, North Carolina, Pennsylvania and Georgia, Democrat Joe Biden appears to have the clearest path to victory. 
Here's a rundown of the key things to know from the results so far. 
Main points: 
Biden has said he believes he will win and become the 46th President of the United States of America. 
Biden took the states of Michigan and Wisconsin this evening, leaving him on 253 electoral college votes – 17 from victory.
The race is coming down to a handful of states, including Michigan, Arizona and Pennsylvania. Biden has been projected by some networks in Michigan but it may take days for the result in Pennsylvania to become clear. 
Trump's campaign said it will request a recount in Wisconsin after Biden won the state by less than 1% of the vote. It also looked to stop the count in Michigan. 
Nevada had concluded counting for the night but now says it will provide more information in the coming hours.
Here are the state result projections at the moment.
Biden garnered more votes than any other presidential candidate in history.
Here are the key states to keep a close eye on in the coming hours (and days).
Here's why we're still waiting for some results.
Trump won the key swing state of Florida, as well as winning Texas which has 38 Electoral votes.
Trump said in the early hours of this morning he will go to the Supreme Court. He said: "Frankly, we did win this election."
We will be updating our liveblog here with all the latest as it happens. 
A QAnon-supporting Republican won a seat in the US House of Representatives and a transgender person was elected to the US senate for the first time. 
The UK government has insisted the special relationship with the US will endure whoever wins the bitterly contested election.
US citizens also voted for a host of other things yesterday – Oregon has become the first US state to decriminalise hard drugs, including the possession of small amounts of heroin and cocaine; four other states voted to legalise recreational marijuana.
Democrats' odds of flipping control of the US Senate have shortened following earlier tallies which suggested Republicans were on course to regain the upper chamber of US Congress.
A CNN exit poll showed that one-third of US voters surveyed said the economy is the most important issue to their vote. 
More than a thousand people protesting against Donald Trump gathered near the White House as state results were announced. 
Twitter put a label on a tweet from Donald Trump which erroneously claimed people were trying to steal the election. The label said the tweet is disputed and "might be misleading". It has since put labels on a number of his subsequent tweets.
With reporting by Hayley Halpin and Órla Ryan
#Open journalism No news is bad news Support The Journal

Your contributions will help us continue to deliver the stories that are important to you

Support us now