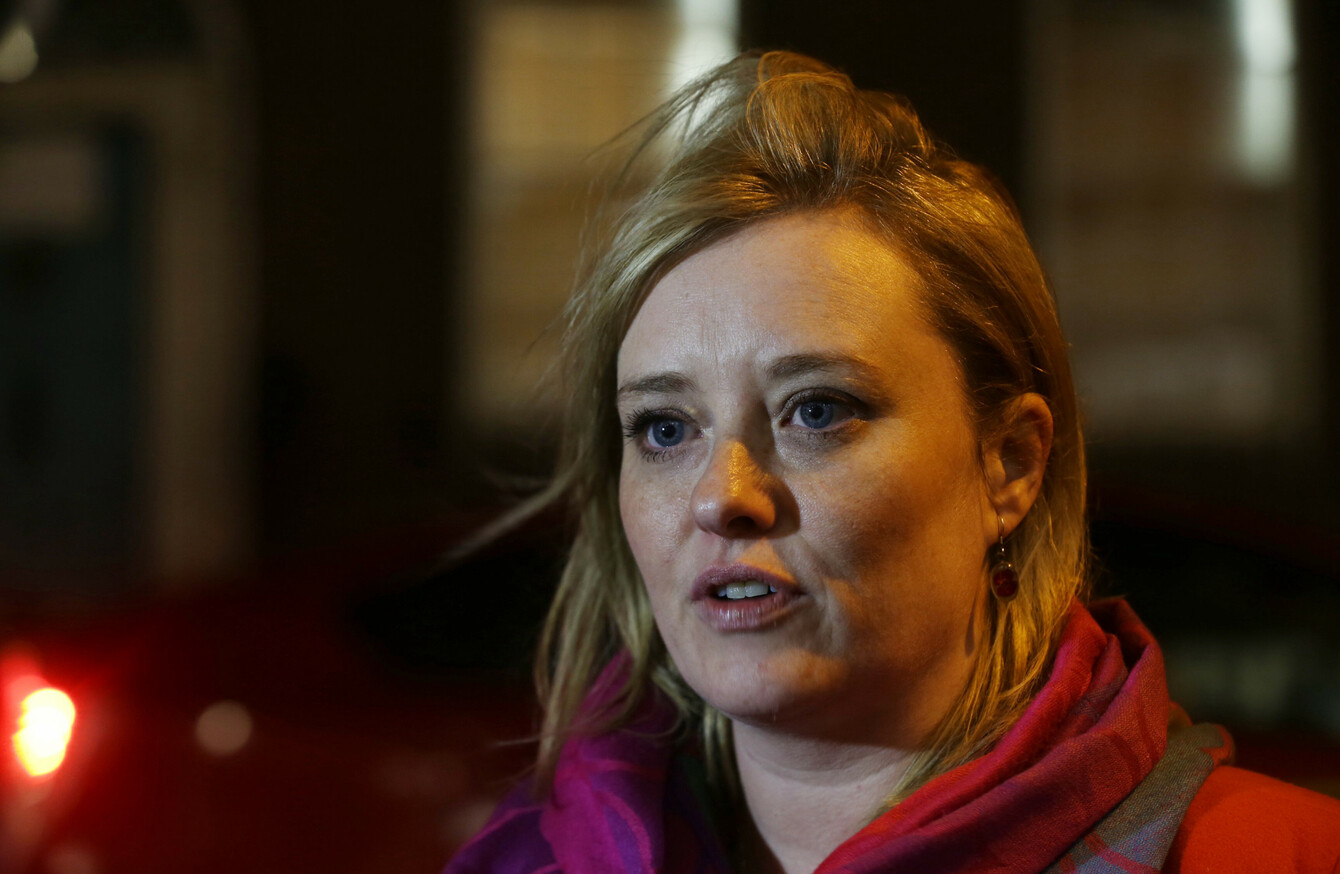 Máiría Cahill pictured outside Government Buildings in Dublin this evening.
Image: Sam Boal/RollingNews.ie
Máiría Cahill pictured outside Government Buildings in Dublin this evening.
Image: Sam Boal/RollingNews.ie
MÁIRÍA CAHILL HAS said she has been treated in a "despicable" manner by Sinn Féin and accused party leader Mary Lou McDonald of engaging in "bluster and spin". 
Cahill made the comments after meeting with McDonald in Leinster House for just over an hour this evening.
Cahill alleges she was raped by an IRA member when she was 16 years old. 
The former Labour party senator, who joined the SDLP in July, told police she had been sexually abused from 1997 to 1998, and in subsequent years was subjected to an IRA investigation of her allegations.
Ombudsman Dr Michael Maguire found that the PSNI's predecessor, the RUC, had information about Cahill's alleged abuse for a decade but did not investigate it.
This week the Sunday Business Post reported that a PSNI detective told the Police Ombudsman's inquiry that members of Sinn Féin interviewed in connection with Cahill's abuse allegation did not cooperate.
McDonald has denied there was a cover-up by her party.
Following the meeting Cahill accused McDonald of "an abdication of responsibility, bluster and spin, or what I described to her as 'bullshit'" on Twitter. 
Speaking to RTÉ Radio 1′s Drivetime earlier, Cahill said: "I went in to the meeting with low or no expectations and I came out of it, if it's possible, with even lower ones, which I am distressed about, I suppose.
I really thought that this was the opportunity after four years for Sinn Féin to seize the moment, if you like, and to apologise. And while there was an apology, it's a qualified apology.
Cahill said that while McDonald apologised for "failures which she says were in Sinn Féin in terms of not having mandatory procedures in place", she did not say she believes there was an IRA investigation into Cahill's abuse claims.
Cahill's late great-uncle Joe Cahill was one of the founders of the Provisional IRA.
'Incredible' 
Cahill said McDonald retracted comments she made in 2014 – in which she said Cahill had cast a slur against Sinn Féin, and told her derogatory remarks by individual members of Sinn Féin about Cahill were "completely wrong and should have not happened".
However, she said there was no movement in relation to current members of the party who stand accused of investigating Cahill's abuse claims and "who were in a room with me and with my abuser".
Cahill said she finds it "incredible" that McDonald has no information in relation to this.
"At this point in time I don't think that closure is attainable and I think it's despicable that a victim of sexual abuse would be treated in this manner," Cahill said.
Two other women also claimed to have been abused by the man in question, who has denied the allegations. 
In a statement released this evening, McDonald said she and Cahill had "a lengthy and candid conversation".
I listened carefully to what she had to say and I reiterated my unreserved apology and deep regret that procedures for the mandatory reporting of abuse allegations were not in place at the time of Máiría's disclosure.
"I acknowledged the hurt and pain that Máiría has been through and I stressed to her that robust procedures for the handling of abuse allegations are now in place within Sinn Féin.
"I reiterated to her that allegations of a criminal nature must be dealt with by the statutory authorities with responsibility for doing so.
"I want to wish Máiría the very best for the future."