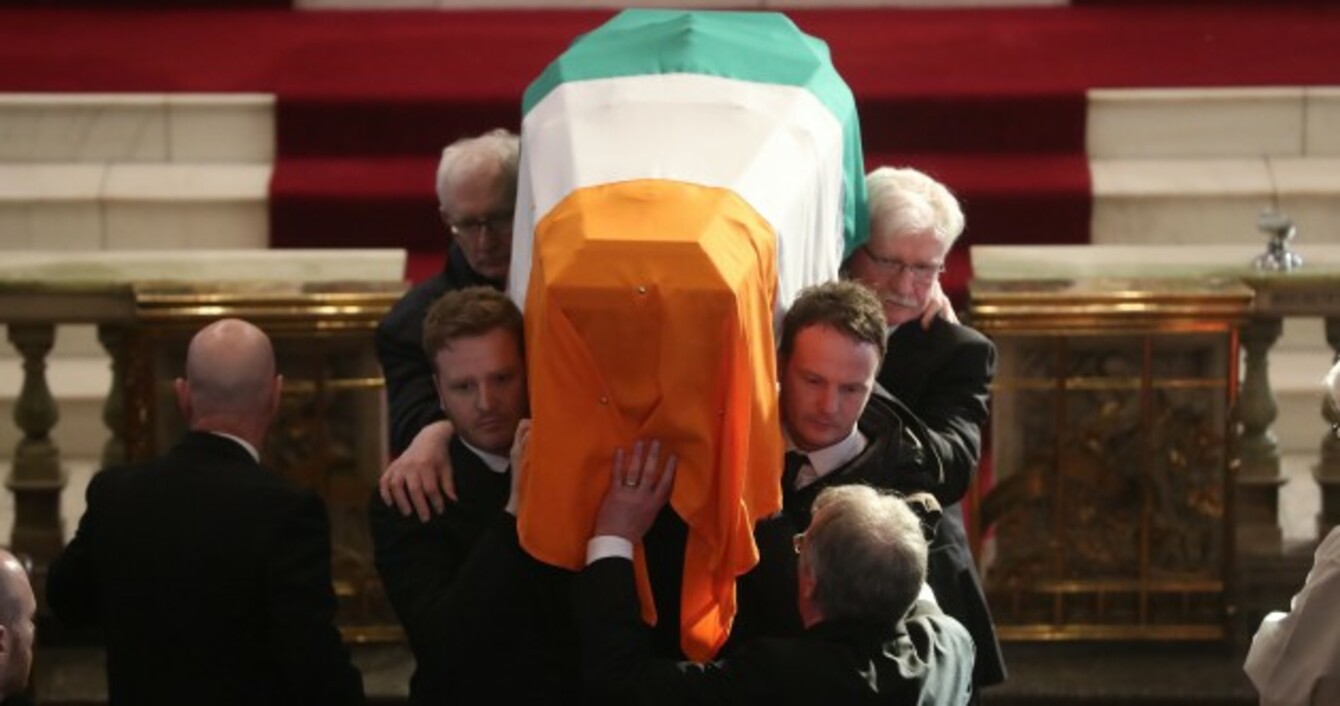 Image: PA Wire/PA Images
Image: PA Wire/PA Images
'A DERRY LEGEND, he's legendary.'
That play on words was spoken by one of the thousands of mourners who lined the streets, filled the verges and climbed the poles to say goodbye to one of their city's most important sons.
Much has been spoken this week about how Martin McGuinness' life was a journey.
The theme was touched upon numerous times during a funeral mass in which religions men of several denominations spoke warmly about the man christened with the papal name, James Pacelli McGuinness.
The journey that has been spoken about is his journey from civil rights agitator, to a feared paramilitary and ultimately to pragmatic peacemaker.
But it is his final journey made in a sun-blessed but numbingly cold spring day that truly shows the esteem in which he is held here.
In a city that was already in sombre mourning after burying Derry City FC captain Ryan McBride earlier in the day, the roads surrounding the Brandywell were a silent bustle of people wearing black and others in high-vis jackets directing cars.
Bogside
At the top of Westland Street which runs straight downhill into the heart of the Bogside, crowds began to gather at about 1pm in anticipation of the arrival of McGuinness' funeral cortege.
The crowd was made up of people from all parts of Ulster and as well as other parts of Ireland. GAA crests from Kerry, Dublin and Mayo were all to be seen and the one uniting symbol seemed to be the Easter lily.
Easter will always have a special place in the heart of Irish republicans. From the 1916 rising which first proclaimed the Irish Republic to the Good Friday Agreement some eighty years later that has maintained a reasonably steady peace across the province since.
Easter is still three weeks away but it seemed fitting that this devout man, both religious and otherwise, be buried during this period.

Cortege
As the crowds continued to build along the street waiting for the coffin to be taken from his family home, a thin tape and an entire detail of Sinn Féin volunteers kept them at bay.
As the cortege approached down one of the many side streets, bagpipes began to play and the tricolour draped coffin came into view.
It provoked at first a silence before a spontaneous applause that grew louder.
No shouting, singing or any words, but a respectful applause that was repeated as the coffin made its hour-long journey past Free Derry corner and the Bloody Sunday Memorial to St Columba's Church.
The coffin was carried by family, friends and comrades. Bernie McGuinness, widowed on Tuesday after 43 years of marriage could also be seen.
As the coffin reached the bottom of one hill and began to make its way up another towards the church, the feeling of sadness and respect was replaced by one of pride that the city had turned out for one of its own.
What was absent was any sense of bluster or showmanship. IRA funerals in the past were used to show defiance, this was not on display here.
Instead it felt like a local boy being shown around his old familiar haunt one more time and the town coming out to meet him.
As one mourner put it, 'He lived just around the corner from me, I'll just miss seeing him walk about the place.'