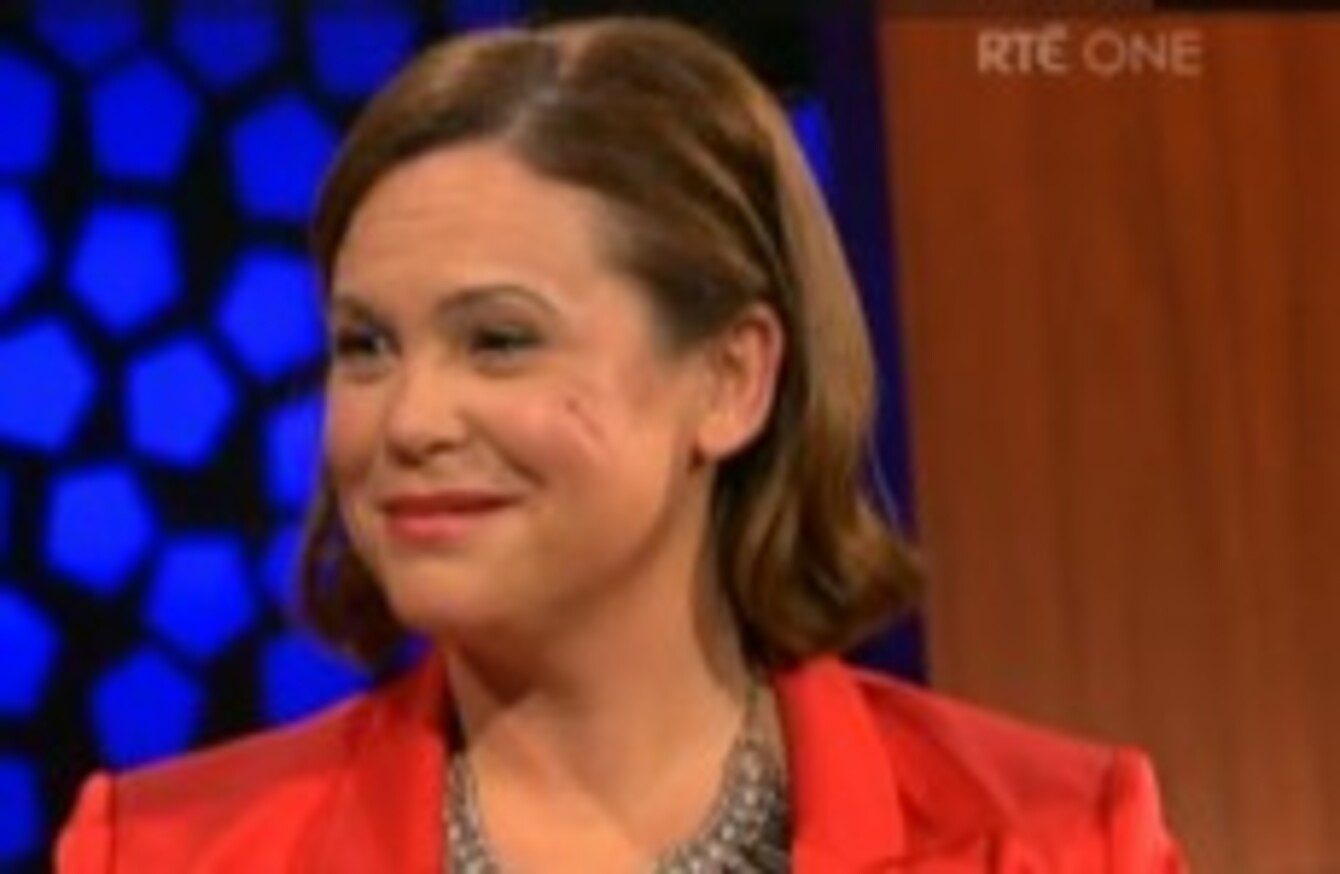 Mary Lou McDonald on the Late Late Show this evening.
Image: Screengrab/RTE
Mary Lou McDonald on the Late Late Show this evening.
Image: Screengrab/RTE
DEPUTY LEADER OF Sinn Féin Mary Lou McDonald said in an interview tonight with Ryan Tubridy on the Late Late Show that she thinks she "has what it takes" to be the next leader of Sinn Féin.
In a wide-ranging interview, she said that the leadership of the party was not up for grabs at the moment, stating that she didn't think it was Gerry Adams' time to step down and that he was "the best person for the job" at the moment.
Leadership
When pressed on whether she would like the job, if and when it does become available she said:
"To be in politics you have to have cop on and back bone", adding that she thought she had both.
She said that Pearse Doherty would also make a good leader, as he is "articulate" and "bright".
She reiterated that there was no contest at the moment, adding:
"For me this isn't about my personal ego or master career plan," finally adding:
Do I think I can lead? I think I could.
Jean McConville
McDonald was also asked about the tonight's news that a man has been charged in relation to the murder of Jean McConville. She said she welcomed the development, adding:
"I welcome any development that offers comfort to the families of the disappeared…"
She added:
I absolutely condemn the murder of Jean McConville, I absolutely do.
Tubridy also asked her if she believed that the Sinn Féin leader had never been a member of the IRA.
She answered:
I accept that
McDonald noted that Adams has no conviction for any membership of the IRA and when pressed on whether she believed Adams when he denied it she said: "yes, I believe that."
She was also asked about being a woman in politics in which she said that after she is finished work, she is just a "mam". She said she believed that women get heckled more in the Dáil.
A clip was then played of a Dáil debate in which McDonald is speaking but is being heckled by a male politician. Under her breath she muttered "what a d***", to which the Late Late audience applauded.
Despite Tubridy's best efforts, McDonald would not name who it was she was referring to.
First published 23.45pm