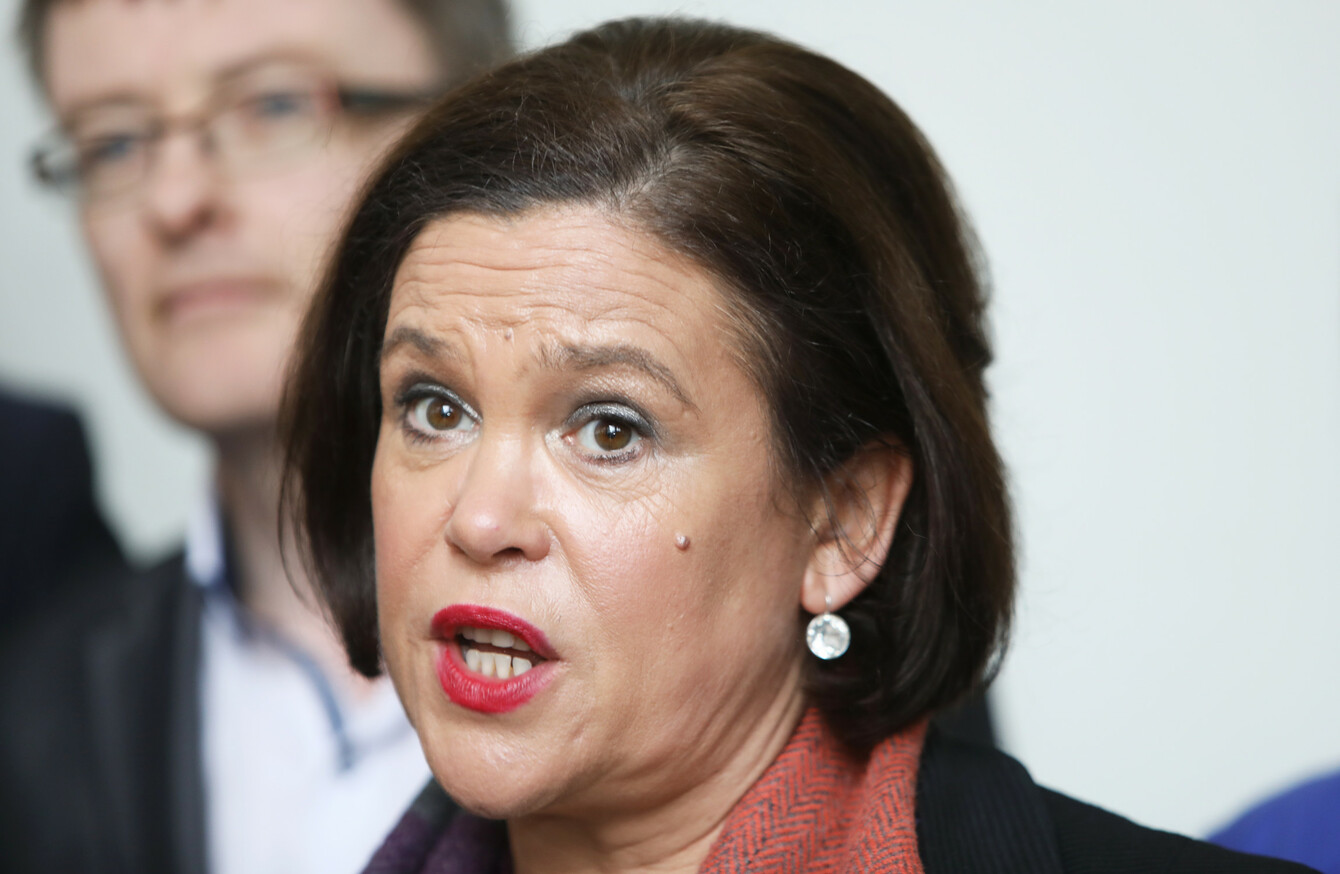 Sinn Féin leader Mary Lou McDonald
Image: Leah Farrell
Sinn Féin leader Mary Lou McDonald
Image: Leah Farrell
SINN FÉIN LEADER Mary Lou McDonald has dismissed a newspaper article which suggested that her "sex appeal" had something to do with why she is the leader of her party.
Her comments come following the publication of a comment piece by political editor of the Irish Examiner, Daniel McConnell, at the weekend titled: "There's no denying Mary Lou's sex appeal" which has sparked some media commentary in recent days.
"What people see in Ms McDonald is a poised, polished, privately-educated woman who can eviscerate her political rivals – male and female – with ease and who is not short of one of the rare attributes in politics – sex appeal," states the article.
When asked if female politicians face an uphill battle in terms of the use of such terms in the media, McDonald said:
I am the leader of the third largest party in this State and growing, the largest political party island-wide. I am the leader by a dint of effort, merit, ability, I hope.
But in the final instance, because of the support and confidence that the Sinn Féin membership both north and south has in me.
She added that such commentary about female politicians is not helpful.
"I think it wold be very helpful if people in the commentoriate and in society in general just recognised that those are the basis by which women in any walk in life, but in particular in public life, that is the basis you progress and none other."
The Irish Examiner article also gave a description of McDonald and Vincent Browne discussing Brexit at a meeting in Drumcondra.
Instead, her poise intact, she sat confidently, smiled and joked with Browne, toyed with him in fact in a flirtatious and playful way. As they sat beside each other at the top table, she nudged him with her elbow, she tapped his hand playfully, all subtly saying to the quizmaster and to the room, that she was in charge. It was intoxicating."
The article provoked criticism on social media, and prompted opinion writer Colette Browne to pen an op-ed on Tuesday in the Irish Independent newspaper in which she questioned whether such commentary would be levelled at a male politician.
"If a male politician enjoyed a bit of banter, would he be labelled flirty or coquettish?" asked Browne. Commenting on the article, TheJournal.ie's sister website, DailyEdge said:
"Mary Lou McDonald is an established politician and the President of Sinn Féin. It wasn't her looks that got her to that position and to title this piece with such a headline is pretty insulting and boring. It's 2018. We should be talking about male and female politicians equally."