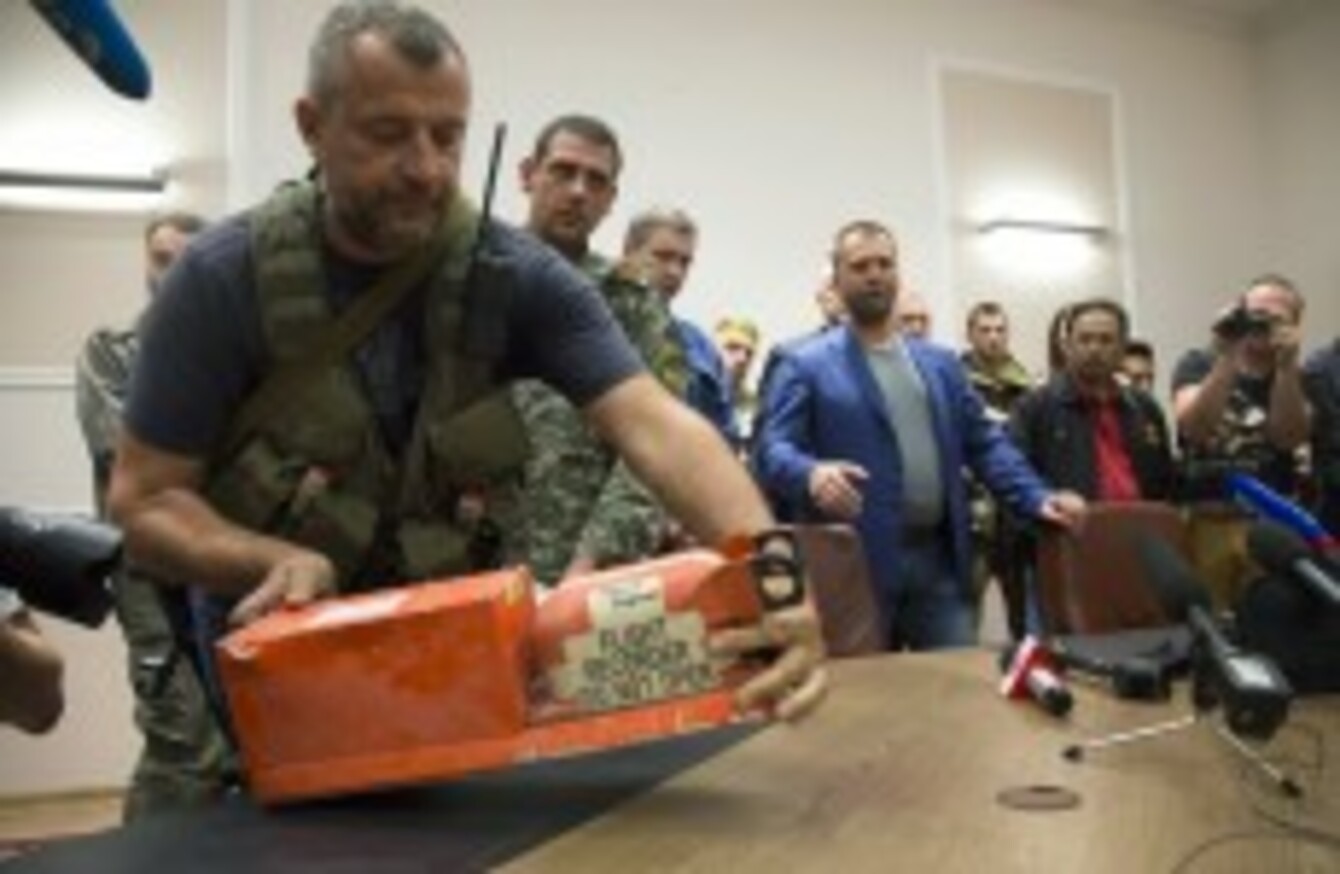 Image: Dmitry Lovetsky
Image: Dmitry Lovetsky
THE BLACK BOXES recovered from the crash of Malaysia Airlines flight MH17 in eastern Ukraine will be sent to British aviation investigators for analysis, Malaysia has said.
The decision by the Dutch-led team probing the disaster came after pro-Russian rebels controlling the crash site handed the boxes over to Malaysian officials yesterday, following an intense international outcry.
Transport minister Liow Tiong Lai said in a statement late last night that it was normal procedure to send the boxes, which record cockpit activity and flight data, to the nearest laboratory approved by the United Nations aviation agency, the International Civil Aviation Organisation (ICAO).
"The international investigation team, led by the Netherlands, has decided to pass the black boxes to the UK Air Accidents Investigation Branch for forensic analysis," he said.
The boxes will be flown to Farnborough, England, accompanied by Malaysian officials and other members of the investigation team, Liow added.
All 298 people, including 193 from the Netherlands, aboard MH17 were killed when it went down over crisis-hit eastern Ukraine on Thursday. The jet is believed to have been shot by a surface-to-air missile.
Clinton
Former US President Bill Clinton called Wednesday for strength in responding to the downing of flight MH17, declaring that those who shot down the plane — and provided the means to do it — sided with a brutal vision of the world.
Speaking at the world AIDS conference in Melbourne, Clinton said it "matters not" if the Malaysia Airlines plane was shot down over eastern Ukraine Thursday by mistake, and the loss of 298 lives on board unintended.
And he paid tribute to the six AIDS campaigners who died aboard the flight.
Speaking to a hall packed with scientists, policymakers and grassroots activists, Clinton singled out Dutch researcher Joep Lange, praising him for tireless work in bringing life-saving drugs to millions of people infected by the AIDS virus.
"It matters not that the murder was meant to be committed against other people," Clinton said.
"I hope that all of our countries who value freedom and honour will look at the statement made yesterday by the Dutch foreign minister before they give into the temptation to say, 'Well, maybe we should weaken our resolve to make a strong stand because after all they didn't mean to shoot this plane down'."