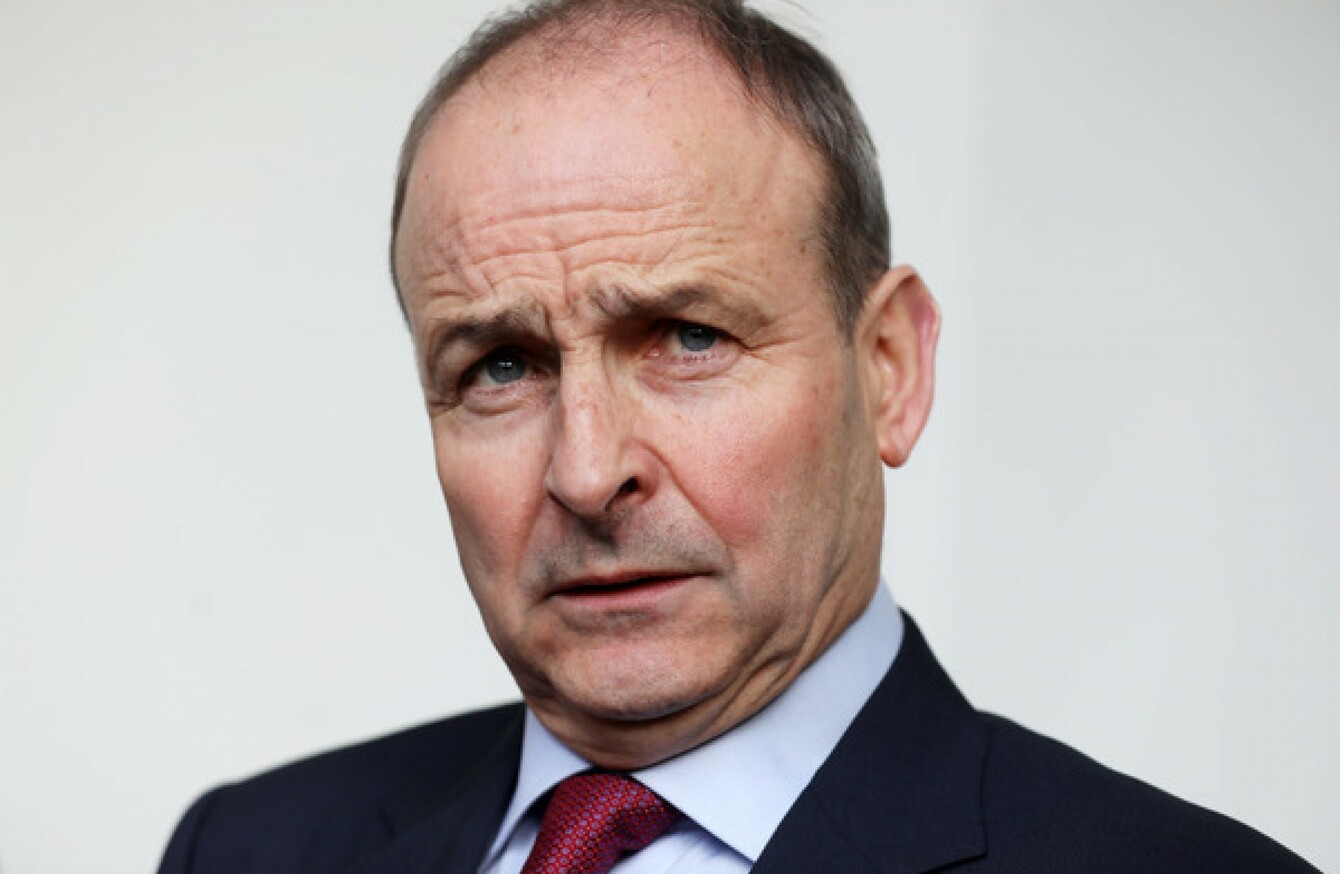 Fianna Fáil leader Micheál Martin.
Image: Leah Farrell/RollingNews.ie
Fianna Fáil leader Micheál Martin.
Image: Leah Farrell/RollingNews.ie
Updated Mar 5th 2020, 7:00 PM
FIANNA FÁIL LEADER Micheál Martin faced a backlash from his own TDs for opening the door to a coalition with Fine Gael during this afternoon's parliamentary party meeting.
Earlier today, Martin said his party would go into government with Fine Gael.
Martin was speaking on RTÉ's Today with Seán O'Rourke this morning and said the public "would not forgive us for another election".
A number of TDs, such as Robert Troy, were critical of the direction and strategy of the party during the election and the rhetoric used in relation to Sinn Féin, which many said  isolating the party and had to stop.
It is understood that Sean Fleming said the constant hammering of Sinn Féin had harmed the party, with many TDs stating that it had to stop.
Éamon Ó Cuív, John McGuinness, John Brassil, and John Lahart also spoke, stating that the over focus on Sinn Féin meant they were not speaking about their own mandate.
One TD said that ruling out Sinn Féin was done too soon, stating that Martin had showed all his cards during today's radio interview. They said the party leader was almost begging for Fine Gael to go into government with them.
"Where do we go from that," they said. 
While some have called today's parliamentary party meeting as "explosive", one TD said it was more a feeling of frustration and people being "fed up".
The majority of members stopped short of stating that Fianna Fáil should talk to Sinn Fein about government formation. However, there were calls for the party to open talks with McDonald's party, stating it was wrong for Martin to not sit down with Sinn Féin.
Party finance spokesman Michael McGrath and party deputy leader Dara Calleary briefed the meeting about ongoing talks.
Martin is understood to have been angry and annoyed at the push back stating that he received a mandate from the parliamentary party two weeks ago to negotiate with others to try and form a government.
One TD described the meeting at "tetchy" but nothing major, stating that Martin was just saying it as it is.
They said all options are unpalatable for the party and probably the public too, but that no one wants another election. "What alternatives are there?" they asked.
Another TD defended today's offer to Fine Gael, stating Leo Varadkar is "playing games" and Martin was merely stating that "piss or get off the pot".
Representatives from Fine Gael and Fianna Fáil yesterday concluded a day-long meeting on a range of issues but neither Martin nor Fine Gael leader Leo Varadkar were involved in the discussions. 
Speaking about what was discussed, Martin said there was a "serious exploration of issues" and that any government would require "a different approach" to issues such as the economy, housing, health and climate change. 
Martin said Fine Gael has stressed that the discussions between the parties are not negotiations. He said he respects this view but believes it "may change" and that "realpolitik has to break through at some stage". 
Decision time
Martin said it's now "decision time" and that parties must "move beyond the exploratory phase of discussions". 
He said in his view he has persuaded Fine Gael that Fianna Fáil will not enter into government with Sinn Féin. "If the policies don't work, it's pointless," Martin said. 
Martin said a government "should be formed" and that others should come to the table and discuss government formation.  
Asked directly whether he has decided that he would enter into government with Fine Gael, Martin said:
Yes, again depending on a programme of government that works and represents a new direction in terms of housing health and climate change.
Martin said that a clear programme for government "doesn't have to be hundreds and hundreds of pages" but needs to be clear on "the three fundamental issues that people are concerned about". 
#Open journalism No news is bad news Support The Journal

Your contributions will help us continue to deliver the stories that are important to you

Support us now
Asked how a government involving Fianna Fáil and Fine Gael would represent change, Martin said  "the fundamental change would be in delivery".
Fianna Fáil would have to put a proposal to enter a coalition before a party Ard Fheis. 
Martin said that the formation of a new government need not take as it did in 2016 when the country was without a new government for over 70 days.
He said that, despite the trips abroad by some ministers for St. Patrick's Day, "a lot useful work could get done" over the next week. 
"A government will be formed but in terms of the timeline around that, all the political parties have to make decisions for themselves," he said. 
"I think the people would not forgive us if there was another election, and I'm not afraid of another election by the way, there was quite a number of constituencies where we narrowly lost seats. So we're not fazed by that in any shape or form."
Despite Martin's belief that the process needs to be accelerated, Fine Gael's Minister for Health Simon Harris said that all sides are still "a few weeks" off a "crunch point" in the discussions.
Martin was speaking to reporters ahead of a Fine Gael parliamentary party meeting this afternoon. 
"The mandate of the parliamentary policy is as of now is not to enter programme for government talks. I'm sure we'll have an opportunity to be updated on the talks that took place yesterday, we've also had two very good days of talks with the Green Party. And I think a crunch point will will arrive in the next few weeks in terms of the next steps that need to be taken. I think there's a few weeks to go yet," he said. 
I think if we're being honest, there's, I think quite a number of weeks to go before a new government can be formed in Ireland. 
"There was 74 days the last time. I remember being involved in those talks, and they went on for 74 days, the situation this time perhaps is even more complex. The electorate probably couldn't have given us a more complicated outcome if they tried. You have three parties each on 30-something seats, each with very close shares of the vote and all very far off a Dáil majority."
With additional reporting by Christina Finn