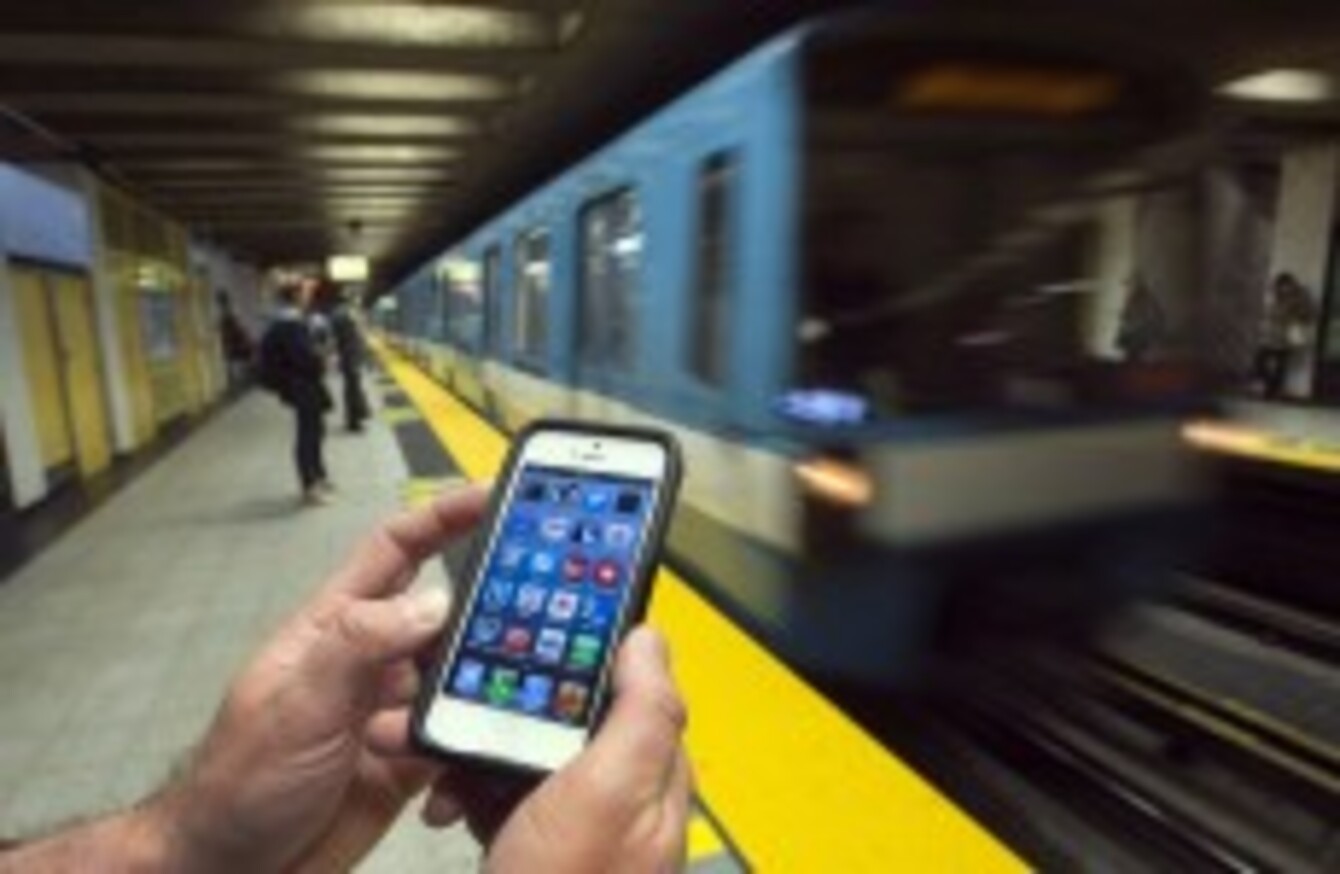 Image: The Canadian Press/Ryan Remiorz
Image: The Canadian Press/Ryan Remiorz
IT'S EASY TO forget just how much we rely on our smartphones, every day we use it to check email, social media accounts, play games, listen to music and watch videos among other things. With the ability to access the web anywhere, there are fewer lulls in our day-to-day lives.
This accessibility comes at a price though. The majority of us are given a certain amount of data to work with, and the lower that amount is, the more likely you are going to go over the amount and add to your monthly bill.
Even if you're not considering upgrading to 4G yet, it's worth keeping in mind how much data you use when you're out. With more apps requiring mobile data to perform, it's more important to know how your data is being used.
How do you use your data?
(Note: It should be mentioned that the figures given below are rough estimates. Factors such as reception, the provider you're with, and overall speeds play a part in how much data is used so your own results will vary.)
The first factor to look at is the type of apps and services you use on a daily basis. If you use your phone solely for email and web browsing, this won't be a concern, but if you're using a number of different apps – and it's very likely you will be – you will need to be aware of how much data they use and identify the most demanding ones.
As a rule, games tend to use the most data as a number of them work in the background and search for updates when booting up. Be wary if you allow a game access to mobile data – especially online multiplayer games – since they're usually the biggest culprits.
For example, playing Angry Birds Go! for the first time saw 11MB used up in the space of seven minutes. After that, the next playthrough, which lasted five minutes, saw an extra 8MB used. Since it regularly connects to servers – for updates, ads and in-app purchases – the data it uses adds up over time.
It's worth keeping in mind that if a game is free to download, then you will be paying for it in other ways.
Games like Angry Birds Go! update every time you start the app as well as use data for background actions. (Image: Rovio.com)
Dealing with video, if you're watching a show on Netflix, an average 40 minute show will used up roughly more than 200MB.  On YouTube, a two minute video would use 4MB at what is usually 240p quality when you're using 3G.
It's worth mentioning that when you access YouTube through a mobile connection, it's the app itself that determines the quality of the video. This means that if you have a 4G connection, the quality will be better which means more data is used. It won't be a massive difference but worth taking into consideration.
In comparison, listening to music on Spotify, the average three and a half minute track on a playlist would amount to just over 3.2MB. When you add radio features to it, this figure goes up a little, but you will need to keep an eye on how often you stream music since it does add up.
After that, the amount of data you use will determine on the medium. Social apps like Facebook and Twitter compress images so you won't be stung when you're viewing them in the newsfeed – loading up the newsfeed for either site would use roughly 2.5MB.
Uploading photos isn't as large a burden on your data plan as you would expect. While being PNG files, images size tend to hover between the 150KB – 250KB mark. Again, if you're frequently uploading photos, that's when you should worry. Similarly, uploading videos places a strain as the average 15 second video would use up 6MB.
Cutting down data usage
So you've determined the type of apps that use up the most data and you want to reduce the amount used, how do you do that? Well, depending on what's causing the problem, there are a number of measures you can take.
Set data limits
Both Android and Windows Phone have ways to alert you when you're close to exceeding your limit. Both can be found in settings and let you set both the alert and the cutoff point for data. This should be the first port of call for anyone who doesn't have an iPhone.
Windows Phone's version, Data Sense, is one of the more useful features on the OS. Found in the apps folder, it allows you to limit the amount of data you use – by telling it if you're a billpay or prepay customer – limit background data and reduce the amount used when browsing the web.
iOS users can only see where their data is being used so downloading an app like My Data Manager – available for both iOS and Android - will help fill in the gaps.
Change your browser choice
Chances are web browsing won't play a major part in data usage, mainly due to so many sites offering mobile versions, but for those sites that are image or video heavy, compressing the page size is a great way of reducing data costs.
The best choices are Opera Mini (iOS, Android, and other) which streamlines loading pages and significantly reduces the amount of data required, or Chrome which has recently introduced a similar feature. Depending on the pages you visit, the amount of data you'll save ranges between 20 – 60 per cent.
(Image: Google Developers)
#Open journalism No news is bad news Support The Journal

Your contributions will help us continue to deliver the stories that are important to you

Support us now
Reduce background data
As mentioned before, a number of apps will use up data through background actions. That is regularly searching to see if you received an notification, got an email or backup data. It nice being notified about these things, but it can end up being a burden on your data plan.
For one, the majority of them can be set so you only get updated if you are connected to WiFi which is handy for daily updates. However, if you really need to be notified in real-time, keep the number of apps that can do this to a minimum.
Get rid of ads in apps
If you've downloaded a number of free apps, chances are you're paying for it through ads or in-app purchases. Displaying these ads requires data and if you use it a lot, either opt for the paid version or better yet, turn on airplane mode before you start playing. Just remember that doing the latter means you won't be able to receive calls or use data while it's on.
Use WiFi as often as possible
A rather obvious tip when you're at home or at work, but it's worth remembering that there are more businesses and services offering WiFi hotspots. Even if your 3G or 4G connection is faster, it's worth getting into the habit of connecting to these spots so you reduce your data usage as much as possible.
Turn off mobile data for apps individually
All phones allow you to switch mobile data off for individual apps but the level of customizsation you have access to depends on what OS you're using. iPhone users can only turn off connections while Android users can let you choose exactly what actions apps are allowed to do with mobile data.
Save wherever possible
This depends heavily on the type of apps you're using but a number of streaming apps include offline services allowing you to save music or videos onto your phone for watching later. For example, Spotify Premium allow you to save and play songs offline for up to 30 days, useful if you listen to the same artist regularly.
If you open up certain pages and sites often, don't clear your browser history as your cache will save things like images so you won't load them again if you revisit.
If you do a lot of reading, using an app like Pocket or Instapaper allows you to save articles for reading later.