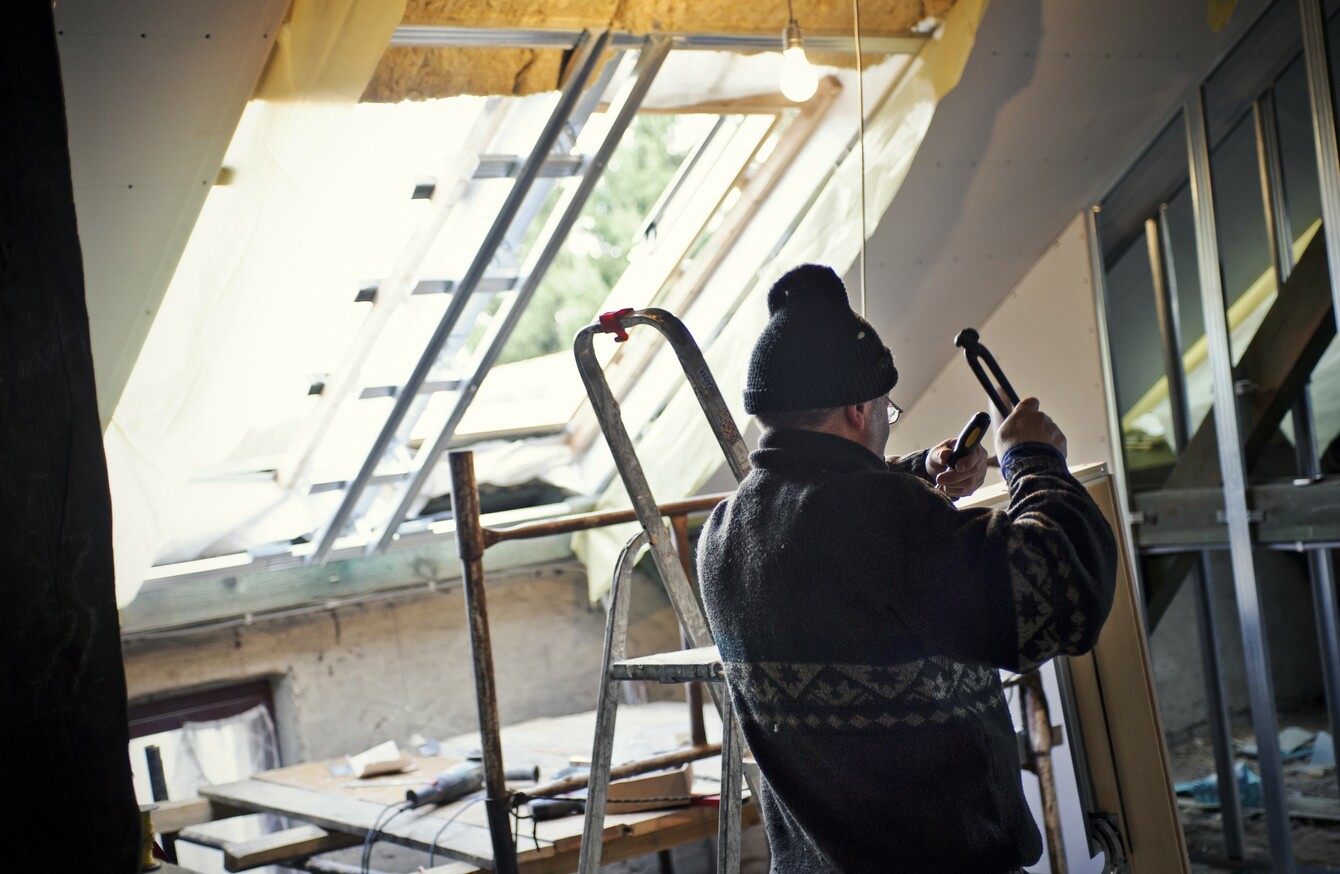 Image: Shutterstock/Tomasz Wrzesien
Image: Shutterstock/Tomasz Wrzesien
This article is part of our Change Generation project, supported by KBC. To read more click here.
DECIDING WHETHER TO RENOVATE your home or move is a dilemma faced by many, with cost the biggest factor.
Considering the current housing market, it is likely cheaper to try to find ways to get more out of your house than to move, if possible.
We asked a builder and an architect what needs to be a priority when renovating and when the smarter option is to move on.
Before you renovate
Most Irish houses built before the early 1980s don't have sufficient insulation and many more don't have any at all. Raymond Prendergast, site foreman with Beegan Build Ltd, told TheJournal.ie that changes to the plumbing system and good insulation are worth investing in and will save you money in the long term.
You can insulate on the outside or on the inside walls. The best would be to insulate from the outside, because you get the whole building wrapped and there would be no cold bridges. Insulating cuts down the cost of your heating bill. By installing a low energy gas/oil condensing boiler this will also reduce your monthly heating costs.
Joe Rossney is a Dublin-based architect who runs his own practice specialising in house extensions and refurbishments. He told TheJournal.ie that the first thing he does with a client is come up with a detailed brief on what they want, to determine what can best be achieved with the space available.
Rossney says budget, space and planning restrictions all have to be considered and using an architect will help you, "design the most economic, energy-efficient and appropriate project to satisfy client requirements, and will add value to your property."
Renovating: the costs
Materials and labour costs are, says Prendergast, the main expense associated with renovating and often end up higher than planned. He says whether you go with a registered builder or choose the self-build option, you need to make sure you have it all planned out to avoid ending up with a money pit.
Your first point of contact needs to be with an architect, to look at the best design to suit your house and budget.
Rossney says there are many costs to consider and the size and scale of a project will determine how deep the client's pockets have to be. He says detailed specifications should be sent to at least three builders for quotes.
A well detailed and researched tender package will ensure compliance with planning and building regulations and reduce the risk of cost overruns during the build.
On top of construction and architecture fees, local authority fees will have to be factored in if planning permission is necessary, as well as surveyors, health and safety and engineers.
Attic space
Rossney says a properly insulated and ventilated attic conversion is a great way of adding space to a house and improves its overall thermal performance, "but there are a lot of regulations to meet."
Floor joists often have to be reinforced to cater for the extra load, an engineer will have to be consulted on whether the roof trusses are up to standard and there will be plumbing work to consider if a water tank needs to be moved.
Prendergast agrees that utilising the attic is a great way to create extra space, but builders will be tied to strict rules when it comes to structure, head-space and access.
"Not every average three-bed house has room on the first floor landing for stairs to meet building regulations," he says.
If you had one room to renovate…
"It's important to invest in a good quality/well designed kitchen that works for you and your family," says Prendergast.
It's a room that you spend a good chunk of time in and it's the hub of a family home. A quality kitchen will add value to your home. Depending on how much you spend it could last you 10 to 15 years.
Rossney agrees and says when looking at a new project the living room, kitchen and dining areas are often the spaces with the most potential to transform the home.
With a culture of open plan living prevalent today, the construction of an extension big or small, together with knocking walls and reorganising rooms together help create a grander social hub to the house.
Kitchens are often located at the back of the house with access to the garden and provide the best opportunity for bringing light into the home, compared to bedrooms where privacy is a more important factor. Rossney says it need not cost the earth to create the 'social hub' you want.
Careful planning and reorganizing of the living space can radically change a home for the better with a smaller budget than expected.
But when renovating just won't cut it?
Renovating is often a cheaper, more stable option compared to the upheaval of moving house, which may be in a neighbourhood you like, with good schools and close to family or friends.
However as the family expands or your house gets too small for your needs whatever the reason, then it may be time to call it quits says Prendergast – depending of course on whether you can actually afford the cost of a new mortgage.
Rossney advises researching the renovation and extension options for your home extensively first and if after you have done the maths you find, "there is limited space for expansion or if refurbishing is not cost effective or too restrictive," then "alternatives may have to be looked at."