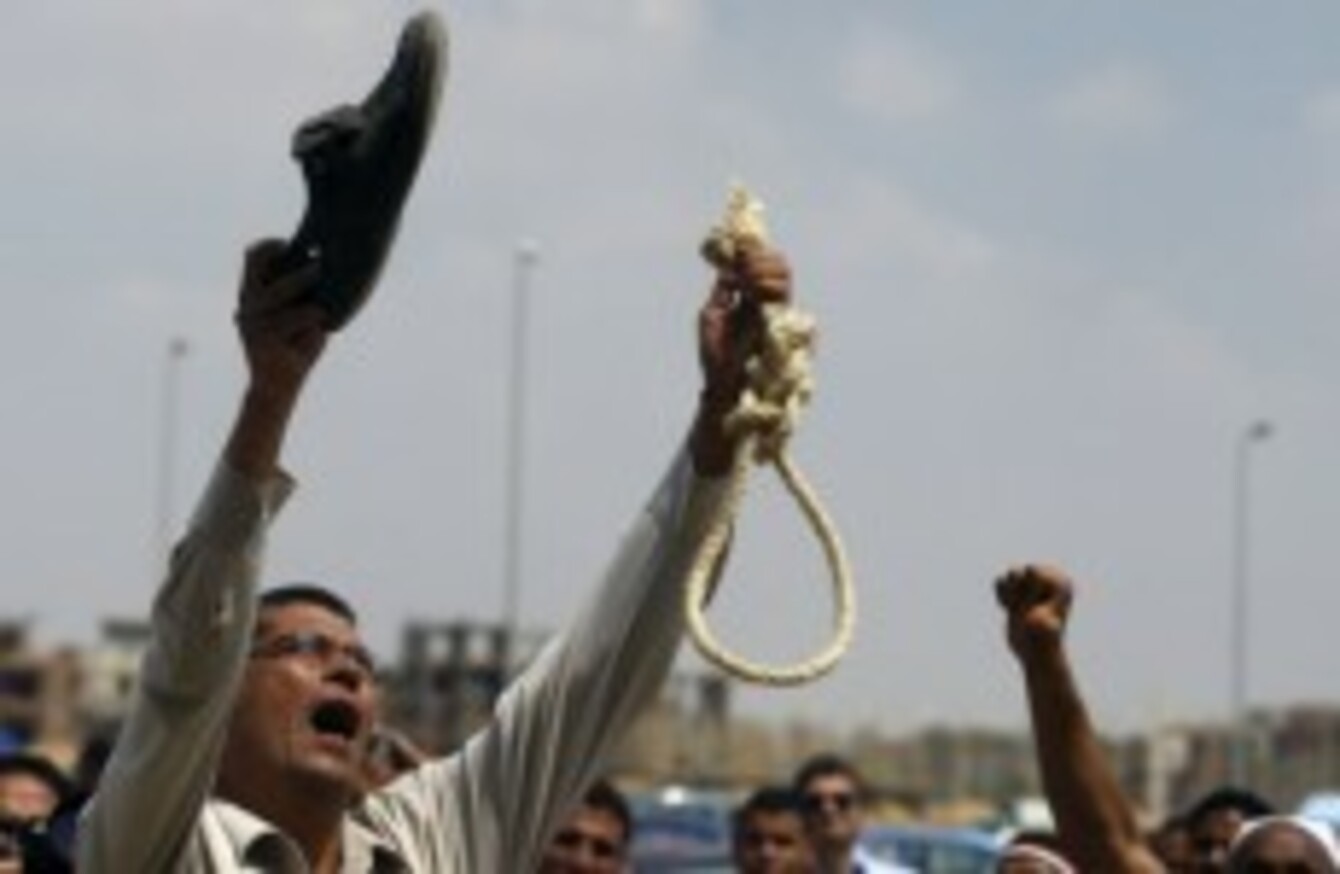 Image: Khalil Hamra/AP/Press Association Images
Image: Khalil Hamra/AP/Press Association Images
Updated 13.16
THE JUDGE IN the trial of former Egyptian president Hosni Mubarak has announced that the proceedings will no longer be broadcast on television – and has also decided to merge Mubarak's trial with that of the country's former Interior Minister Habib al-Adly.
Judge Refaat said that live TV coverage would end "in the interest of the public", reports the BBC, however anti-Mubarak protesters have reacted angrily to the news – shouting "Not airing it live means there is a deal with Mubarak."
Mubarak appeared in court for a second time today to face charges of corruption and ordering the killing of protesters during the country's uprising at the beginning of this year. The 83-year-old was flown to court by helicopter and brought in a stretcher – just as he had done during his previous court appearance, reports Al Jazeera. His sons Gamal and Alaa also attended court.
Mubarak, the first Arab ruler to face to stand trial since protests swept the region, faces the death penalty if found guilty of ordering the deaths of about 850 demonstrators.
There were chaotic scenes in the Cairo court earlier, with the judge struggling to retain order, reports the BBC. More than 100 lawyers were present for the proceedings and had to be repeatedly asked to take their seats.
Outside the courtroom, too, there were ugly scenes as supporters of the former president and anti-Mubarak demonstrators clashed.
Defence lawyers are demanding that Field Marshal Mohamed Hussein Tantawi be made to testify; Tantawi currently heads the military council that took over power from Mubarak but also served as the former regime's defence minister for 20 years. Lawyers also called for former intelligence chief Omar Suleiman to testify – as well as bout 1,600 others, reports Al Jazeera.
Mubarak shares murder charges with Habib al-Adly, his former Interior Minsiter, who was recently sentenced to 17 years after being fund guilty of corruption, Press TV reports. Six former police commanders will also face charges.
The hearings have been adjourned until 5 September.