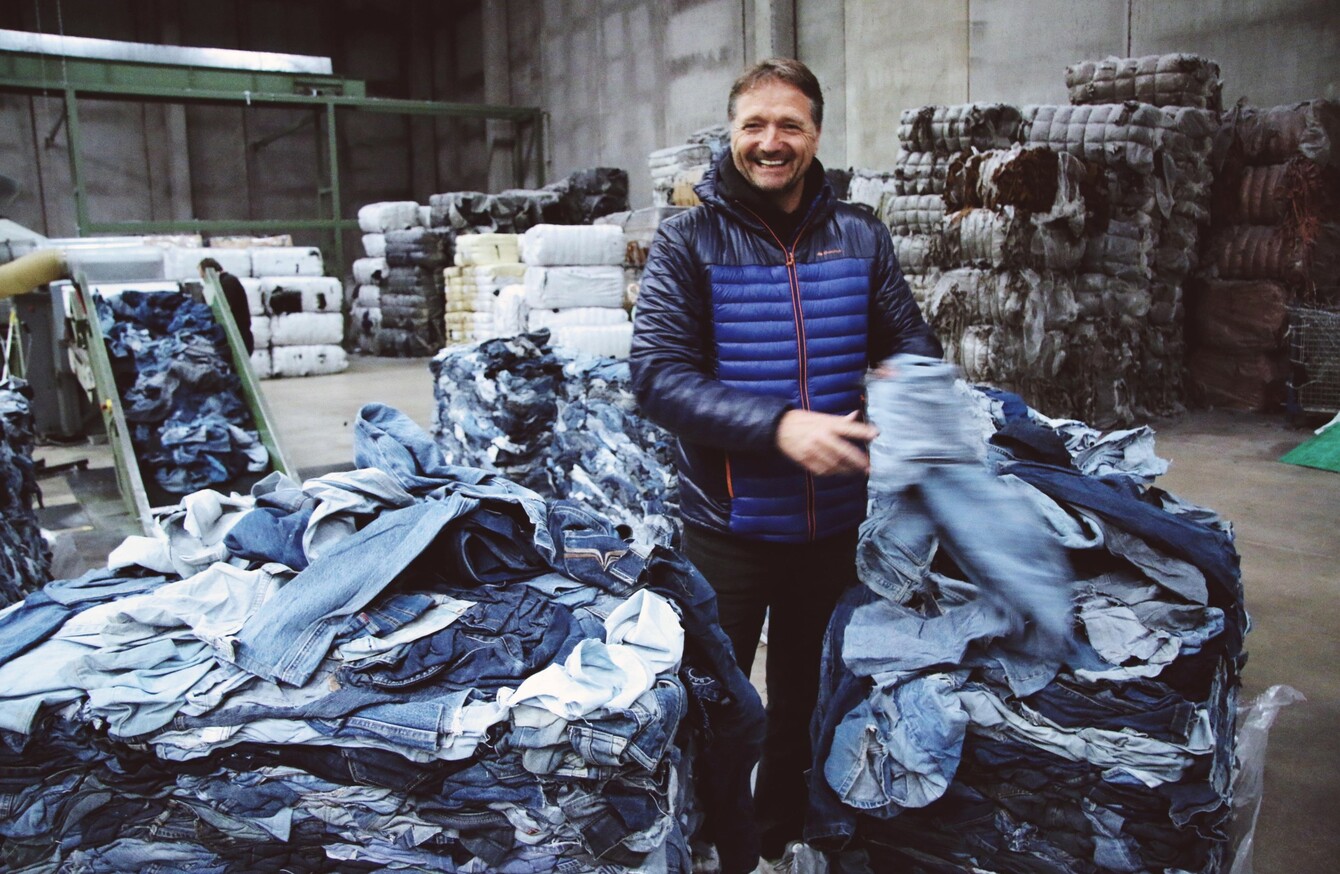 Image: Mud Jeans
Image: Mud Jeans
FASHION ENTREPRENEUR BERT van Son would love to see Leonardo DiCaprio wearing a pair of his jeans.
"I liked his speech to the UN and I liked his speech when he finally got his Oscar," van Son tells Fora. "He's a good ambassador. He's telling the story we're trying to tell."
A high-profile environmentalist, DiCaprio would likely approve of the thinking behind van Son's sustainable clothing brand, Mud Jeans.
Founded in the Netherlands in 2012, the fashion startup wants to reduce the industry's enormous manufacturing-generated carbon footprint by giving customers the option to lease – rather than buy – pairs of jeans.
"We try to make it look like a subscription system," van Son says. "We ask for an entry fee of €20. We take €7.50 from your account each month through PayPal and then after 12 months that stops."
Customers then have two options: they can keep their jeans or restart their subscription and swap them for a different pair.
"The funny thing is that people really like the idea of being able to switch their jeans after a year."
Van Son – who will speak at the Community Reuse Network biennial conference in Dublin on Wednesday – says it's easier to explain the concept using a washing machine – which, evidently, you can lease in the Netherlands.
"For people who don't have big budgets, they can now afford a fantastic washing machine that is very low on energy and low on water usage," he says.
"If you look at the total sum that you have to pay monthly, it might be less than when you buy a washing machine that you have to throw away after three, four, five years."
The principle behind leasing jeans is the same, van Son says. "Do you want to be the owner of something or is the performance good enough?"
Vegan trend
As well as offering the subscription service, Mud Jeans also retails its products – which tick all the eco-warrior boxes, with vegan, organic and chemical-free production. Customers can even get a €10 discount on the €100-odd pricetag if they send back their old pair to be recycled in a factory in Valencia.
A typical Mud Jeans customer is your run-of-the-mill hipster: they are usually aged 25 to 35, well-educated and prefer organic food.
"It's not 99% of the population, I know, but we are in a growing market."
Available both online and through retailers in 18 countries, there are no Irish shops stocking the brand yet, but the company is in talks with three major retailers in the UK, which van Son expects will become the startup's biggest market.
The profit margin for retailers is slimmer because the manufacturing process is more costly, but van Son argues that the more environmentally friendly stone washing method means "we don't hurt the fabric so our jeans last longer".
He claims you will never find a pair of his jeans on a sales rack because "we never have overstock", a major contributor to waste in the often fickle fashion industry.
Sustainable
There was no eureka moment for van Son. Instead, the concept for Mud Jeans evolved over three decades when he first started out in the fashion business.
He launched his career in a textile factory in China, where he was contracted to cut costs and buy as cheaply as possible.
"You make a lot of money," he says, "but it's not really fair."
In 2004, he went on to set up his own company in France, where he was licensed to make apparel for Disney.
"The good thing about working with Disney is that you have a really straightforward code of conduct, which makes you work with good factories," he says.
"If you have a big brand, you can be a little bit more demanding and work with factories that don't collapse and where people are given a living wage. That was an eye opener to me. We can do things in a more sustainable way."
Circular economy
There is a paradigm in the fashion business these days, he says, where consumers still buy on price but are becoming increasingly conscious about where their clothes come from.
"You have the Primarks and the cheap prices and everybody loves it because it so cheap. But then, everybody knows that for a €2 t-shirt, there must be something wrong in the supply (chain) – somebody has been hurt."
Young parents in particular "don't want to leave the world behind the way my generation has created it," van Son says.
"I'm 55 and we've been working in a linear economy, which is not a very good idea. We are leaving behind a lot of rubbish. There's an end to that. In the circular (recycling) economy, if you reuse all the raw materials, you can keep it going for many years."
Van Son's ultimate goal is to change the fashion industry, which is the second largest polluter in the world, according to Greenpeace.
That said, the most important thing for van Son is to create "a fabulous pair of jeans". The company expects to double its turnover this year and is close to breaking even after four years in operation.
"It's all about (sales) volume, that's the challenge at the moment," he says. "I can invent any kind of system, but if I don't have the right product then it's wasted."
The company has been gaining ground abroad and there is a celebrity endorsement in the works.
Will we see Leonardo DiCaprio sporting a pair of Mud Jeans any time soon? Probably not, but "we're on the brink of something spectacular," van Son promises.
Written by Conor McMahon and posted on Fora.ie