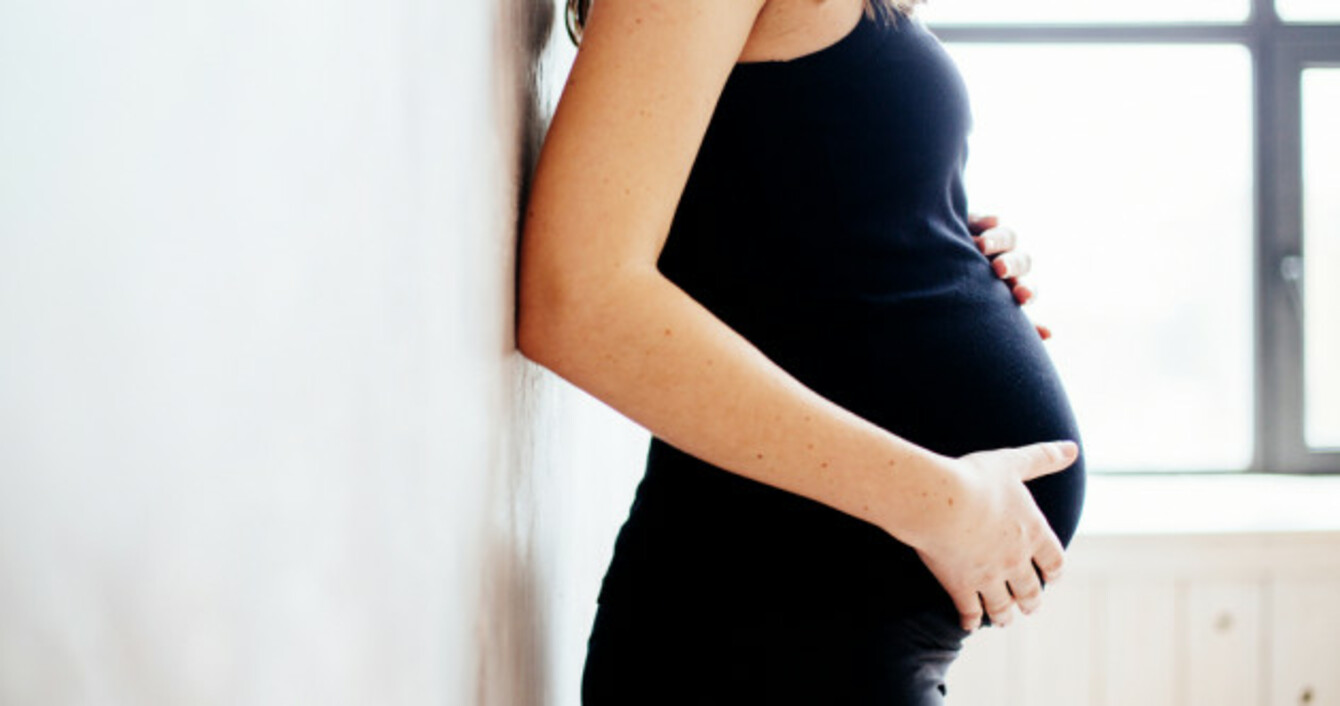 Image: Shutterstock/Kaya Shelest
Image: Shutterstock/Kaya Shelest
I'VE BEEN DOING arm exercise videos on YouTube. They star a bubbly Californian woman called Cassey.
She's eccentric and has too many teeth, but I follow her instructions, waving my arms around wildly like a toddler learning how to swim. I like her and I'm glad I found her.
Why the manic arm routine? I'm in the second trimester of my pregnancy, and for the last two months I have been plagued by nausea and fatigue. So, thrusting my arms back and forth is all the physical activity I can muster right now.
When you learn you are pregnant and you live with an eating disorder, a series of anxieties about your changing body come to mind.
It's a lifelong battle
I have battled with concerns about my size for years. I often feel envious of those with naturally slim bodies, I scrutinise parts of my body that I believe have gained weight, I feel overwhelmed if I eat too much or if I think I have over-indulged.
These anxieties are nothing new, but now they have been manifesting themselves in a different way since I discovered I was expecting.
I'm asking different questions of myself. Questions like, 'How big will I get?', 'Will I be able to lose weight after the baby arrives?', 'Will people pass comment about my size?'
I see my tummy getting rounder and my chest growing and with these changes I feel my mood dropping. I scrutinise my bloated stomach in the dressing room as the kind shop assistant measures me and helps me choose bigger bras. I am so grateful for her empathy, but this is followed by an outburst of tears while I sit having a coffee.
I can't seem to appreciate that my body's strength is what led me to become pregnant.
I worry about how big I'll get
Cassey's videos are a move away from my usual yoga class. I love yoga. It has taught me about balance and gratitude, to slow down and to take time for myself. But now that yoga has been shelved for a while, I can't stop thinking about how big I must be getting.
I feel anxious about how other people must perceive me. I'm beginning to wonder whether yoga was driven by me taking time for my body and mind, or was it was just a way to assert a different kind of control over my body.
At the height of my illness more than ten years ago, I was placing a dangerous strain on my body, my family and my friends. As my Mam was the closest person to me at the time, I turned away from her more than anyone.
We fought all the time, she pleaded with me to talk about my illness, I denied it all. I hid food, I cooked and ate alone, I scrounged every corner of the fridge and cupboard to devour food in the middle of the night. I threw vomit into the bin to avoid flushing the toilet and waking my family.
The only thing I could care about was that I was losing weight and that I felt in control. I knew my body was becoming weak and I was scared of what I was doing to myself, but I couldn't confront my sad reality. My denial and compulsion drowned everything else out, it was easier to just keep going.
Healing happens slowly
It would take a long time to get to where I am today. Although I am well and learning to live well, I still struggle everyday with irrational thoughts about my weight. When I am stressed or if I feel overwhelmed, my body gets the blame. I berate myself if I feel I have over indulged or if I am not maintaining my usual active lifestyle.
But when I told my family I was pregnant, they erupted into tears. My Mam danced giddily at the front door when she waved us goodbye that night. My step dad bought the future baby a stuffed toy for Christmas. When my aunties heard, they screamed in delighted chorus.
I am so grateful for these people. They're in my corner, listening and ready to offer their love and support, as they did all those years ago.
#Open journalism No news is bad news Support The Journal

Your contributions will help us continue to deliver the stories that are important to you

Support us now
Embracing the change
I can allow all of this change to overwhelm me, or I can try to embrace what my pregnancy and this new life will bring, because things are different now and there is nothing I can do about it. I have to slow down and treat this new experience as a great adventure.
My body will change, but I am proud that I'm sharing it with something so important. Through yoga, I have learned about strength, balance and lightness, but I have also learned to be grateful. I am so grateful for this tiny thing that is helping me to care about more than how other people perceive me, and to worry less about maintaining my body and my size.
I'm going to treat this pregnancy as a gift to myself. I'll use this experience as a chance to learn new things about my body. I will talk about my worries when I see cellulite on my legs, or I an unflattering photograph of myself.
But I'll also try to listen to my body. I want to marvel at the growing thing inside me as I plan to make a happy life for it.
Some may think my concerns are self-indulgent, vain, or selfish. But it has to be OK to say, 'This is hard'. It is hard for women to feel sick and tired every day. It is hard to not be active and to watch yourself gaining weight. It is hard to put your career to one side and to face the vulnerability and overwhelm of the return to work after maternity leave. It is hard to cope with change and uncertainty.
However, the anticipation is slowly starting to outweigh the fear. My hope is that pregnancy will help me to finally let go, to banish my eating disorder, confront my old pain and to forgive myself my past.
I'll still indulge myself in Cassey's videos though– my boyfriend joins me sometimes – an act of love and solidarity. She'll keep us amused through all of this madness.
Niamh Mongey is currently pregnant with her first child.
More: 'At 4am, scared, she was what I needed': One mum on how a doula helped her through a tough labour>