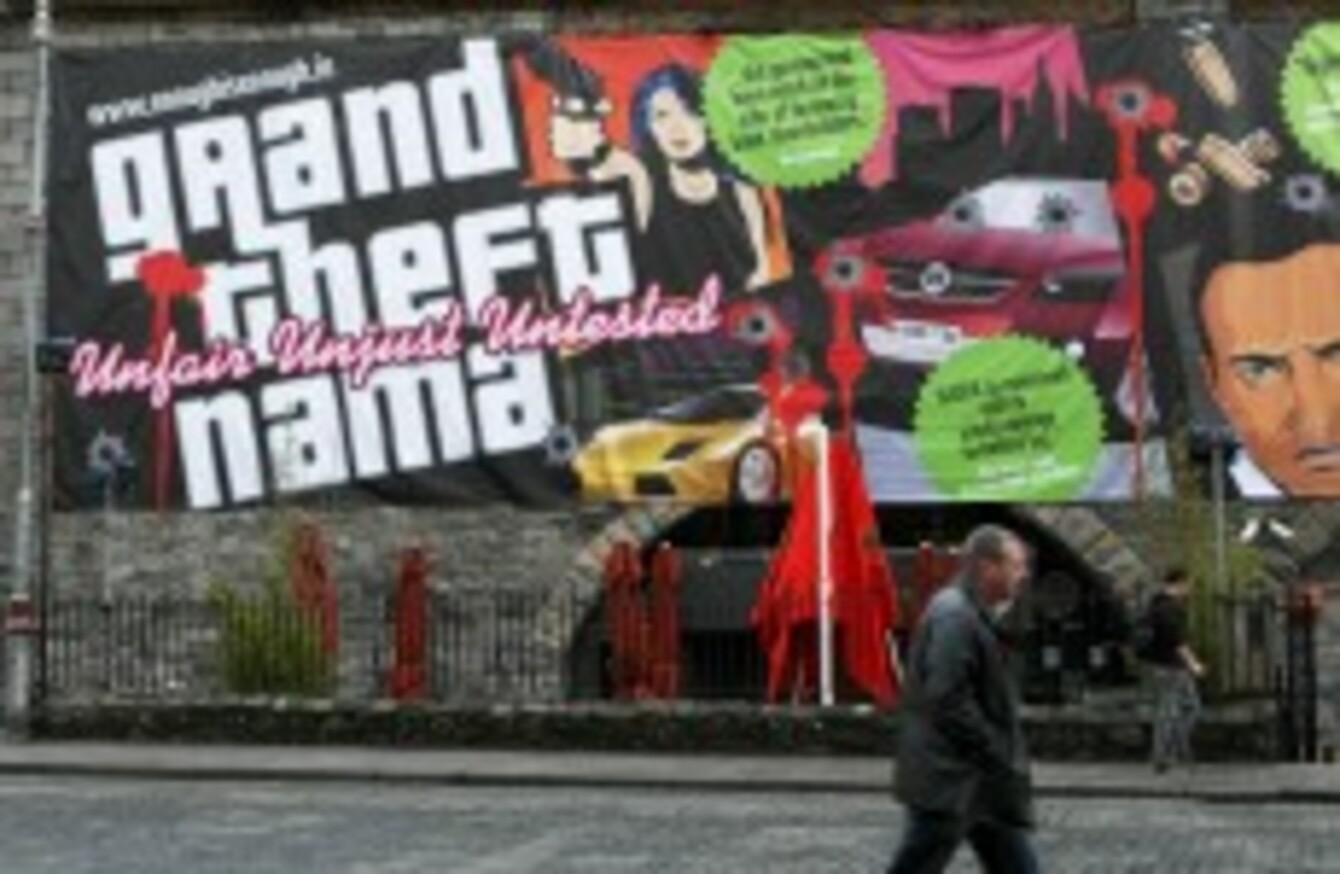 Image: PA Archive/Press Association Images
Image: PA Archive/Press Association Images
NAMA IS CURRENTLY embroiled in 21 legal cases that have been taken against it by those connected to the debt enforcement action of the agency.
The cases, which have been taken against the in both the United States and Ireland, see a number of those who have been pursued by the agency hitting back against enforcement action over bad debt.
In recent times, there has been some criticism from former mega money developers against the agency. Speaking earlier this month in the Sunday Independent, developer John Flynn called NAMA a "cancer" on the Irish economy and stated, "I have no intention of ever bending over for them and handing them the jar of Vaseline."
Here are some of the big hitters currently litigating against the State 'bad bank':
Leona and John Flynn 
A feature of the NAMA court cases has been cases taken by married couples. Property developer and his wife Leona have been in court with NAMA in the recent past for a number of different cases.
Last month, the High Court ruled against Leona Flynn in a case taken to establish that she was not an indebted party in relation to a loan on Belfield Office Park. Mrs Flynn's contention had been that she had transferred her 10% interest to her husband.
In the case, Mrs Flynn was rejecting claims by NAMA that she was liable for €22 million worth of loans. These loans were transferred to the state agency in 2010 and part of the efforts to secure repayment involved the selling off of Samuel Beckett's childhood home, Cooldrinagh' in Foxrock, Dublin.
Patrick McKillen 
Developer and businessman Paddy McKillen has been involved in a number of legal scrapes with NAMA. The Belfast-born developer grew up working in family tyre and exhaust business DC Exhausts. McKillen is known for astutely guarding his privacy. Over the past thirty years, he has built an international property portfolio thought to be valued in the hundreds of millions.
McKillen won a high profile victory against the agency in 2011 when he had a High Court decision overturned by the Supreme Court. In that case, NAMA had requested the handover of €2.1 billion worth of debt. McKillen contended that the loans were still performing and that he had not bought any Irish assets since 1998.
McKillen is currently involved in a case against NAMA for a breach of privacy and confidence. The case concerns confidential information that was leaked about a number of property developers NAMA was involved in business with.
Geraldine and Ray Grehan
The Grehan family has been involved in a number of NAMA related woes in recent times. Wife of property developer Ray, Geraldine Grehan, is currently taking a declaratory order against the agency.
In November 2011, Ray Grehan was ordered to repay €312 million. At the time, the ruling was the largest ever secured against a individual. In the same month, a summary judgement was secured against Ray's brother Danny for €307 million.
In January of 2012, Grehan was declared bankrupt in the United Kingdom. It was thought that this was a move to take advantage of more lenient laws on bankruptcy, as a person is bankrupt for just 12 months. In Ireland, bankruptcy can last up to eight years.
Harry Crosbie 
The well-known Dublin docklands developer is currently in the process of pursuing NAMA for declaratory relief, injunction and damages. This involves Crosbie attempting to block enforcement action by the bad bank to pursue €77 million worth of debt.
#Open journalism No news is bad news Support The Journal

Your contributions will help us continue to deliver the stories that are important to you

Support us now
Last month, a limited postponement was granted in the High Court against NAMA taking control of the developers assets. The ruling means Crosbie's case is now awaiting a Supreme Court judgement.
Crosbie is the former owner of the O2 and Bord Gáis Energy Theatre.
David and Mary Cullen 
Publican David Cullen owns a couple of popular Temple Bar establishments – the Turk's Head Bar and Paramount Hotel. He is currently in the High Court alongside his wife Mary Cullen, Seafield Hotel Ltd, Paramount Hotel Ltd, Fintan Wallis and Stephen Cullen. A counterclaim is being pursued against NAMA.
In March of 2013, a High Court judgement saw €29 million worth of loans passed from the Bank of Ireland to NAMA. Later in 2013, David Cullen was in court with the state agency again over charges that he had passed over 40 assets to his wife between 2009 and 2010 in an attempt to avoid repaying his creditors.
When Mrs Cullen took the stand in October 2013, she claimed that assets transferred to her had been in lieu of €9.3 million worth of debt she had discovered she was owed by her husband.
Anne and Greg Coughlan
Greg Coughlan has been in self-imposed exile since 2010. His wife Ann is pursuing a High Court challenge for damages against NAMA.
The former major stakeholder in Howard Holdings is believed to reside in Portugal. Mr Coughlan fled the country after failing to disclose his assets in accordance with a court order. His debts amount to €28 million. Gardaí are unable to seek a European Arrest Warrant against him. For Coughlan to be arrested he would have to return to Ireland.
In 2013, Fastnet House, the former Kinsale residence of Mr Coughlan sold for €3 million.