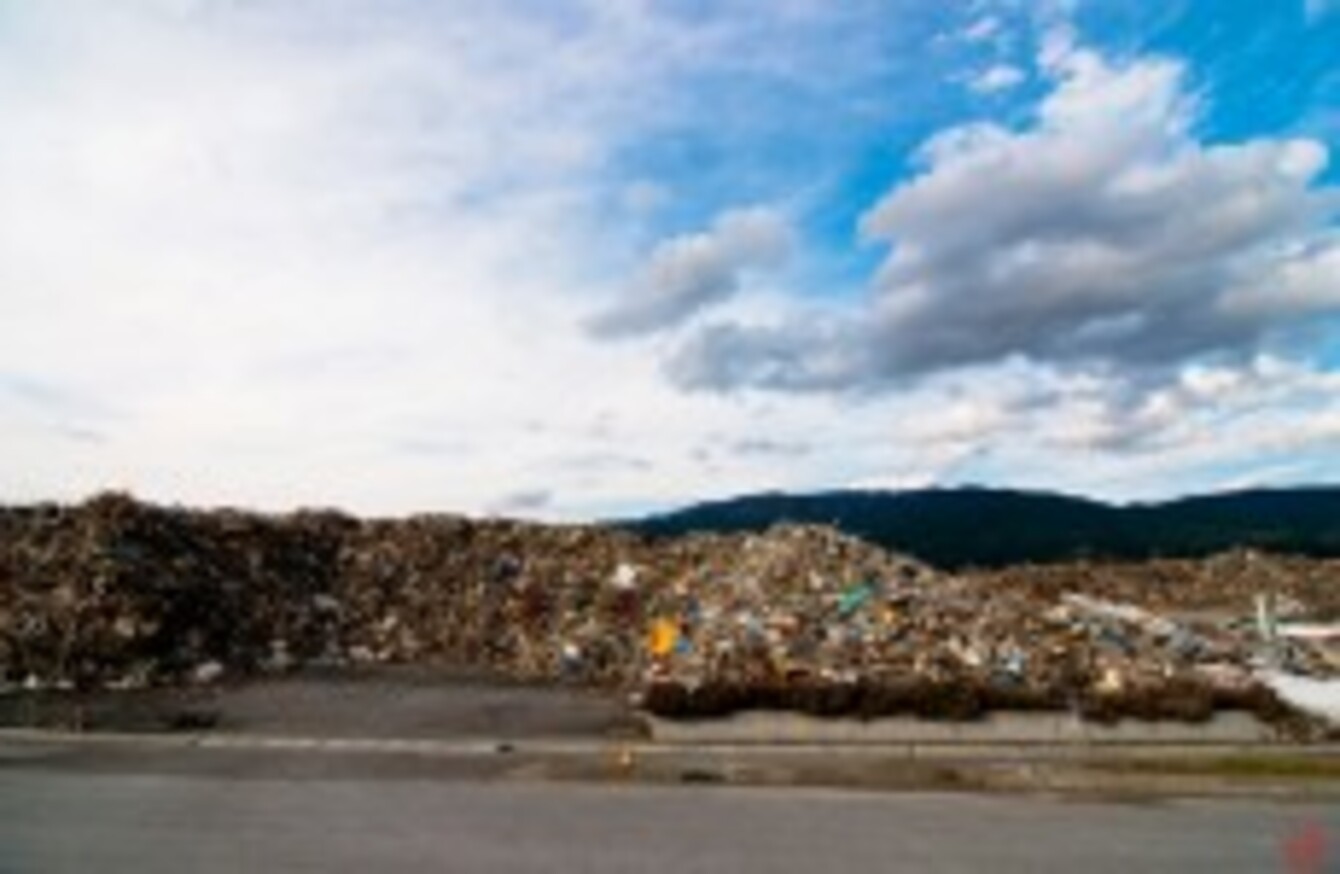 Piles of debris in Japan as it attempts to rebuild in the aftermath of the unprecedented disaster a year ago.
Image: Charis Hughes
Piles of debris in Japan as it attempts to rebuild in the aftermath of the unprecedented disaster a year ago.
Image: Charis Hughes
NEARLY €5 BILLION has been donated to areas affected by the massive earthquake and tsunami that hit Japan a year ago today but there has been much criticism of the lack of planning for rebuilding the vast areas that were affected.
Figures compiled by the Jiji Press news agency and published in The Japan Times this week disclosed that donations to areas affected had exceeded ¥520 billion or around €4.9 billion with a total of 930,000 people having engaged in volunteer work to rebuild areas along the country's east coast.
On 11 March last year, a huge earthquake and later a tsunami caused widespread devastation to three main prefectures in the country including Iwate, Miyagi, and Fukushima where a nuclear power plant went into partial meltdown as a result of water damage.
The 9.0 magnitude quake was the worst to ever hit Japan and the nuclear disaster was one of the worst since Chernobyl.
In a report issued last year, the Japanese Red Cross said that the the number of buildings affected totalled nearly 108,000 while the damage had spread into as many as 22 prefectures.
Lack of a master plan
There are various estimates that nearly 16,000 died as a result of the disaster while over 6,000 were injured and over 3,200 are still classified as missing. The Red Cross said officially that 23,176 people are dead or missing.
A year on, the president of the Japanese Red Cross this week led criticism of the failure of the government to agree a master plan with local authorities for reconstruction of the many areas hit. In some cases, towns and villages were literally wiped off the map.
"Without reaching any agreement on a master plan for rehabilitation and reconstruction, it's very difficult to even start a reconstruction process," Tadateru Konoe told Reuters on Wednesday.
He said that central government had proposed various scenarios which were met with strong opposition by local governments and those affected by the earthquake and tsunami. This has done little to move the process along further.
Where the money came from
There was around ¥400 billion or around €3.6 billion donated to the Japanese Red Cross from both within Japan and abroad – the bulk of the €5 billion that Jiji Press estimates has been raised for the humanitarian aid and reconstruction effort so far.
Donations came from countries ranging from Afghanistan, which donated $50,000, to Vietnam which gave $200,000. Ireland donated €1 million for emergency release efforts, more of which below.
This Reuters article produced days after the earthquake and tsunami hit has a breakdown of aid offers while this Wikipedia entry (proceed with caution on its veracity of course) has compiled humanitarian responses.
It includes details of the $5 million in aid donated by JP Morgan and the £50,000 donated by Lloyds banking group in the UK  - or less than 4 per cent of former CEO Eric Daniel's bonus as What Investment noted.
What was done with it
Around ¥290 billion (€1.8bn) has been given to residents affected but Konoe said that the lack of a plan was contributing to the stress of survivors and residents still waiting for their homes to be reconstructed or for further humanitarian assistance.
In terms its operation, the Red Cross says it has provided more than 128,471 sets of six electric appliances including a rice cooker, hot water dispenser, a microwave, and an electric heater to families and those affected by the devastation.
It is also providing psychological support to survivors: "People have lost not only their homes, but also their jobs.
"What they have lost is so great that it's difficult for them to comes to terms with it and move forward; so I feel they really need psychosocial support," Sachiko Abe, a Red Cross psychosocial coordinator in Iwate Prefecture, said this week.
The International Federation of the Red Cross and Red Crescent Societies has also produced this video of survivors' stories and its work in Japan, a year on from the devastating disaster:
Ireland's official response
The Irish government approved €1 million of funding for emergency relief efforts in Japan in the days after the disaster. This money went to the Japanese Red Cross (JRC) for work in some of the worst affected prefectures of Japan.
According to Irish Aid the funds were used for provision of emergency medical services, psychological support, the distribution of relief supplies, the rehabilitation of health infrastructure.
It also went towards other measures to improve the living conditions of the many thousands of people forced to live in evacuation centres or transition shelters in the weeks and months that followed.
#Open journalism No news is bad news Support The Journal

Your contributions will help us continue to deliver the stories that are important to you

Support us now
The funding went directly to the JRC and Irish Aid said that the entire amount was spent directly on the humanitarian response to the disaster. Irish Aid said it receives regular, detailed operation reports which outline how the money has been spent and said it has been satisified with  these.
There was no direct deployments from the country's Rapid Response Corp nor were there any Irish NGOs that Irish Aid was aware of who responded directly on the ground.
Other Irish responses
As well as State funding, money was also raised at a local level through organisations like the Dublin branch of Aid Japan which collected some €55,000 while in Limerick a similar project raised €18,000 through fundraising efforts.
Speaking to TheJournal.ie the chair of the Irish Japan Exchange and Teaching (JET) Programme Alumni Association, Charis Hughes, said this sort of small organisational funding did have an advantage.
"Smaller organisations are able to get in there a bit quicker and respond earlier than the big humanitarian organisations. So that is the advantage of that," she said.
She added that the JET programme had funded projects like English lessons, sending orphaned children to school and university and projects to help people deal with post traumatic stress disorders.
But Hughes also noted the problems that have occurred in rebuilding Japan in the year since the disaster: "A lot of the towns haven't really decided yet where they are going to rebuild and in the case of one town it's not going to rebuild at all, it is just going to relocate.
"On top of this, money needs to be redirected and bureaucracy in Japan is very slow. Things have to be agreed by a lot of people for stuff to go ahead. Things go at a  slower pace than perhaps we are used to here in the West."