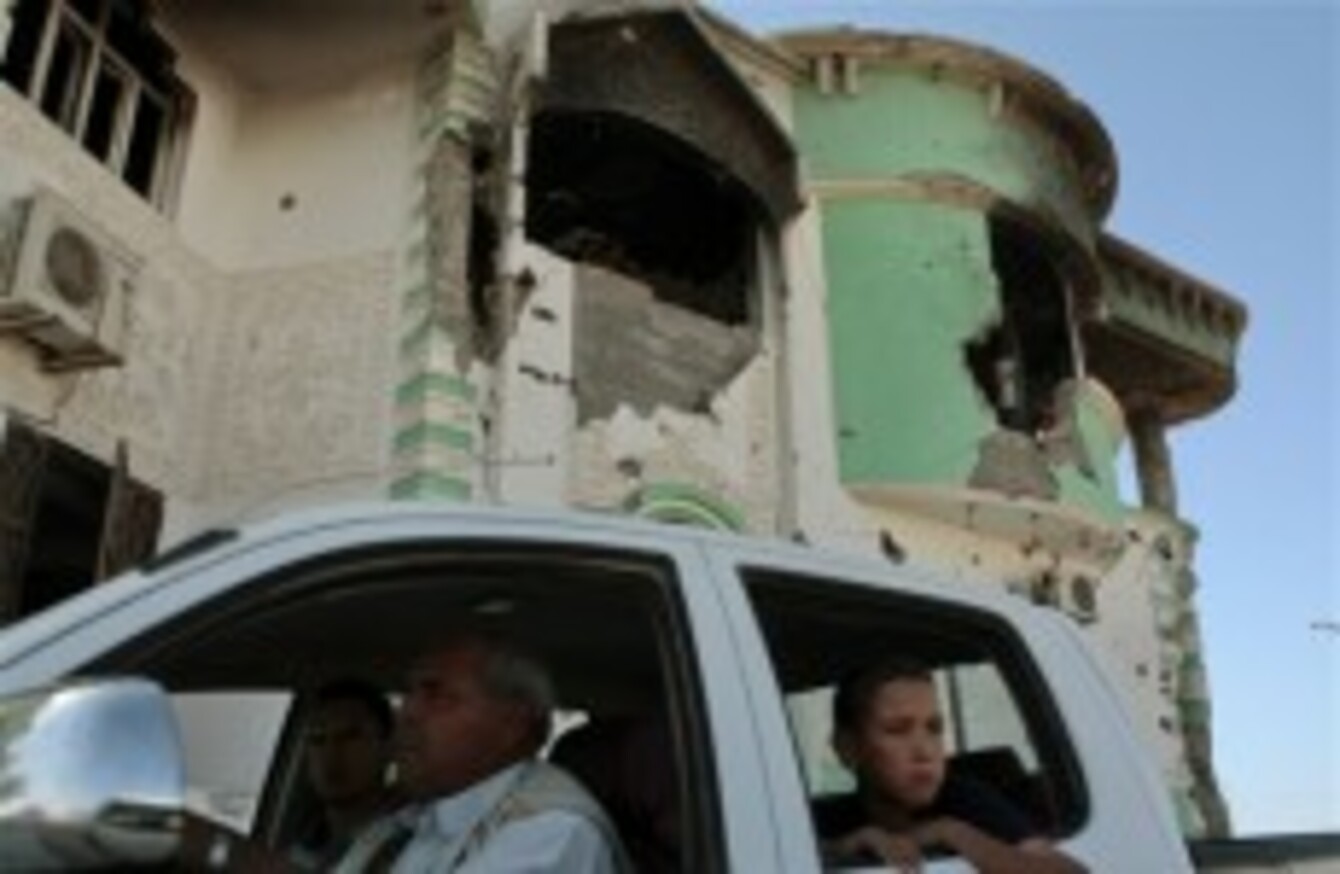 Image: AP Photo/Luis Hidalgo
Image: AP Photo/Luis Hidalgo
NATO AIRSTRIKES RATTLED the Libyan capital today, with clusters of bombing runs believed to have targeted the outskirts of Tripoli.
At first, the intensity of the attacks suggested a return to the heavy NATO bombardment that hit military installations across the capital on Tuesday and flattened major buildings in leader Muammar Gaddafi's sprawling compound in the centre of the city.
The strikes come after a lull of NATO bombing on Wednesday, just one day after Tuesday saw some of the heaviest bombardments since operations began last March, Al Jazeera reports.
The strikes are in support four-month old rebel uprising seeks to push Gaddafi from power after four decades. Rebels have taken control of swaths of eastern Libya, although fighting has since become a stalemate even with NATO support.
Gaddafi shows no signs of ceding power under the building pressure of the NATO strikes, despite repeated attacks on his compound, government buildings, military radar emplacements and other army installations.
But the chief of the American CIA, Leon Panetta, said in testimony before the Senate that the NATO military operation, strong economic sanctions, and enforcement of the no-fly zone are putting tremendous pressure on Gaddafi. US President Barack Obama has named Panetta to take over as Defense Secretary this summer.
Among other signs of building pressure, US Secretary of State Hillary Rodham Clinton said that there are "numerous and continuing" overtures by people close to Gaddafi to negotiate his departure from power.
Ground fighting dies down
Fighting on the ground between Libyan government forces and the rebels had largely died down after the NATO strikes began. The Western alliance took to the skies over Libya under a UN resolution that allowed NATO flights to protect civilians. What began as a no-fly zone quickly evolved into strong attacks on the regime.
On Wednesday, however, Gaddafi forces renewed their shelling near the western city of Misrata, killing 10 rebel fighters. Misrata is one of the few footholds rebels have in western Libya. NATO reported it had destroyed a "electronic warfare vehicle" and military training camp in the vicinity of the city as government forces had renewed their assault on the port city.
In Brussels on Thursday, NATO Secretary-General Anders Fogh Rasmussen said the shelling near Misrata underscored the continued need to protect civilians.
#Open journalism No news is bad news Support The Journal

Your contributions will help us continue to deliver the stories that are important to you

Support us now
"It is an example that the Gaddafi regime still constitutes a threat to the civilian population," he said. "We will stay committed as long as necessary," Fogh Rasmussen added.
Meanwhile, the chief prosecutor of the International Criminal Court has claimed that a campaign of mass rape of hundreds of women has been overseen by Muammar Gaddafi.
Additional reporting by the AP