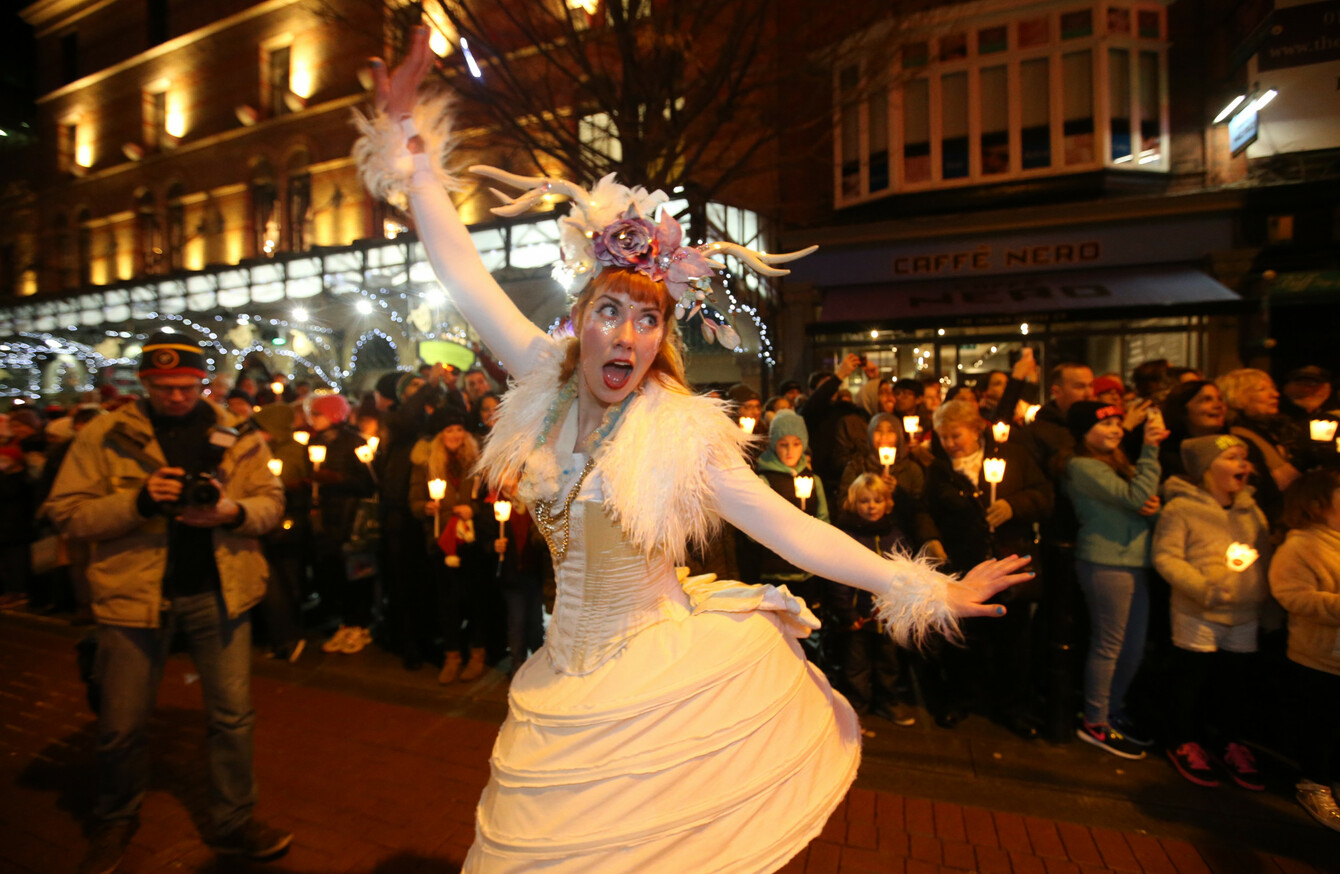 Image: Sam Boal/Rollingnews.ie
Image: Sam Boal/Rollingnews.ie
LIMERICK COUNCIL HAS had to cancel its planned New Year's Eve celebrations due to Storm Dylan.
It said that threats of flooding and severe weather led to it having to make the decision.
Met Éireann has issued a weather warning as Storm Dylan approaches Ireland.
Limerick Council said that high tides are predicted in Limerick on Sunday morning at 4.29am and Sunday evening at 4.55pm.
River levels of 6.66m and 6.7m are expected with a predicted surge of 620mm. Low pressure and strong south west winds may increase the surge right up the River Shannon towards Limerick, similar to what happened during Storms Ophelia and Storm Brian.
Freshwater levels can be expected to increase due to the high levels of rain already fallen and more rain expected over the next few days as well as thaw from marsh lands and high ground along the River Shannon.
As a result, Limerick City and County Council, acting on health and safety advice, has instructed that flood barriers be erected immediately along Clancy Strand, O'Callaghan Strand and the boardwalks. These will remain in place for New Year's Eve.
Clancy Strand is the event site for the large scale projection mapping onto King John's Castle and unfortunately due to the risk of flooding this area is not available for use by the event management company.
Caroline Curley, Deputy Chief Executive and Director of Service, Regional Services with Limerick City and County Council, said that the equipment and generator for the projection mapping would have to be erected today, and coupled with the flood threat it has been decided to cancel the illuminations and fireworks.
It is with great regret that this decision has been taken, but in the interests of information from the event's safety officer, the impact of the weather on the installation and rigging of the event and the safety of the tens of thousands of people expected to come out for the New Year's Eve Extravaganza, it was decided to postpone the entire event. This decision was not taken lightly, but the decision was made this evening (Friday 29 Dec 2017) to allow people to make alternative arrangements.
However, the extravaganza will still take place at a later date, the event will now happen as part of Limerick's St Patrick's Festival 2018.
The New Year's Eve Extravaganza will now take place as part of the 2018 Limerick St Patrick's Festival.
However, events will be taking place in other parts of the country:
Dublin
The official New Year's Festival in Dublin kicks off at 6.30pm on the 31st, with the Liffey Lights show for all the family.
Aerial and aquatic acrobats will take to the streets, the sky and the River Liffey for this early countdown event at Custom House Quay and George's Quay opposite.
Heliopshere's high-flying acrobats will return to George's Quay from 11.30pm for the "spectacular symphony of lights as up to 100 aquabeams dance across the night sky".
They'll spin and spiral through the sky while attached to giant balloons while Flyboarders perform aquatic and aerial stunts across the Liffey.
The main event is from 8pm on Custom House Quay for the countdown concert.
Kicking off from 8pm, performers will include Hudson Taylor and Keywest, before headliners Kodaline take to the stage.
Tickets cost €45.05, plus booking fee.
Mayo
This is New Year's with a difference on Achill Island, for a more laid back way to ring in 2018.
There's nature yoga sessions, greenway cycling and hikes through the countryside during the day followed by a pop up music festival that evening.
Organised by Smithwicks, you can get tickets here.
Kerry
There's set to be a huge celebration on the streets of Dingle this NYE.
It begins with a fireworks display on Dingle Bay at 10pm, with crowds set to gather at the pier.
Afterwards, people will make their way into town to follow a marching band to ring in 2018 in style.
Elsewhere
Heading out in Cork? Here's a handy event listing here.
For a run-down on what's happening in Galway, find it here.
A good New Year's Eve event happening in your area? Let us know in the comments below…
- Additional reporting Aoife Barry