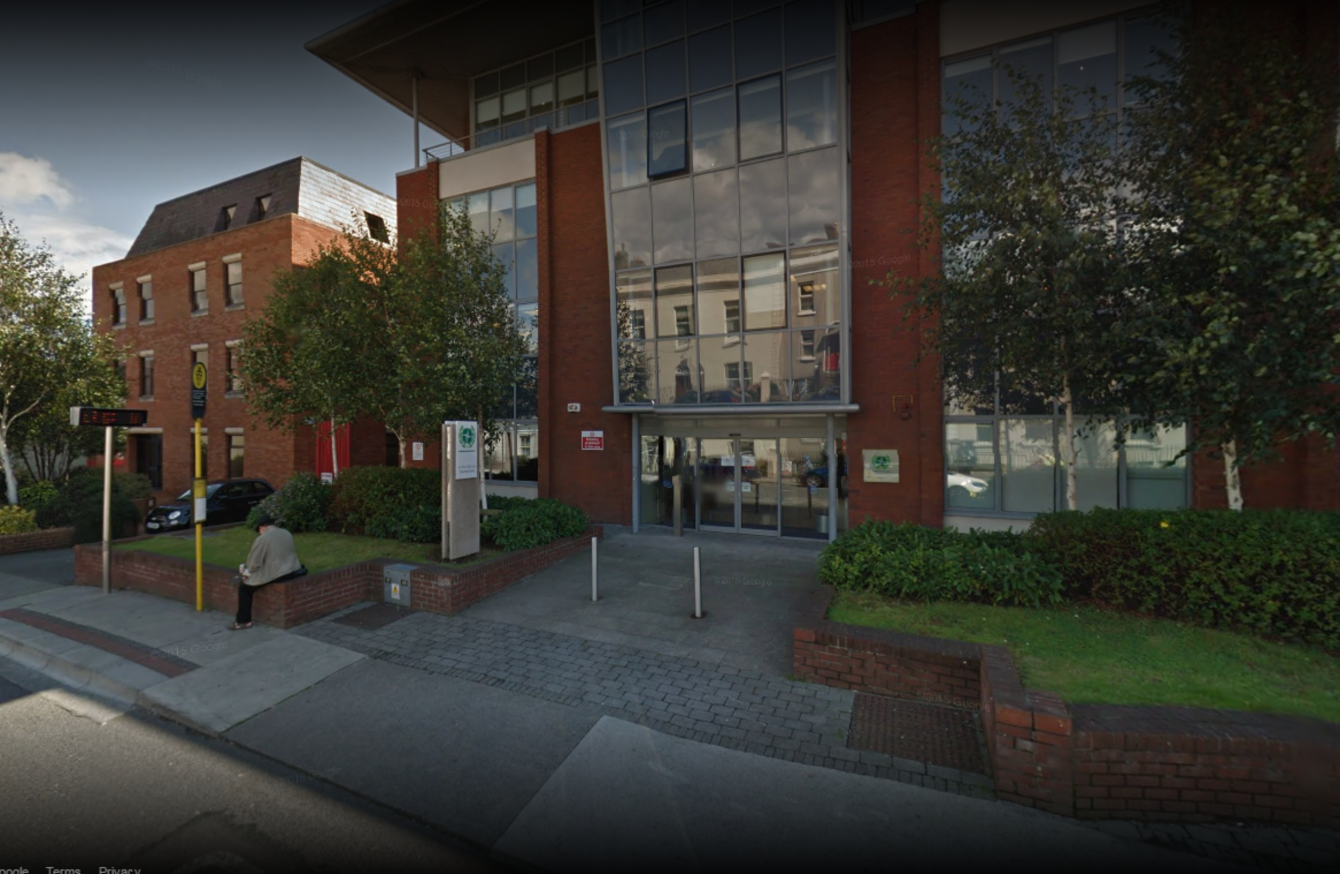 The Nursing and Midwifery Board of Ireland headquarters.
Image: Google Maps
The Nursing and Midwifery Board of Ireland headquarters.
Image: Google Maps
A NURSE WHO lost her job after taking €100 from a multiple sclerosis sufferer has been found guilty of professional misconduct.
Mary Grace Dela Cruz Alegarme, who qualified as a nurse in 1999, was also found guilty of breaching the nurses' code of conduct at the fitness to practice inquiry, which took place at the Nursing and Midwifery Board of Ireland's headquarters in Blackrock, Co Dublin.
The inquiry committee did not make a finding of poor professional performance.
Alegarme, who works in the oncology department at Letterkenny University Hospital, made full admissions at the start of the hearing today, including the fact that she took money from the residential patient in March 2013.
Alegarme worked as a nurse at the Donegal Cheshire Apartments, owned by Cheshire Ireland, from 2008 to 2013. The apartments, located in Letterkenny, provide 24-hour residential care to people with serious physical and sensory disabilities.
One resident, referred to as Patient A, is a 53-year-old man suffering from progressive multiple sclerosis who uses a wheelchair and is wholly dependent on others.
Kate Meehan, who has worked as Patient A's HSE key worker for 14 years, said she called into him on 20 March 2013. During that visit, Patient A said to her "I did a good thing for a friend", Meehan told the inquiry.
She said he then told her that Alegarme had told him she had a friend who was in financial difficulty, whom she would like to help. Alegarme then asked him for a loan, and he lent her €100, with the shared understanding she would pay it back in a few days' time.
Meehan then alerted management to the matter, and an investigation was conducted. Alegarme, who admitted to the incident, was dismissed from her position on 17 June 2013.
During her evidence, Alegarme made a heartfelt apology for her mistake, and to Patient A: "I made a mistake, I was wrong and I'm so sorry. I'm willing to change.
"I'm so dedicated to my job and I'm really patient-focused," Alegarme continued. "I want this career and this job and I'm sorry for what I have done."
She said she began to care for Patient A in 2009, when he took up residence at the Cheshire apartments.
Alegarme said he would ring her whenever he had a medical need, and that she would also take him on outings, with the approval of her manager.
"I treated him as a brother – which I know is totally wrong," said Alegarme. I should have known myself it was totally wrong but that was the relationship at the time. I totally looked up to him.
I should have known that I should have had a boundary between myself and the service user.
She said that on 20 March 2013, at his request, she called round to his house to help him pack his medications, as he was planning to travel.
He asked her what she was doing that day, and she told him she was waiting for the bank to open. She said she told him she needed to transfer funds to her mother in the Philippines, for medical treatment, but that she only had €400 out of the €500 she needed.
Alegarme told the inquiry that he then said to her, "Mary Grace, I want to help you."
She said she told him she did not want the money, but he kept insisting, and getting upset because she was refusing the money. "So eventually, I gave in," said Alegarme. "I shouldn't have done it. For the last four years now, I know it's totally wrong."